Minecraft Legends: Everything you must know before it releases
---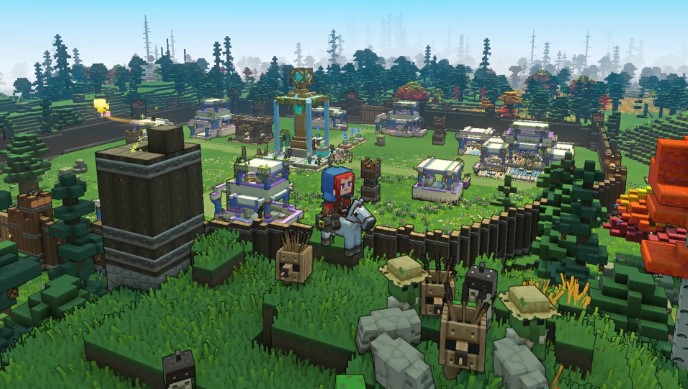 ---
Get ready to be transported into the world of Minecraft Legends - an upcoming action-strategy game that combines elements from both Microsoft and Mojang's wildly popular open sandbox games! The unique art style featured in this spin-off is sure to delight fans, as it offers a different experience while still maintaining all the beloved features we've come to know and love. Set for release on April 18, 2023 across various platforms such as Nintendo Switch, PlayStation 4 & 5, Windows 10 devices + Xbox One & Series X/S - you won't want miss out!
Minecraft has taken the world by storm since its debut in 2011, and its popularity still reigns supreme today. In Minecraft, players can build their own virtual world, collect resources, and create almost anything imaginable. What sets this game apart from the rest is the community that has formed around it. Minecraft Legends, a group of skilled and experienced players, have gained a following for their amazing creations and impressive feats within the game. They have pushed the game to its limits, creating everything from towering castles to fully-functioning rollercoasters. The Minecraft Legends have inspired a generation of players and have continued to push the boundaries of what can be done in this incredible game.
In Minecraft Legends, a never-before seen multiplayer experience awaits! Players can team up with other players across multiple platforms to take on the ultimate challenge - destroying their opponents' bases. Communication is key as each player shares resources and works together to create defenses that are unique every time. The randomly generated battleground holds plenty of surprises in store including Piglins joining the combat for an extra element of unpredictability; just like classic Minecraft but bigger than ever before!
What a player must know about the gameplay Minecraft Legends
Before releasing Minecraft Legends, players should understand the various features and mechanics of the game. First and foremost, they should be aware that the game is a sandbox style experience, where they can explore and build their own unique creations from an infinite supply of blocks. Players will also have access to a variety of different tools, ranging from pickaxes to torches, which can be used to acquire resources and traverse different biomes. Additionally, the game offers both single-player and multiplayer modes with up to four players.
Furthermore, there are numerous mobs that inhabit the game world, including villagers and monsters, each with their own unique roles in the game. As players progress through levels and complete objectives, they will gain new abilities as well as access to more powerful weapons. Players will also be able to customize their playstyle by collecting coins which can be used to purchase items from merchants or unlock special abilities.
Lastly, it's important for players to remember that Minecraft Legends is constantly receiving updates with new content such as skins, worlds and even mini-games that offer even more ways for them to enjoy the game. With all these features and more at their disposal, players should have no trouble getting into a flow state while enjoying this classic sandbox experience!