Pariksha Pe Charcha: PM Modi suggests 'technology-fasting' at regular intervals, says increasing average screen time a worrying trend
PM Modi asked students if they have observed the time management skills of mothers working at home who perform every chore in a timely manner
---
ANI
|
Updated: 27-01-2023 23:37 IST | Created: 27-01-2023 23:24 IST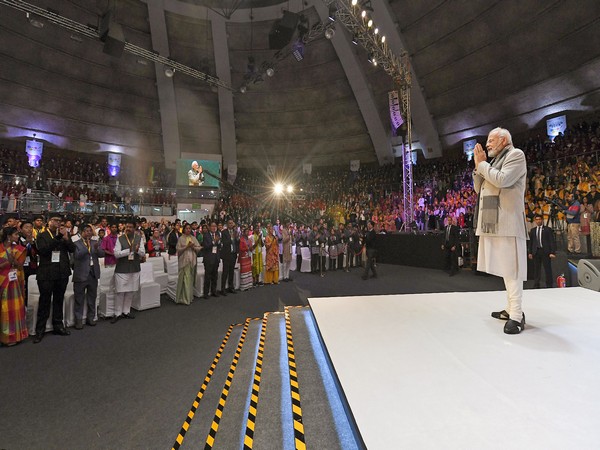 ---
New Delhi [India], January 27 (ANI) Prime Minister Narendra Modi on Friday interacted with students, teachers and parents at Talkatora Stadium here during Pariksha Pe Charcha 2023 giving them valuable tips and advice which included 'technology fasting' at regular intervals and choosing "dialogue and rapport" for discipline. The Prime Minister said told students that the pressure of expectations can be overcome if they remain focused.
He said students should take up the least interesting or most difficult subjects when their mind is fresh and that cheating will never make them successful in life. "One should do hard work smartly and on the areas that are important. Most of the people are average and ordinary but when these ordinary people do extraordinary deeds, they achieve new heights," he said.
PM Modi said work never tires, in fact not working tires a person and asked students if they have observed the time management skills of mothers working at home who perform every chore in a timely manner. He said the mothers barely get tired by doing all their work and also find the time to engage in some creative work in the remaining time.
The Prime Minister pointed out that by observing their mothers, the students can understand the significance of micro-management of time and thereby dedicate particular hours to each and every subject. "You must distribute your time for greater benefits," he said. The Prime Minister said criticism is purifying and a root condition of a vibrant democracy and noted that there is a huge difference between allegations and criticism.
Noting that increasing average screen time is a worrying trend, he said God has "given us free will and an independent personality and we should always be conscious about becoming slaves to our gadgets". The Prime Minister suggested 'technology fasting' at regular intervals. He also suggested a demarcated area as a 'technology-free zone' in every household. This will lead to the enhanced joy of life and you will come out of the clutches of slavery of gadgets, the Prime Minister said.
He said an exam is not the end of life and thinking too much about the results should not become a part of everyday life. He urged children to learn regional languages. "By attempting to learn a regional language, you are not just learning about the language becoming an expression but also opening the doors to the history and heritage associated with the region," he said.
He said parents should expose their children to a wide array of experiences in society. "We should reduce the stress of exams and turn them into celebrations." PM Modi noted that this is the first time that 'Pariksha Pe Charcha' is taking place during the Republic Day celebrations and noted that those visiting New Delhi from other states also got a glimpse of the Republic Day.
Throwing light on the importance of programme for him, PM Modi pointed out that the millions of questions that are posed as part of the process give him insight into the minds of the young generation. "These questions are like a treasure trove for me", the Prime Minister said. He pointed out that he would like the compilation of all these questions which can be analyzed by social scientists in the coming years giving a detailed thesis about the minds of young students.
Answering questions from students, the Prime Minister said that there is nothing wrong with family expectations but if these are related to "social status expectations" then it is a matter of concern. PM Modi also talked about ever-increasing standards of performance and growing expectations.
He said it is not good to be bogged down by the surrounding web of expectation and one should look inwards and link the expectation with one's own capabilities, needs, intentions and priorities. Drawing the link between the focus of a batsman on a cricket field and the minds of students, the Prime Minister said that the pressure of expectations can be obliterated if they remain focused.
He urged the parents to not burden their kids with expectations and asked the students to always evaluate themselves according to their potential. However, he told the students to analyse the pressures and see if they are doing justice to their own potential. In such a situation these expectations may spur better performance.
He asked students to note down the time allotment to various things that they do, adding that it is a general tendency to devote more time to the things one likes. He said while allocating time to a subject, one should take up the least interesting or most difficult subject when the mind is fresh. Instead of forcing one's way through, students should tackle the complexities with a relaxed mindset.
The Prime Minister expressed happiness that students had raised the topic of finding ways to deal with malpractices during the exam and pointed out the negative change in the morals where a student takes pride in fooling the supervisor while cheating in an exam. "This is a very dangerous trend", he said and urged people to ponder about it. He asked students to refrain from wasting time in finding ways and preparing cheating material and spend that time in learning.
"In these changing times, when life around us is changing, you have to face exams on every step", the Prime Minister said as he noted that such people can only clear a few exams but eventually fail at life. "Life cannot be successful with cheating. You may clear an exam or two but it will remain questionable in life", he added.
The Prime Minister told the hard-working students not to despair at the temporary success of the cheaters and said that hard work will always benefit them in their lives. "Exams come and go but life is to be lived fully," he said.
Giving the example of people at a railway station who cross the platforms by making a way on the railway tracks instead of crossing the foot overbridge, the Prime Minister pointed out that shortcuts will not take you anywhere and said, "Shortcuts will cut you short." He emphasised the need to closely analyse and understand the work and highlighted the moral from the story of the thirsty crow about working hard and smartly.
"Every work should be first examined thoroughly. Everything cannot be achieved with hard labour". Similarly, in sports also specialized training is important. He said that we should focus on what needs to be done. One should do hard work smartly and in the areas that are important.
The Prime Minister appreciated the need for having a realistic assessment of oneself. Once this realisation is there, the Prime Minister said, appropriate goals and skills should be set by the student. He said India is being seen as a new hope in the global economy. Knowing one's potential makes a person very capable, he said, and asked parents to do a correct assessment of their children.
"We should never be under the pressure that we are average and even if we are average there will be something extraordinary in us, all you need to do is to recognize and nurture that, " he said. Answering queries, the Prime Minister stressed that he believes in the principle that criticism is a purification yajna and the root condition of a thriving democracy.
Emphasising the need for feedback, the Prime Minister gave examples of a programmer who puts up his code on open source for improvements, and companies that put up their products for sale in the market asking the customers to find the flaws in the products. He also pointed out that it is important to note who is being critical of work.
He said that parents these days have got into the habit of interrupting their kids instead of constructive criticism and urged them to break this habit. Answering questions about the addiction to online games and social media and resulting distractions, the Prime Minister said that the first decision is to decide whether you are smart or your gadget is smart.
"The problem starts when you start to consider the gadget as smarter than you. One's smartness enables a person to utilise the smart gadget smartly and treat them as instruments that help in productivity." He expressed concern that he average screen time for an Indian is up to six hours, according to a study. "In such a situation gadget enslaves us. God has given us free will and an independent personality and we should always be conscious about becoming slaves to our gadgets," the Prime Minister said. He gave his own example that he is rarely seen with a mobile phone despite being very active. He said that he keeps a definite time for such activities.
"One should not avoid technology but restrict oneself to the things of utility as per one's need." He also gave the example of the loss of capability for table recital among the students.
"We need to improve our capabilities without losing our basic gifts. One should keep testing and learning in this era of artificial intelligence in order to preserve one's creativity." PM Modi said the main reason for stress after exams is not accepting the truth about if the exams went well.
The Prime Minister also mentioned competition among students as a stress-inducing factor and suggested that students should live and learn from themselves and their surroundings while strengthening their inner capabilities. The Prime Minister stressed the need to know at least one regional language from India other than the mother tongue and highlighted how it will brighten up the faces of people who know the language during a conversation.
he Prime Minister gave the example of an eight-year-old daughter of migrant labour in Gujarat who spoke many different languages like Bengali, Malayalam, Marathi and Gujarat. The Prime Minister advised against restricting students to a narrow sphere and encouraged an expanded circle for the students. He recalled his own advice that the students should be encouraged to travel outside after their exams and record their experiences. Setting them free like this will enable them to learn a lot. After class 12 exams they should be encouraged to go outside their states. He asked parents to keep pushing their children for new experiences. He also asked parents to be vigilant about the moods and their situation.
He urged parents, teachers and guardians to dilute stressful environment that is being created during exams to the maximum extent. As a result, the exams will be transformed into a celebration filling the lives of students with enthusiasm, and it is this enthusiasm that will guarantee the excellence of students, he said. This was the sixth edition of Pariksha Pe Charcha (PPC). The Prime Minister also witnessed the exhibits of students showcased at the venue before the interaction.
Pariksha Pe Charcha has been conceptualised by PM Modi in which students, parents, and teachers interact with him on various topics related to life and exams. About 38.80 lakh registrations took place this year from 155 countries. (ANI)
(This story has not been edited by Devdiscourse staff and is auto-generated from a syndicated feed.)