Energy transition has to ensure surviving present: Puri
---
PTI
|
Bengaluru
|
Updated: 07-02-2023 16:08 IST | Created: 07-02-2023 15:49 IST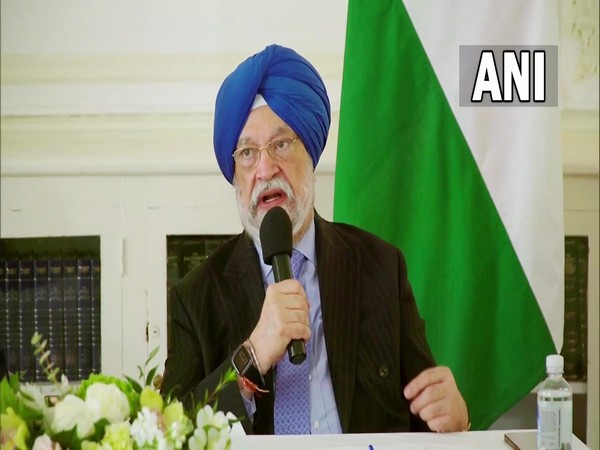 ---
India, the world's third largest oil consumer, on Tuesday said it is committed to energy transition but surviving the present and cushioning the vulnerable from price volatilities is essential before moving to clean and green energy.
India has committed to net zero carbon emission by 2070 and has repeatedly emphasised that 'dirty' fuels like oil and coal, on which the economy is two-thirds dependent, will have to continue to be in use in the foreseeable future.
An immediate shift from low-priced coal and oil to expensive fuels of the future such as hydrogen will entail huge costs in a nation with low per capita income.
''Unless we survive the present, we will not be able to go into the world of clean and green energy,'' Oil Minister Hardeep Singh Puri said at India Energy Week here.
''While affordable traditional energy resources are essential for meeting the base load requirements, new sources of energy which are cleaner, sustainable, and innovative, are critical for combating the menace of climate change.'' Geopolitical situations last year led to a spike in prices of crude oil - raw material for petrol and diesel, and rates of natural gas - which is used to make CNG, electricity and fertilizer - shot up to record high. Countries in Europe switched back to coal-fired power plants as gas became unaffordable to many.
''We have to make sure our transition entails surviving the present and cushioning vulnerable from volatility,'' he said, adding the transition has to be affordable and sustainable particularly for vulnerable sections.
''We are actively conscious of the need to facilitate energy transition and in the interim insulate consumers.'' India is 85 per cent dependent on imports to meet its oil needs and roughly half of its gas requirement too comes from overseas. And the spike in global energy prices meant it had to shell out more for imports. To insulate domestic consumers, it had to cut taxes as well as ask oil companies to hold prices.
''Affordable energy is a vital ingredient to achieving inclusive economic growth and energy justice,'' he said adding economies worldwide, particularly the emerging economies, are facing the daunting task of safeguarding energy security, affordability and accessibility which has created the cost-of-living crisis.
On one hand, advanced economies committed over USD 500 billion in funds to support and shield consumers and secure alternative fuel supplies by temporarily reverting to nuclear and higher carbon intensity (coal, oil) to fill the energy supply gap, on the other hand some economies have continued to exacerbate fuel poverty and food insecurity, he said.
''As it appears, the inevitable shift in the global energy landscape is a reality. We now need to ensure that this change is rooted in energy security and energy justice, which are also the most important component of the energy vision of India,'' he said.
''Going forward as the challenges are likely to only become more acute, the value of preparedness against such potential shock is going to start an era of building resilience,'' Puri said adding the energy crisis has a ripple effect on other sectors as well.
The unprecedent high level of gas prices has created a fertilizer crisis which in turn has created food security concerns. Further, the high energy and commodity prices have raised inflationary concerns and many countries are facing recessionary fears.
''The energy transition will be more of a wave of managed change in the global energy portfolio versus an event, ensuring energy access and security, whilst progressing to net-zero. Achieving the net-zero goal requires global coordination and access to skills, technology, and global financing,'' he said.
For that reason, it is likely to be a ride, that involves a variety of energy solutions to drive to net-zero - drawing on renewables, nuclear, and advanced biofuels, as well as the critical role of gas in the energy transition, whether from current supplies of natural gas, LNG and LPG or into a future shaped by their low carbon alternatives in the form of hydrogen, ammonia and green LPG.
''India's energy transition, therefore, is extraordinary not just in terms of scale and coverage but also in creating hope and a blueprint for the world's developing nations who are facing similar challenges. India is undertaking an ambitious journey of the energy transition to achieve net carbon zero by 2070.'' However, this transition has to be stable and just to ensure that it is sustainable, India is using a mix of increased use of electricity generated from renewable sources, biofuels, nuclear and hydrogen for the transition, he said.
Puri said there is a pressing need to galvanise global efforts for ''mapping stable and secure energy pathways for achieving energy security, energy justice, growth and innovation''.
Asian economies, he said, have not only managed to bounce back fastest from the impacts of the pandemic but have also made significant progress toward clean energy.
''While the past century marked the end of colonialism in Asia, the present century is marked by the remarkable growth story of Asia due to its demographic dividend and innovation,'' he said.
The Asian share of global GDP has risen from 38 per cent to 45 per cent and is likely to exceed 50 per cent by 2030. The Asian economy has grown at an average 5.5 per cent over the preceding two decades and registered growth of 6.5 per cent in 2021, while it is expected to moderate to 4 per cent in 2022 amid an uncertain global environment and rise to 4.3 per cent in 2023.
(This story has not been edited by Devdiscourse staff and is auto-generated from a syndicated feed.)