Zardari arrest by NAB evokes mixed reactions across Pakistan
Devdiscourse News Desk
|
Updated: 10-06-2019 18:11 IST | Created: 10-06-2019 18:11 IST
---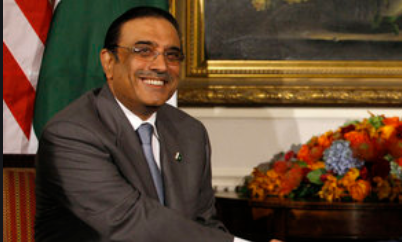 Former Pakistani President Asif Ali Zardari was arrested on corruption charges on Monday, a Pakistani official said, in a blow to the opposition Pakistan People's Party. National Accountability Bureau (NAB) spokesman Nawazish Ali confirmed that Zardari has been arrested, but did not provide details. Local media channels said NAB arrested Zardari over its investigation into fake bank accounts and money laundering.
But Pakistanis were divided over the arrest, while some came up in support of Zardari and made #WeStandWithZardari trend on Twitter, while others used the same hashtag to criticize former President and his supporters.
11 years in Jail still not afraid of anything that's what we call true Bhuttoist fighters Asif Ali Zardari#WeStandWithAsifAliZardari pic.twitter.com/dfeCR9VpsT

— Qadir Marri (@Qadirmarri) June 10, 2019
The smiling face of Asif Ali Zardari and the spark in @AseefaBZ eyes tells the story that they are fearless they will not bow down infront of those who have destroyed Pakistan since 1971 #WeStandWithAsifAliZardari pic.twitter.com/4YsI4AnJS9

— Parvez Shah (@ParvezShah_) June 10, 2019
In just 10 months of IK tenure both Nawaz Sharif & Asif Zardari are now in Custody.. Thank You Imran Khan #WeStandWithAsifAliZardari#ImranKhanPrimeMinister 😘😘😘 pic.twitter.com/gdN0gg739d

— Mohammad Bakhsh khan (@MBkhaNodho) June 10, 2019
The former president could not be reached for comment but he has denied any wrongdoing linked to those cases, and his PPP party say the cases are politically motivated.
Widower of former Prime Minister Benazir Bhutto, Zardari spent 11 years in jail on corruption and murder charges before becoming president in 2008. He was never convicted and denies any wrongdoing.
---