River Award for Media by Malaysian Government and GEC
River Of Life Public Outreach Programme Phase 5 Award – celebrating local champions of Klang River.
Updated: 06-07-2019 10:19 IST | Created: 06-07-2019 10:19 IST
---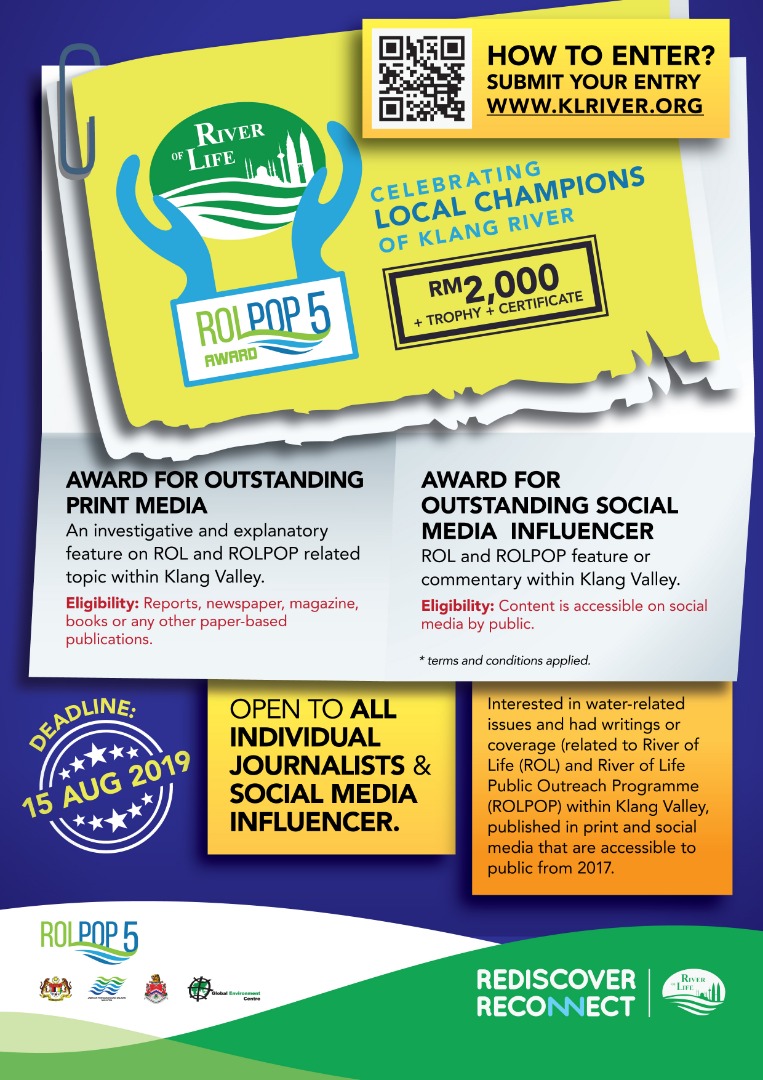 The Department of Irrigation and Drainage (DID) Malaysia and Global Environment Centre (GEC), has invited nominations for 'River of Life Public Outreach Programme Phase 5 Award (ROLPOP5 Award)' - Media Category, a special category to honour individuals or journalist for their reporting on River of Life initiative that covers issues and positive impacts.
The award is organised under the River of Life Project that aims to transform the Klang River into a vibrant and liveable waterfront with high economic value.
This announcement was made in conjunction with the 2019 World Environment Day celebration. The ROLPOP5 Award with the tagline Celebrating Local Champions of Klang River aims to showcase the diversity of ways that people are preserving/ conserving/ monitoring/promoting our rivers and to raise awareness and encourage people's responsibility towards the river.
The Media Category of ROLPOP5 Award is divided into two subcategories, print media and social media and submission are open to individual journalist and social media influencer for any articles or writings on River of Life or River of Life Public Outreach Programme that has been published in 2017 onwards. Topics can cover any aspect of the river-related subject which has general significance to the local community, scientific research, conservation, and biodiversity.
Print media includes newspaper and magazine articles, reports and any other printed materials. For Social Media Influencer, the subcategory includes videos and post which have been published online during the same period. Entries are judged based on the content, message and approach of the published article. The winner from each subcategory will receive a cash prize of RM2, 000, a trophy and a certificate.
Deadline submission is August 15, 2019, and the award ceremony will be held in September 2019 in conjunction with World Rivers Day celebration.
---