"My legacy is exceptional already...": Manchester City boss Guardiola ahead of Champions League clash against Real Madrid
Manchester City will take on Real Madrid in the second leg of their semifinal match of the UEFA Champions League at Etihad Stadium in Manchester
---
ANI
|
Updated: 17-05-2023 19:02 IST | Created: 17-05-2023 19:02 IST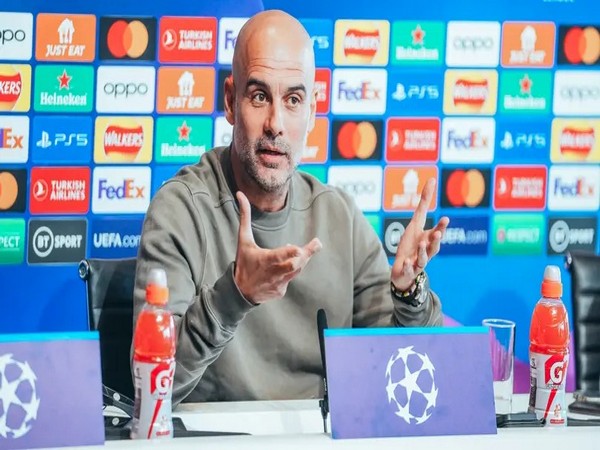 ---
Ahead of his side's UEFA Champions League semifinal second leg against defending champions Real Madrid on Thursday, Manchester City manager Pep Guardiola said that his legacy with the club is already "exceptional" even if his side does not complete a treble this season. Manchester City will take on Real Madrid in the second leg of their semifinal match of the UEFA Champions League at Etihad Stadium in Manchester. Both teams are currently equal, having scored a goal each in the first leg at Madrid.
City has a potentially historic season ahead of them, with one win needed to secure a fifth Premier League title in six years and an FA Cup final versus Manchester United at Wembley to come on June 3. If City manages to clinch the UEFA Champions League as well, they will complete a historic treble. But ahead of an all-important UEFA Champions League clash, Guardiola is not concerned about how he will be remembered by all.
"My legacy is exceptional already. I have been here many times already," remarked the boss ahead of the match as quoted by Sky Sports. "We are not stupid to know how important [Wednesday'] game is. It is maybe one of the most important games since we are together here. We cannot deny that. For the competition, for the rival, for many things. I said to the players live it like a huge opportunity, enjoy the moment, we are incredibly lucky to be here. It is in our hands, it depends on us, we do not have to do something exceptional, just be ourselves and win one game to reach the final."
"We are going to give everything, do everything, I have an incredible feeling about the team. Whatever happens, thank you so much to them to bring me and the City fans to be here again," Guardiola said. An equaliser from Kevin De Bruyne helped City finish their first-leg match at 1-1 and with City in incredible form with 11 successive Premier League wins, Guardiola feels that his side needs to deliver a better performance than what they did in the first leg of semifinals at Bernabeu.
"We can arrive at a good moment but you have to perform well. It is not just the desire or dream. All they have to do is what they have done for many years, especially this season. I have a feeling we have to do better than at the Bernabeu to reach the final. The team who deserves to win, hopefully they win. We have to perform well. This is my focus and I have to put it in the mind and heart of my players. They have to make an incredible performance to beat Real Madrid," said the manager. Guardiola, who has faced accusations of over-thinking about big matches, having seven Champions League semifinal losses to his name, said that this time around he will keep things simple.
"There are many things you cannot control but my only wish for my players is to be ourselves. I cannot tell you here [my tactics]. It is nothing special, I am not overthinking [Wednesday], don't worry guys. Nothing differently that we have done in the pass," said Guardiola. Guardiola confirmed De Bruyne is totally well and training as usual after missing their 3-0 win over Everton on Sunday. Nathan Ake, who has a hamstring problem, will be the lone player absent for City.
The winner will face Inter Milan in the finals in June. Inter Milan had defeated rivals AC Milan in an all-Italian semifinal by 3-0 on aggregate, with their second-leg result being a 1-0 win on Tuesday. (ANI)
(This story has not been edited by Devdiscourse staff and is auto-generated from a syndicated feed.)