REUTERS SPORTS SCHEDULE AT 6.30 p.m. GMT/2.30 p.m. ET
Reuters
|
Updated: 12-07-2019 23:59 IST | Created: 12-07-2019 23:59 IST
---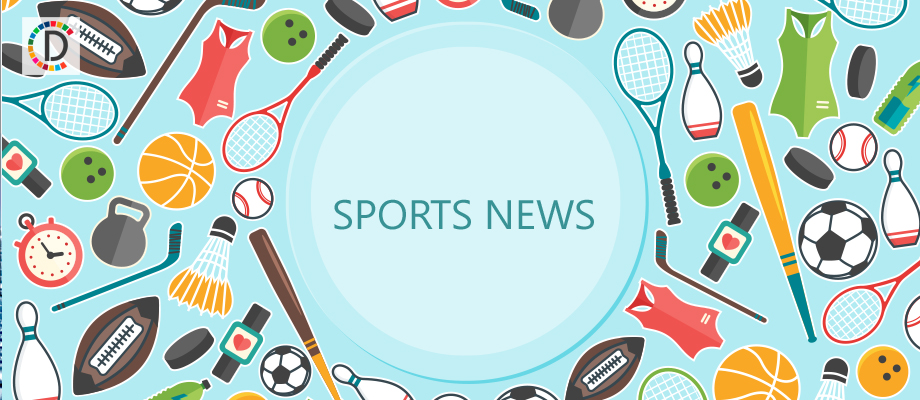 Top seed and defending champion Novak Djokovic held off a spirited challenge from Spanish outsider Roberto Bautista Agut on Friday to triumph in four sets and advance to Sunday's Wimbledon final against either Roger Federer or Rafa Nadal. BASKETBALL-NBA-REFEREES/
NBA announces new replay, coach's challenges leaders The NBA is promoting referee Jason Phillips to lead its replay center as Replay Center Operations Principal. Joe Borgia, the current leader of the replay center, will move into a different role where he will oversee the implementation of coach's challenges.
TENNIS-WIMBLEDON-SERENA/ Serena and Halep chase milestones in Wimbledon final
LONDON (Reuters) - Serena Williams no longer wants to obsess about elusive Grand Slam "number 24" and Simona Halep is desperate to win Wimbledon more than to stop the American reaching that milestone but there will be no place for either to hide in Saturday's final. UPCOMING
SOCCER SOCCER-NEYMAR/ (PIX) (TV)
Soccer - Neymar Jr´s Five World Final 2019 Praia Grande, Brazil hosts the Neymar Jr´s Five World Final - a five-a-side soccer tournament - from July 12-13. More than 40 teams from around the world will compete for the title.Neymar is expected to speak to media at the event.
13 Jul 13:00 ET / 17:00 GMT CRICKET
CRICKET-WORLDCUP-NZL-ENG/PREVIEW (PIX) (TV) Cricket - ICC Cricket World Cup Final - England & New Zealand nets & news conferences
New Zealand and England prepare for the ICC Cricket World Cup final at Lord's in London. 13 Jul 05:00 ET / 09:00 GMT
GOLF GOLF-EUROPEAN/ (PIX)
Golf - European Tour - Scottish Open third round Coverage of third round from the Renaissance Club in North Berwick, where a stellar field includes Rory McIlroy, Justin Thomas, Matt Kuchar and Rickie Fowler.
Jul 13 GOLF-JOHNDEERE/
Golf - PGA Tour - John Deere Classic third round Coverage of the third round of the PGA Tour event in Silvis, Illinois.
Jul 13 CYCLING
CYCLING-FRANCE/ (PIX) (TV) Cycling - Tour de France
Stage eight of the Tour de France is a 200-kilometre hilly stage from Macon to Saint-Etienne. 13 Jul 06:25 ET / 10:25 GMT
TENNIS TENNIS-WIMBLEDON/ (PIX) (TV)
Tennis - Wimbledon Serena Williams plays Simona Halep in the women's singles final at Wimbledon - the third grand slam of the year.
13 Jul 09:00 ET / 13:00 GMT MOTOR RACING
MOTOR-F1-BRITAIN/ (PIX) (TV) Motor racing - Formula One - British Grand Prix - Qualifying
Action from qualifying for the British Grand Prix. 13 Jul 09:00 ET / 13:00 GMT
SWIMMING SWIMMING-WORLD/ (PIX)
World Aquatics Championships - Gwangju 2019 The southwestern city of Gwangju will host the world swimming championships, with athletes looking to make a mark ahead of the 2020 Olympics in Tokyo.
Jul 13
Also Read: UPDATE 2-Tennis-Classy Djokovic charges into another Wimbledon final
(This story has not been edited by Devdiscourse staff and is auto-generated from a syndicated feed.)
Download The Devdiscourse News App for Latest News.
---