REUTERS SPORTS SCHEDULE AT 6:30 p.m. GMT/2:30 p.m. ET
Reuters
|
Updated: 16-08-2019 00:00 IST | Created: 16-08-2019 00:00 IST
---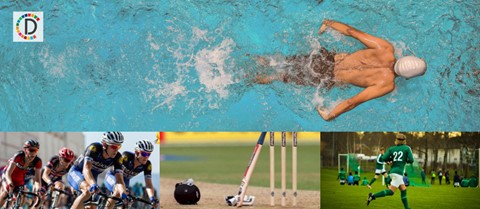 The International Triathlon Union's decision to reduce the distance of the run segment in Thursday's women's Olympics qualifying event because of heat concerns is the latest setback for Tokyo 2020 organisers battling extreme temperatures.
TENNIS-CINCINNATI/MEN Kyrgios melts down again during Cincinnati loss
Nick Kyrgios continued his feud with umpire Fergus Murphy during his second round loss to Karen Khachanov at the Cincinnati Masters on Wednesday, loudly abusing the official before leaving the court to smash some rackets. UPCOMING
GOLF GOLF-BMW/ (TV)
Golf - PGA Tour - BMW Championship second round Coverage of second round of BMW Championship at Medinah Country Club as players vie to qualify for the season-ending Tour Championship.
16 Aug 10:00 ET / 14:00 GMT TRIATHLON
OLYMPICS-2020/TRIATHLON Triathlon - Men's Elite Triathlon takes center stage day after heat fears shorten women's race
The day after the women's event was shortened because of concerns over the extreme heat, it is the men's turn to head to Tokyo's Odaiba Marine Park venue and compete in the elite triathlon Olympics qualification event that also serves as a Tokyo 2020 test event. 16 Aug 03:30 ET / 07:30 GMT
TENNIS TENNIS-CINCINNATI/ (TV)
Tennis - ATP 1000 - Cincinnati Masters Action from the quarter-finals of the Cincinnati Masters - an ATP World Tour Masters 1000 event.
16 Aug 11:00 ET / 15:00 GMT TENNIS-CINCINNATI/
Tennis - WTA Premier 5 - Cincinnati Masters Action from the quarter-finals of the Cincinnati Masters - a WTA Premier 5 tournament. 16 Aug 11:00 ET / 15:00 GMT
RUGBY RUGBY-UNION-WORLDCUP-ZAF-ARG/
Rugby Union - South Africa captain's news conference ahead of Argentina test South Africa will hold a news conference with their captain ahead of the one-off test against Argentina on Saturday.
16 Aug 07:30 ET / 11:30 GMT RUGBY-UNION-BLEDISLOE-NZL-AUS/ (TV)
Rugby Union - Bledisloe Cup - New Zealand v Australia - news conferences & training New Zealand and Australia prepare for the second match of their annual Bledisloe Cup series in Auckland.
16 Aug CRICKET
CRICKET-ASHES/ (PIX) Cricket - Ashes 2019 - Second Test - England v Australia England play Australia in the second test at Lord's.
16 Aug 06:00 ET / 10:00 GMT MIXED MARTIAL ARTS
MMA-UFC-UFC217/PREVIEW "Vanished" Diaz returns after three-year UFC absence
After a stunning submission win and a narrow decision defeat in two epic 2016 fights against Conor McGregor, Nate Diaz was one of the biggest names in the sport but the Californian, who returns to the octagon at UFC 241 in Anaheim on Saturday after a three-year absence, says that instead of pushing him, the fight promotion "vanished" him. 16 Aug
NATIONAL FOOTBALL LEAGUE FOOTBALL-NFL-NOTEBOOK
Field Level Media-NFL notebook Wrapping up the day in NFL news and notes.
15 Aug 20:15 ET/ 16 Aug 00:15 GMT MAJOR LEAGUE BASEBALL
BASEBALL-MLB-ROUNDUP Field Level Media-MLB roundup
Capsule recaps of all games Thursday, combined in a single story. 15 Aug
---