Net Zero Energy Building: A roadmap for energy sufficient cities of future
"We're in situation where you design a new building and there's maybe thousands of protocols you need to comply with, which are not necessarily constituted to innovation, and also make it impossible for authorities to actually enforce the codes, because no one wants to check every building out of 30,000 buildings," said Saeed Al Abbar, Chairman of Emirates GBC. The experts in Dubai are highlighting the need to plan for Net Zero Energy Building (NZED) and fully energy sufficient cities.
Devdiscourse News Desk
|
Updated: 15-08-2019 20:00 IST | Created: 10-08-2019 17:27 IST
---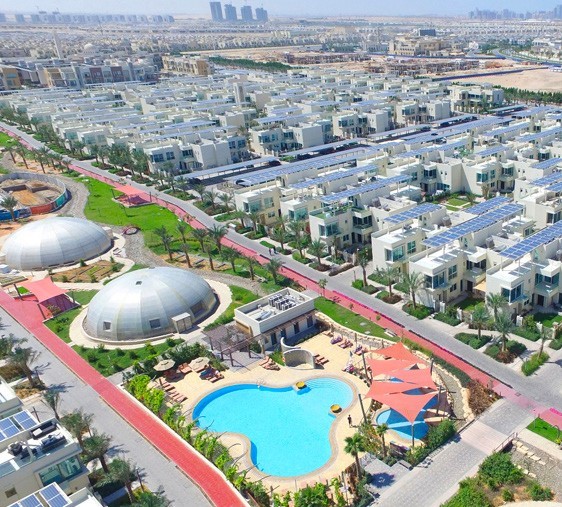 There is no doubt that Dubai is blazing a new path for cities in the UAE by calling attention to energy consumption in urban buildings and highlighting the lag in the efficient collection and analysis of data available to benchmark usage rates and measure progress. With buildings accounting for 70-80% of energy consumption in the UAE, this fact underscores the importance of targeting building energy use as a key to decreasing the nation's energy consumption.
The building sector can significantly reduce energy use by incorporating energy-efficient strategies into the design, construction, and operation of new buildings, and undertaking retrofits to improve the efficiency of existing buildings. It can further reduce dependence on fossil fuel-derived energy by increasing the use of on-site and off-site renewable energy sources.
The concept of a Net Zero Energy Building (NZEB), one which produces as much energy as it uses over the course of a year, has slowly been evolving from research to reality. Currently, there are only a small number of highly efficient buildings around the world that meet the criteria to be called "Net Zero". But, as a result of advances in construction technologies, renewable energy systems, and academic research, creating Net Zero Energy buildings is becoming more and more feasible. In 2016, Dubai joined the Building Efficiency Accelerator (BEA), a global network of cities led by the WRI Ross Center for Sustainable Cities, and proposed a new policy on energy performance labels for existing buildings. The city government launched a pilot project in February 2017, led by the Emirates Green Business Council and the Dubai Supreme Council of Energy, to measure the performance of 100 buildings in three focus groups: hotels, schools and shopping malls. In 2018, Emirates GBC officially started inviting schools in Dubai to participate in the project.
"Benchmarking is an important step for schools to evaluate their energy and water usage," said Saeed Al Abbar, Chairman of Emirates GBC. "It enables the sector to make decisions backed by solid data on how to improve their consumption rates and track their progress. Energy and water management are inherently embedded into the core of green schools, and today, a very limited number of schools fulfil the requirements to be sustainable. Educational institutions are a priority sector and we, therefore, encourage all schools in Dubai to participate in the BEA benchmarking project and become leaders, and advocates, in the drive to sustainable development in the UAE."
In October 2018 the Emirates GCB urged entities region-wide to commit to net zero carbon buildings at the annual Emirates GBC Congress. Speaking at the congress Al Abbar said: "The Congress this year is by far the most important one to date as we face the unprecedented challenge of securing a prosperous future for upcoming generations. We have a small window of opportunity over the next 12 years, to make a significant change and confidently look to our children and future generations and tell them that we did our best and overcame this challenge. Change is achievable if we start today. We have come a long way in the past 10 years to get to the level of awareness and commitment we have today on sustainability. I believe that with the ingenuity of human spirit, the great minds we have in our industry and the leadership of the government sector that we can rise to the challenge and deliver on our global net zero emissions targets."
Achieving Net-Zero
A net-zero energy building produces the same amount of energy it consumes. A net-positive energy building produces more energy than it consumes. Achieving this, however, could be seen to be a little far-fetched. According to the World GBC in most situations, net-zero energy buildings, i.e. buildings that generate 100% of their energy needs on-site, are not feasible. Therefore, buildings that are energy-efficient, and supply energy needs from renewable sources (on-site and/ or off-site) is a more appropriate target for the mass scale required to achieve Paris Agreement levels of global emission reductions. Saeed Al Abbar presents a more realistic picture, highlighting one of the biggest challenges when faced with achieving these ambitious targets So how does one mitigate, or bypass restrictive codes and protocols? Al Abbar reckons a something revolution is required. "Performance-driven metrics. I think that that's definitely the way to go, so we're not bogging people down. A challenge with this, though, is that performance-based codes could be very, very difficult from an authority perspective to measure and enforce, and it could be open then to non-compliance slipping through."
To address these challenges, the WorldGBC has defined key steps to follow by means of its global project, Advancing Net Zero. The project, which calls for 100% net zero carbon buildings by 2050, was launched in 2016 and has already seen concerted action across its 15 participating Green Building Councils, Emirates GBC being one of them. As part of the project, these Green Building Councils have committed to developing net zero certification schemes in 2018/2019, with 5 already launched as of March 2018. Other pathways of action include engagement with corporate members and government, and developing industry capacity through training and education activities.
With thanks to Dubai Carbon Centre of Excellence an institutional supporter of the 24th World Energy Congress.
For more news, views and interviews please visit LIVE DISCOURSE
DISCLAIMER: Except for the headline and minor editing, this write-up has been published from 'The 24th World Energy Congress Preview'. Devdiscourse is Media Partner of World Road Congress 2019 being organized in Abu Dhabi on 9-12 September 2019.
---
FIRST PUBLISHED IN:

The 24th World Energy Congress Preview