Believe in your abilities, chase your dreams: Lekhi urges girls, young women
---
PTI
|
New Delhi
|
Updated: 20-11-2023 23:31 IST | Created: 20-11-2023 23:29 IST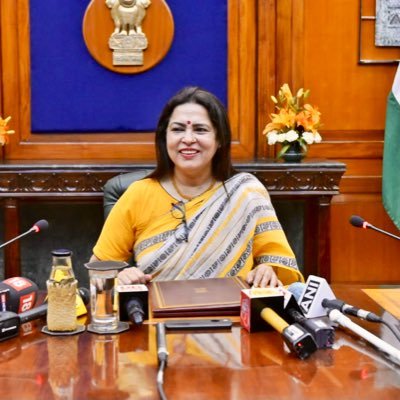 ---
Union minister Meenakshi Lekhi on Monday said girls and women should always believe in their abilities, lending wings to their dreams without bothering about whether any field is male-dominated.
Addressing a group of young innovators at an event hosted by Unicef on World Children's Day, Lekhi told them to go for their dreams, as she asserted that India has historically acknowledged brighter brains, irrespective of age, and honoured them.
Fourteen young innovators from across India came together to showcase their ingenious work under the banner 'Innovate for Equality' in an exhibition organised by UNICEF in partnership with the Indira Gandhi National Centre for Arts (IGNCA) here.
Before delivering her keynote address, Lekhi interacted with these innovators and saw the prototypes developed by them.
The ideas showcased at the event included a robotic sanitising machine, a smart helmet, and a mechanism to convert sign language into verbal text in English on a screen, smart gloves for communication, a 'hope arm' (3D-printed artificial hand) for para-athletes, and shoes for the visually impaired.
Lekhi urged youngsters to use the best of their potential and cited examples of women leading in certain academic fields.
''Let girls not get this idea that it's a man's place or a guy's place. It's all equal (for both genders),'' she said.
Cynthia McCaffrey, UNICEF India representative, opened the panel discussion by sharing the significance of World Children's Day and stressing the importance of instilling innovative thinking by giving girls and boys equal opportunities.
''Girls and boys, when given an equal opportunity to think, learn, experiment, innovate, and tend to develop gender-sensitive solutions to problems that affect them the most. Innovative thinking encourages children's awareness of both the challenges and opportunities around them,'' a UNICEF statement quoted McCaffrey as saying.
''India's climbing the ranks from 81st to 40th in the Global Innovation Index is a solid indicator of the potential of India's innovation and the talent of India's youth -- several of whom we met today,'' she said.
''UNICEF believes in working for and with children to harness their creativity and ideas to help address inequalities and to raise young voices to support equal and empowering access to opportunities for all children and youth everywhere,'' McCaffrey added.
(This story has not been edited by Devdiscourse staff and is auto-generated from a syndicated feed.)