Floating on Education for Manta People of Bangladesh
August 9 is observed as International Day of the World's Indigenous Peoples by the United Nations.
Devdiscourse News Desk
|
Kent
|
Updated: 08-08-2019 17:57 IST | Created: 08-08-2019 17:44 IST
---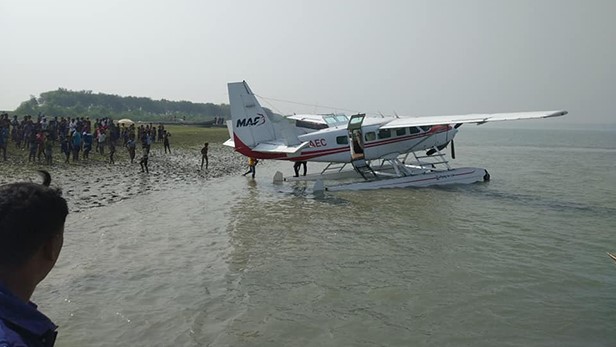 Manta is one of the indigenous groups in Bangladesh. They are identified by their distinct customs and traditions as well as low incomes and social disadvantage. Accessing the Manta takes 24 strenuous hours by land and boat from Dhaka, the capital. MAF Flying for Life, a Civil Society Organisation (CSO), could land alongside their floating homes in less than an hour on the only amphibious humanitarian aircraft in the country.
Eking a living from fishing and moving from place to place, the Manta share similarities with the Gypsies found across Europe – their name meaning 'River Gypsy.' Like Gypsies in other parts of the world, the Manta suffer discrimination and exclusion from the wider community. Being totally dependent upon fishing also brings them into conflict with other fishermen who preciously guard access to locations where better catches can be made. Hostility towards the Manta extends to land ownership rights, to the extent that their dead cannot be buried. Having no toilet means that members of the community practice open defecation in the same river they use for bathing and cooking, fostering disease and poor hygiene.
Education for Manta children is overwhelmingly focused on gaining skills related to fishing, which is an all-encompassing vocation. Parents see little value in sending their children to a state-run school where they will not be learning to fish and will likely face pronounced discrimination. With this in mind, a local NGO Jago Nari recently flew a team on MAF's amphibious aircraft to assess the feasibility of implementing a 'boat school' for the Manta, which would enable access to basic hygiene, literacy and open up alternative sources of income generation in the future.
Jabo Nari representative Duke Ivn Amin oversees resource mobilisation and communication. He said: 'We are really grateful to MAF for the flight support to assess the Manta community. Travelling from Dhaka to Char Montaz, we would need approximately 24 hours by road and boat. But MAF greatly reduces that time and we could reach there in 45 minutes at very limited cost. As a result, we had more time to interact with Manta community for an in-depth assessment.'
On this International Day of the World's Indigenous Peoples, it is poignant to remember the Manta, as well as many others who are yet to be acknowledged by the International Community for their vulnerability, poverty and acute isolation. An estimated 370 million indigenous people live across 90 countries on our planet. This makes up only five per-cent of the world's population, but they represent some of the poorest and most vulnerable. To raise awareness of these forgotten people, 9 August commemorates the International Day of the World's Indigenous Peoples – a cause which is at the core of Mission Aviation Fellowship's (MAF) work. Hundreds of remote people are now receiving the basics they need to survive, accessing education, technology and external markets to break longstanding cycles of poverty. Now flying in 27 developing countries, MAF is among the world's largest humanitarian airlines and has opened up some of the world's most isolated communities.
---