PM Modi, Defence Minister Rajnath interact with Agniveers though video conference
Prime Minister Narendra Modi on Monday interacted with Agniveers through a video conference.
---
ANI
|
Updated: 16-01-2023 12:44 IST | Created: 16-01-2023 12:44 IST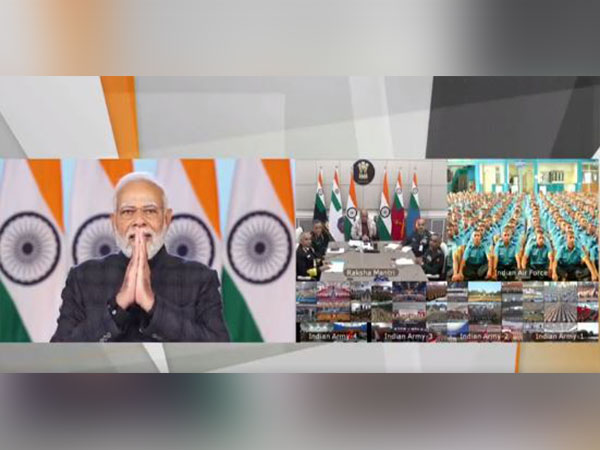 ---
Prime Minister Narendra Modi on Monday interacted with Agniveers through a video conference. Defence Minister Rajnath Singh was also present during the virtual meeting with the Agniveers.
Under the Agnipath scheme, announced on June 14 last year, the three services arerecruiting youths between the age bracket of 17-and-half years and 21 years for four years with a provision to retain 25 per cent of them for 15 more years. For 2022, the upper age limit was extended to 23 years. Earlier on January 11, Brig Suresh G, Commandant, 1 EME Centre, briefed the media at the Agniveers Training and Administration and Newly Conceptionalised and Constructed Outdoor Musketry Facility, in Secunderabad, Telangana.
"We have received 458 candidates for the 'Agniveer' training programme. They will undergo 10 weeks of basic training. It's a well-calibrated output-oriented programme and the Indian Army is working on it. So that the candidates will be a 'fit for fight' soldiers. Thereafter they will undergo technical training under 1 EME training centre and others. The technology is infused for both phases in terms of simulators and in terms of equipment. In coming days, these Agniveers will deliver the nation's interest," he said. Speaking to ANI, Brig Suresh G, said that 1 EME Centre is responsible for basic training, and advanced and technical subjects for Agniveers of Electronic and mechanical engineers.
Bharat Bhushan Babu, IIS, ADG (Media & Communication), DPR, Ministry of Defence, has also visited the Training Centre of the Corps of Electronics and Mechanical Engineering (CEME) in Secunderabad, and took stock of arrangements for the transformation of the Agniveers. "The recruitment process has been completed. The Indian Army has alone recruited 19,000 candidates for Agniveers. The Air Force and Navy have also recruited candidates. The overall target for this financial year is to recruit 46,000 candidates. The army is going to get youthful, better skilled and more technically capable soldiers," said Bharat Bhushan Babu, IIS.
"If some of them rise up to levels required by the Army, they will get a chance to join the army as a regular soldier. It is going to be a game changer," he added. (ANI)
(This story has not been edited by Devdiscourse staff and is auto-generated from a syndicated feed.)