India anchored the discourse on sustainable urbanisation under G20 Presidency: Hardeep S Puri
Shri Hardeep S Puri was speaking at the inaugural session of UrbanShift Forum (Asia) here today.
---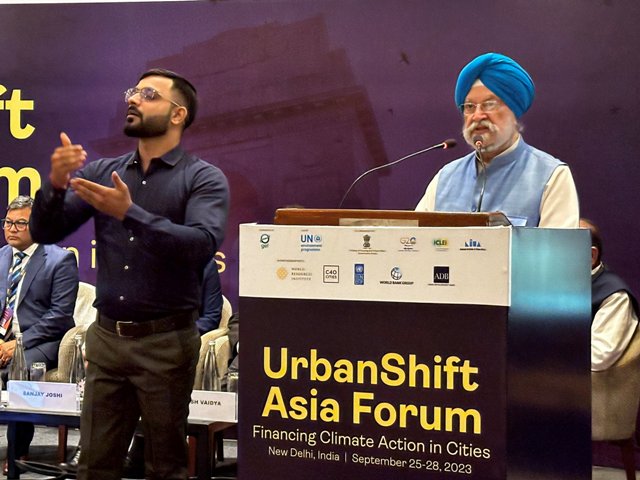 ---
India has led action on the issue of climate change under the leadership of Prime Minister Shri Narendra Modi. His ambitious Panchamrit Action Plan is the anchor for our climate response, with the thrust of our response centred on our rapidly urbanising cities, said Shri Hardeep Singh Puri, Minister of Housing & Urban Affairs and Petroleum & Natural Gas. He said that the results are already showing. India was in the top five best performing countries on Climate Change, according to the Climate Change Performance Index.
Shri Hardeep S Puri was speaking at the inaugural session of UrbanShift Forum (Asia) here today. He said that under its widely lauded G20 Presidency, India anchored the discourse on sustainable urbanisation. "Our journey of urbanisation is a success story that has become a blueprint for other countries to learn from, particularly the Global South", he said.
The minister delved into various schemes of Ministry of Housing & Urban Affairs, Government of India, that are leading the path towards development of Urban spaces in a sustainable and inclusive manner. Talking about the Pradhan Mantri Awas Yojana- Urban (PMAY-U), he said that almost 11.9 million houses have been sanctioned; more than 11.3 million houses have been grounded; nearly 7.7 million houses already delivered to beneficiaries under the scheme.
The minister also spoke about the Swachh Bharat Mission – Urban that has resulted in behavioural shift towards cleanliness. Around 7.36 million individual and community toilets have made India's cities and towns ODF. Solid waste processing has gone up from 17% in 2014 to 75% today. Under SBM-U 2.0, 326 garbage dumpsites have been remediated and 42.6 million tonnes of waste reduced, he said.
Elaborating on the successes of AMRUT Mission, Shri Puri said that nearly 14 million water tap connections and 13.5 million sewer connections have been provided in 500 cities (60% of India's population).
In a significant step towards ease of life, 6,069 projects worth over $13 billion have been completed under Smart Cities Mission, embedding a culture of innovation and excellence.
"A paradigm shift in India's mobility agenda; we now have the fifth-largest metro network in the world with 871 kms of metro lines laid and another 906 kms of metro network undergoing construction", the Minister said.
Highlighting the need of localisation of climate agendas, the Minister observed that for cities in the Global South, it is critical that we localise our climate agendas. "No discussion on urban planning can be removed from fiscal health. Cities depend heavily on central grants to meet basic financial needs. This needs to change, he said."
He said that we need to complement traditional revenues with innovative instruments and more diverse access to finance. He expressed the hope that this forum disseminates best practices for the acceleration of climate finance for cities.
The minister also touched upon how India is leading the discourse on encouraging environmentally responsible behaviours and accelerating climate finance through Urban 20. For the first time, climate finance found a notable mention in the final G20 Declaration, he said.
The first UrbanShift Forum (Asia) was inaugurated in the gracious presence of Union Minister Mr Hardeep Singh Puri, Ministry of Housing and Urban Affairs (MoHUA), Government of India, at the Hyatt Regency in New Delhi on September 25, 2023.
Dignitaries from the Government of India, the National Institute of Urban Affairs (NIUA), United Nations Environment Programme (UNEP), Asian Development Bank (ADB), Global Environment Facility (GEF), among other organisations and institutions were also present during the inaugural session of the UrbanShift Asia Forum which was co-organised by ICLEI South Asia and NIUA.
About 150 representatives of national governments and cities in India, Indonesia, China, Vietnam, Malaysia, Nepal, Philippines, Jordan and Sri Lanka, as well as international organisations, financial institutions, businesses and NGOs are attending the event to exchange knowledge and experiences on regional urban challenges and replicable solutions.
The key objective of this forum is to provide training and capacity-building to regional cities on various facets of integrated and sustainable urban development.
At the opening plenary session, key urban issues in the Asian region were discussed by a high-level panel as well as the other participants, while focusing on strategies to overcome obstacles and to transform Asian cities into 'cities of opportunity.' Several regional leaders spoke about their vision and policy directions in the coming decades for enhanced ambition and accelerated climate actions in Asian cities.
Among the dignitaries who spoke on a range of issues on the first day of the UrbanShift Forum were Mr. Atul Bagai, Country Head, United Nations Environment Programme India Office; Mr. Madhav Pai, Chief Executive Officer, World Resources Institute; Mr. Aloke Barnwal, Senior Climate Change Specialist and Coordinator - Sustainable Cities, Global Environment Facility (GEF); Mr. Hitesh Vaidya, Director, National Institute of Urban Affairs (NIUA)India; Mr Emani Kumar, Deputy Secretary General, ICLEI, and Executive Director, ICLEI South Asia; and Ms. Andrea Fernandez, Managing Director of Climate Finance, Knowledge and Partnerships, C40 Cities.
In parallel sessions being held during the rest of the Forum, the participants will exchange insights on addressing challenges, showcasing successful practices, and investigating scalable strategies. They will also explore avenues for support from the UrbanShift project, including knowledge and capacity building as well as financial and private sector engagement opportunities. The experiences from GEF-funded Sustainable Cities Projects will be shared.
(With Inputs from PIB)