PMAY(U), AMRUT and SCM Missions ensuring ease of living for citizens
The Missions being implemented in the Ministry of Housing and Urban Affairs are way ahead of the targets and timelines.
Devdiscourse News Desk
|
New Delhi
|
Updated: 25-06-2019 17:21 IST | Created: 25-06-2019 17:21 IST
---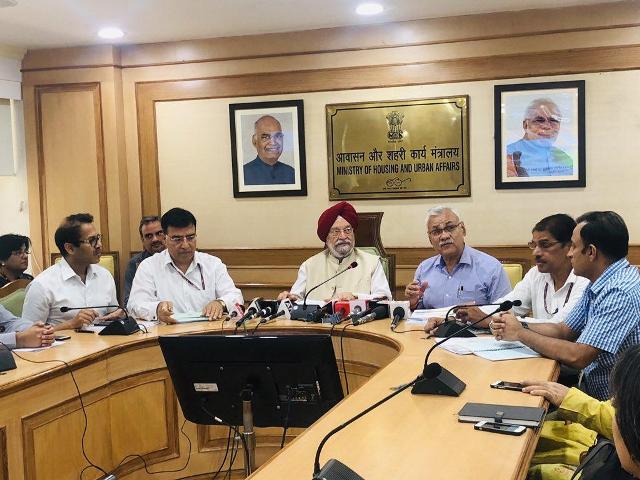 Past four years of Urban Transformation has witnessed giant strides by the flagship Missions and programmes of the Ministry of Housing & Urban Affairs. The Missions of Pradhan Mantri Awas Yojana (Urban), Atal Mission for Rejuvenation and Urban Transformation & Smart City Mission are not only transforming the Urban Landscape of the country but also ensuring ease of living for the citizens. As compared to the overall investment of Rs 1.57 lakh crore during 2004-14, the investment in Urban rejuvenation during 2014-19 is Rs 10.31 lakh crore which translates into 554% increase. The investment in PMAY(U), AMRUT & SCM is about Rs.8 lakh crore. The Missions being implemented in the Ministry of Housing and Urban Affairs are way ahead of the targets and timelines. The transformation and impact for the cities will continue to be the focus in the coming years.
Sanctioning of more than 81 lakh houses at a total investment of Rs.4.83 lakh crore under Pradhan Mantri Awas Yojana -Urban has helped meet the objectives of providing a roof to a large section of the poor urban population in the country. Out of these, around 48 lakh houses are at various stages of construction. 26 lakh houses have already been completed and handed over. Mission targets for providing Housing for all by 2022 is way ahead of the timeliness and targets. Over 13 lakh houses are being built using new technologies. Central assistance worth Rs.1.26 lakh crores have been committed while more than Rs. 51,000 crore already released. As a measure towards women empowerment, houses under PMAY(Urban) are provided in the name of the woman or joint ownership.
Under the Credit-Linked Subsidy Scheme of the PMAY, the middle-income group families with income up to 18 lakh per annum are being funded for houses for the first time. The carpet area of the house has been increased up to 200 sq.m. More than 6.32 lakh persons have taken the benefit under the CLSS during 2005-19.
Atal Mission for Rejuvenation and Urban Transformation was launched with the objective of universal water supply, improvement in sewerage network, developing children and Divyang friendly green spaces & parks, improvement in stormwater drainage and non-motorised urban transport & implementing a reform agenda under which States/UTs are incentivised for implementation of reforms. State Plans worth Rs 77,640 Crore have already been approved. Out of this, Rs 39,011 Crore have been approved for Water Supply Projects, Rs 32,456 Crore for Sewerage & Septage, Rs 2,969 Crore for Storm Water Drainage; Rs 1,436 Crore for non-Motorised Urban Transport; Rs 1,768 Crore for green spaces and Parks. More than 4,910 projects worth Rs. 65,000 crore are under implementation/completed. More than 22 Crore Urban Population have benefitted from these initiatives. Online Building Permission Systems (OBPS) which has been implemented in 1,705 ULBs including all ULBs in 11 States/UTs is ensuring Ease of living for the citizens. Over 62 lakh street lights have also been replaced with LED lights.
To move from water scarcity to water security, 1,132 projects worth Rs 33,900 Crore are under implementation. 58 lakh water tap connections have been provided so far while another 81-lakh water tap connections will be provided. By the end of the mission, all households will have a water supply. As regards Recycle & reuse of wastewater, 622 sewerage & septage management projects worth Rs. 26,589 Crore are under implementation. 37 Lakh sewer connections have been provided while another 108 Lakh sewer connections will be provided. The sewerage coverage is being increased from 31% to 62 % by the end of the mission. Towards recreating Green spaces for a healthy lifestyle, 1,048 parks costing RS. 593 crore have been developed. 1,356 Parks costing Rs 1,004 Crore are under development. These are equipped with women, child and divyang friendly features
Energy audit of pumps have been completed in 353 cities & 11000 pumps have been identified for replacement. The credit rating work has already been completed in 467 AMRUT cities, out of these, 163 cities have received investible grade rating of which 36 have A minus and above rating. 8 Urban Local Bodies, i.e. Pune, Hyderabad, Bhopal, Indore, Visakhapatnam, Amravati, Ahmedabad & Surat have issued municipal bonds worth Rs. 3,400 crore. Towards incentivising issuance of municipal bonds, an award of Rs.13 crore as an incentive for every hundred crores of municipal bonds issued per ULB is being given. Rs.181 crore has already been awarded for raising municipal bonds so far.
Launched on 25 June 2015, Smart Cities Mission is one of the most transformational urban missions. The objective is to strengthen urban infrastructure through the application of smart solutions and provide a better quality of life to citizens. The operationalisation of 16 Integrated Control and Command Centres(ICCC) has contributed to providing several online services to the citizens. It has also helped in crime prevention, better surveillance and reduction in crime against women. Another 55 ICCCs are in different stages of implementation. As of now all 100 Special Purpose Vehicles (SPVs) have been formed, 100 City Level Advisory Forums (CLAFs) constituted, 100 Project Management Consultants (PMCs) appointed and 5,151 projects worth Rs.2.05 lakh crore sanctioned.
● 57% of the total projects i.e. 3,589 projects worth Rs. 1,33,407 crore have been tendered of which 38% of the total projects i.e. 2,793 projects worth Rs. 88,898 crore have been grounded for implementation/construction or are completed.
● The number of projects tendered in SCM has accelerated by 240% since March 2018.
Ease of Living Index covering 111 Indian cities launched on 13 August 2018 with an objective to enable cities to assess the progress made in urban environments through various urban initiatives. The framework measures 'Ease of Living' across four pillars: institutional, Social, Economic & Physical. Top performing cities are Pune, Navi Mumbai, Greater Mumbai, Tirupati & Chandigarh.
Smart Roads built under the SCM has ensured safe and convenient access and routes to all users by reduced accidents on the road, promoting transit-oriented development and providing spaces for users to stop and enjoy themselves. So far Smart Roads have been completed in 25 cities at a cost of Rs.837 crore, while it is under development in 59 cities. 36 cities have issued tenders. Smart Road Projects in 94 cities at a cost of more than Rs. 13,000 crore have already been started/tendered
Smart Solar Energy under the SCM has reduced dependency on grid power. So far projects have been completed in 15 cities at a cost of Rs.113 crore. This has resulted in a generation of 19 MW power. Projects have also started/tendered in 45 cities worth more than Rs.850 crore. Smart Wastewater projects in 10 cities have been completed and are operational, while it is under development in 50 cities. Smart Water projects in 24 cities have been completed and are operational, while it is under development in 56 cities.
India Smart Cities Fellowship Program: 39 young professionals have been selected in the fields of Urban Planning & Design and related issues as Smart Cities Fellows. They will provide the necessary support to the Office of Mission Director, Smart Cities in MoHUA and/or CEOs of selected Smart Cities in terms of analytics, research, documentation, etc.
Ease of Living Index 2019: As a part of improving the index, a new edition The Ease of Living Index 2019, more focussed on outcomes and aims to assess the ease of living of citizens across three pillars has been launched.
India Urban Observatory: A state-of-the-art India Urban Observatory has become operational in the MoHUA. The Observatory will plug into various sources of data from cities both from real-time and archival sources for generating insights through analytics for cities, academia, industry and governments. This will greatly contribute to evidence policymaking.
Smart Cities Digital Payment Awards-2018: The Smart Cities Digital Payments Awards (SCDPA) 2018 '100 days Challenge in 100 Smart Cities' was launched on 9th July 2018 as part of the initiatives of MoHUA to promote ease of living for India's urban residents.
City Investments to Innovate, Integrate and Sustain (CITIIS) Challenge: With an objective to innovate, integrate and sustain, a CITIIS Challenge was launched by the Smart Cities Mission in July 2018 in partnership with AFD, EU and NIUA. Out of 67 proposals from 36 Smart Cities, 13 projects were selected for an investment of 100 million Euros. The CITIIS awards were given away during the 2nd Apex Conference of Smart City CEOs on 26 February 2019.
(With Inputs from PIB)
---