How polygamy and polyandry practices keep Africa away from achieving SDG 5
In South Africa, while the former president Jacob Zuma has four wives, Tanzania's Head of State John Magufuli encourages polygamy saying "10 million more women than men in his country" and told his countrymen to marry "two or more wives" to reduce the number of single women.
Subhro Prakash Ghosh
|
Updated: 12-08-2019 16:02 IST | Created: 09-08-2019 02:01 IST
---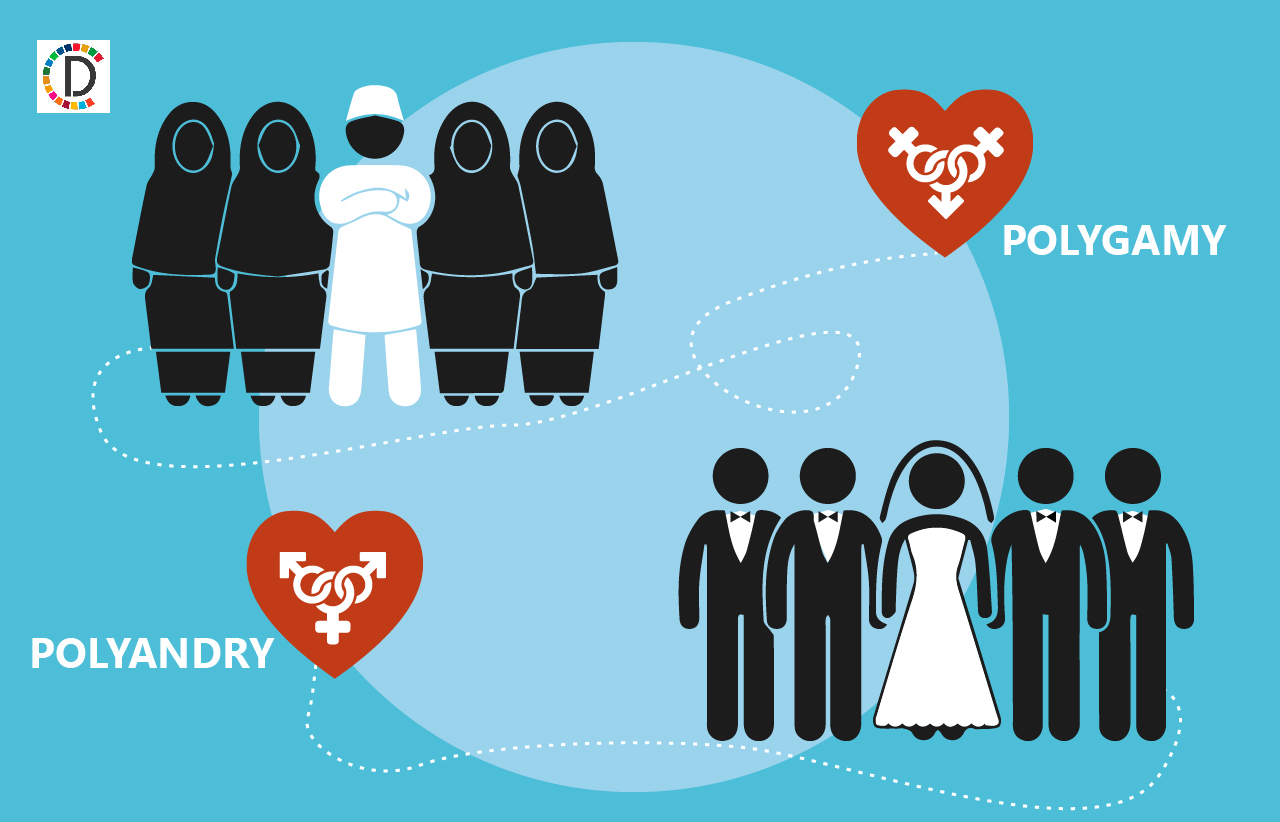 You must have heard the term 'Polygamy', which has been practiced in various regions across the world for thousands of years, but a few might have heard about 'Polyandry' which has numerous known cases in history and even today is practiced in some parts of the world. Where polygamy is entailed as the marriage of a man with more than one women (can be several), polyandry is the contrast (to polygamy) as it allows a woman to marry more than one man at the same time.
African countries where marrying multiple spouses is legal
The legality of polygamy and polyandry varies from one country to another in Africa. But as polygamy has always been more prevalent than polyandry for centuries in the African continent, the former concept is still practiced in various parts of the countries like Algeria, Cameroon, Chad, Central African Republic, Republic of the Congo, Djibouti, Egypt, Gabon, The Gambia, Guinea, Libya, Kenya, Mali, Mauritania, Nigeria, São Tomé and Príncipe, Senegal, Somalia, South Sudan, Sudan, Swaziland, Togo, Tanzania, Uganda and Zambia. These types of marriages (mainly polygamy) have always been prevalent in the history of Africa and reached the acme with the spread of Islam. For example, all the northern states in Nigeria governed by the Islamic Sharia law legalize or recognize polygamous marriages. Same with the autonomous regions of Somaliland and Puntland in northern Somalia as the country is governed by Sharia law.
After the downfall of the colonial era in Africa, the polygamy was started being gradually perceived as a taboo. Still, countries such as Kenya and South Africa are highly known for these kinds of marriages. In Gabon, both women and men are allowed to have more than one spouse, although only men typically follow the practice of keeping multiple wives. Before contracting a marriage, the couple must state whether they intend to pursue a polygamous relationship in the future. Men may later retract their decision and opt for polygamy if they desire, but women do not have this option. On average, 33 percent of women in Nigeria reported that their husbands have more than one wife. In Senegal, there is almost 47 percent of the marriages where they feature more than one woman.
In South Africa, while the former president Jacob Zuma has four wives, Tanzania's Head of State John Magufuli encourages polygamy saying "10 million more women than men in his country" and told his countrymen to marry "two or more wives" to reduce the number of single women. The late Kenyan businessperson Acentus Akuku (popularly known as Akuku Danger) was a grandmaster of seduction and created headlines after his death in 2010 (at the age of 92) for marrying 130 wives and leaving behind 210 children.
Also Read: What is ironing of young girls' breast and why it happens in Cameroon
Polyandry, on the other hand, was quite common in the Lake Region of Central Africa instead of polygamy. The Maasai (a Nilotic ethnic group inhabiting northern, central and southern Kenya and northern Tanzania) are traditionally polygynous. But this practice is much restricted in those places as people have already denounced it. In the African countries such as Kenya, where polyandry is not forbidden, two (Kenyan) men created headlines in August 2013 by entering into an agreement to marry a woman with whom they both had been having an affair. On the other hand, the practice of keeping more than one husband by a woman is still practiced among the Lele people in the D R Congo. They call it "hohombe", or "ngalababola", which means "wife of the village". One out of 10 or so among the Lele women becomes a "wife of the village" and the rest are mostly in the practice of polyandry. Young girls tended to be betrothed to older men and the younger men, who wait for their own betrothed brides to reach to become teens, request the village elders that they should get a common wife, who can be shared by all the men in a given age group. This woman who starts living with more than one man gets to know as a "wife of the village". She is treated with much honor and enjoys her honeymoon that lasts for a period of six months or more. During this period, she almost stays like a queen without cooking food, drawing water, cutting firewood or any household activities. She does not eat vegetables as her lovable husbands bring her birds and squirrels every day. She eats the delicious dish made up of antelope's liver.
During the ongoing honeymoon, she is allowed to eat with her husbands. She sleeps with a different man in her hut every two nights during the honeymoon phase but any man in the village is allowed to have relations with her during the day. On the other hand, once the honeymoon completes, she is usually allotted to stay with more than one husband and the number could cross five. She cooks food for them and undergoes sexual relations with them at her house. But she is also available to the rest of the village outside being outside her home as she is still the "wife of the village". She also has the authority to eliminate husbands from her household under typical circumstances. Here's not the end. The child born out of that "wife of the village" is called "mwanababola", which means "child of the village" as he or she belongs to all the men. The village as a whole will have to pay the dowry for the future wives on behalf of the sons of "wife of the village".
Polygamy exploits women's rights
Many traditional Africans may argue the ill-effects of polygamy on families, but there are increasing examples of shreds of evidence from other parts showing how this practice affects women and children economically, socially and psychologically. The African men who still practice polygamy consider women to give birth to many children as a family with more children are believed to be more powerful without considering the financial strength of the husband to feed the family. According to the UN Human Rights Committee, polygamy violates the International Covenant on Civil and Political Rights (ICCPR), citing concerns that the lack of "equality of treatment with regard to the right to marry" meant that the practice violates the dignity of women and should be outlawed. But the above-mentioned African countries not only tremendously violate the reports of the UN Committees in the pretext of religion and cultural practice of polygamy, a few like DR Congo's Lele tribe force women to have relations with entire men in the village.
Polygamy tremendously affects women and children
The Ugandan newspapers often report stories of co-wives attacking each other with knives and even acids or other chemicals out of jealousy. Some co-wives compete to have as many children as possible without caring for their physical abilities in hopes of winning the favor of their husbands, especially if there is substantial land to be inherited. Nigeria's booming film industry, Nollywood often dramatize the polygamy issues with colorful stories of witchcraft and murder. Women in polygynous unions tend to be characterized by frequent jealousy, conflicts, competition, tensions, psychological stresses, and paranoia.
But one of the tribes in Kenya named Logoli has raised their awareness by their utmost observation that suicidal cases and severe crimes among co-wives and their children become higher due to psychological distress.
On the other hand, children of the low-privileged wives severely suffer from discriminations and often fail to inherit their rights to the property. As the wives of a single husband give birth to many children, they do not get the right education and frequently continue skirmishing among themselves for very few resources. This leads to an increase in the number of illiterate citizens, the rate of crimes and the (unwanted) girl-children become victims of child marriages. The demand for children is higher on average in sub-Saharan Africa than in any other region with a fertility rate of around 5.1 births per woman, according to the United Nations' report released last year. The entrenched patriarchy that encourages practices like polygamy is a major cause (among other reasons) behind the continent now accounting for most of the growth in the global population.
Polygamy and polyandry practitioners are susceptible to STDs
Some dogmatic believers may argue that polygamy is also a way to prevent men from adopting random sexual partners and potentially introducing sexually transmitted diseases (STDs) like HIV/AIDS, gonorrhea, syphilis, chlamydia, genital herpes, HPVs, etc. But it has been observed in several cases that the chances of spreading STDs instead become higher in the polygamous relationship due to lack of right medical tests before marriages. On the other hand, polyandry practice, which is mainly restricted among the Lele people in the D R Congo including some parts of South Africa, Nigeria, Tanzania, Kenya, etc. increase the higher chances of introducing STDs for having sexual relations with multiple men.
What needs to be done
Many NGOs and women activists in Africa have raised voice against the practice of marrying multiple spouses and petitioned the parliamentarians to criminalize the practice. The foremost responsibility of all the African governments is to outlaw polygamy and polyandry for the social and economic development of the countries without giving much emphasis to the Sharia order in the pretext of religion and religious sentiments. The governments should also announce these practices as "criminal offenses".
Once the governments successfully outlaw polygamy and polyandry, the foremost task is to raise awareness against these malpractices through various mediums, conduct campaigns and mainly target the young girls and school-college students. The campaigns' theme(s) should be created in such strategic ways that it leaves a severe impact in their minds and convince them about the violation of human and girls rights, gender equality, the transmission of STDs and several other dangerous consequences of marrying multiple spouses in the name of tradition and religion. The African governments should help the human rights institutions in every way including protection so that they can approach the people in their respective processes for creating awareness.
One of the most vital steps should be implemented after outlawing these practices is the registration of marriages. This mandatory step will ensure that the people across all the communities in Africa are not secretly practicing polygamy and polyandry at any level. The law of inheriting land should be made restricted to the legal heirs of monogamous relationships. On the other hand, the NGOs and health clinics must be supported and encouraged in promoting the practice of undergoing medical tests before any marriage.
The governments of African countries need to adopt necessary steps in achieving Sustainable Development Goal 5 (SDG5) that emphasizes on "gender equality". According to the UN General Assembly, "gender equality is not only a fundamental human right but a necessary foundation for a peaceful, prosperous and sustainable world." It was set in 2015 with other issues addressed within the set of 17 SDGs in the success of Agenda 2030. The SDG 5 states "women and girls, everywhere, must have equal rights and opportunity and be able to live free of violence and discrimination and gender equality requires urgent action to eliminate the many root causes of discrimination that still curtail women's rights in private and public spheres."
There should be a huge contribution from the governments in assisting the UN and other development partners who are trying to eliminate crimes against women and bring gender equality. The people of Africa of all communities must be reminded through various mediums that polygamy and polyandry are hindrances to social and economic development and both the genders should be equal to each other and continue to survive in a monogamous relationship in order to have a happy and prosperous family.
Also Read: SDG5-Say NO to 'sexual cleansing' of African daughters on first menstruation
(Disclaimer: The opinions expressed are the personal views of the author. The facts and opinions appearing in the article do not reflect the views of Devdiscourse and Devdiscourse does not claim any responsibility for the same.)
---
FIRST PUBLISHED IN:

Devdiscourse