Discover the 15 Hidden Gems: America's Happiest Places to Call Home
Welcome to a journey across the United States where happiness takes center stage. In this detailed exploration, we'll unveil 15 hidden gems that redefine the meaning of 'home sweet home.' These lesser-known towns and cities, often overshadowed by their famous counterparts, have carved out their own unique niches of joy and contentment. From scenic landscapes to tight-knit communities, let's embark on a tour of America's happiest places to call home.
---
Devdiscourse News Desk
|
Updated: 22-09-2023 16:24 IST | Created: 22-09-2023 16:24 IST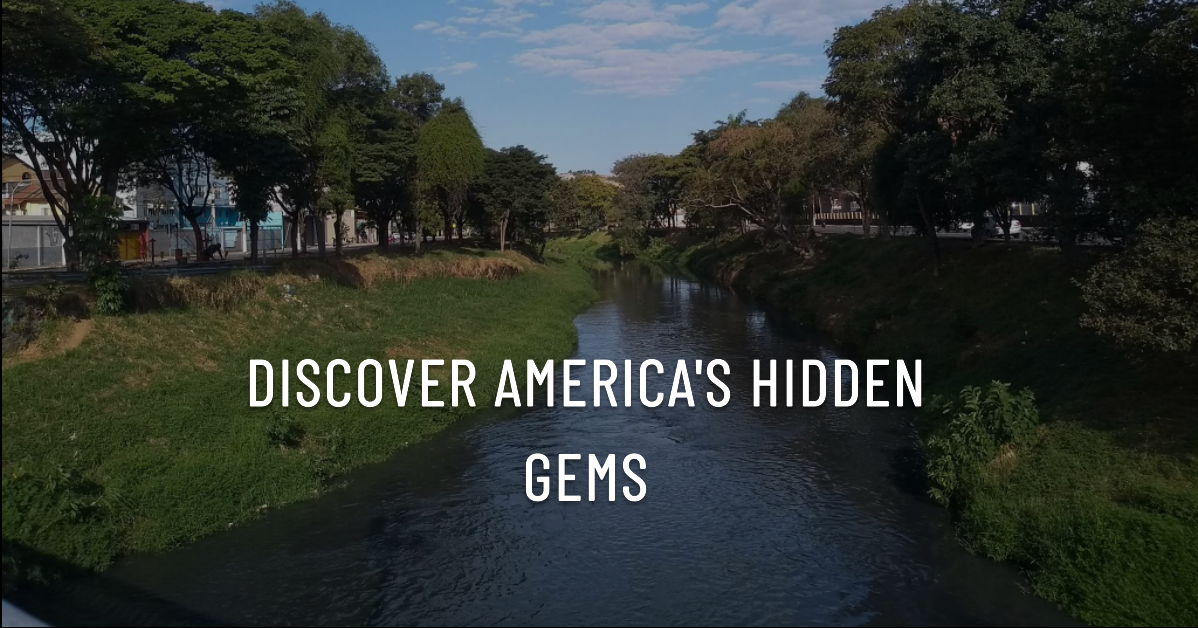 ---
Home is where the heart is, and America boasts a wide array of towns and cities that tug at the heartstrings of residents and visitors alike. While the spotlight often shines on the major metropolises, we're about to take you on a journey to discover the hidden gems that pepper the U.S. landscape – places where happiness isn't just a concept but a way of life.
In a world that seems to be constantly on the move, these 15 towns and cities offer a retreat from the chaos. They exude small-town charm, boast picturesque landscapes, and thrive in tight-knit communities. So, buckle up as we embark on an expedition to uncover America's happiest places to call home.
Ξ Brevard, North Carolina: The Land of Waterfalls
Nestled in the heart of the Blue Ridge Mountains, Brevard, North Carolina, is a nature lover's paradise. With over 250 waterfalls in the surrounding area, this town offers residents and visitors the chance to connect with the great outdoors like never before. The mesmerizing beauty of places like Looking Glass Falls and Bridal Veil Falls is sure to bring a smile to your face.
The sense of community in Brevard is palpable, with locals gathering for regular festivals, farmers' markets, and outdoor concerts. If you're a fan of art and culture, the Brevard Music Center and the Brevard Philharmonic offer world-class performances in an intimate setting.
Ξ St. Augustine, Florida: A Slice of History by the Sea
St. Augustine, often referred to as the nation's oldest city, is a treasure trove of history and charm. Its cobblestone streets, historic architecture, and proximity to pristine beaches make it a delightful place to live. Take a stroll down St. George Street, and you'll find quaint shops, cozy cafes, and an atmosphere that transports you back in time.
Residents of St. Augustine enjoy a unique blend of history and modern living. The town's Spanish colonial architecture, historic forts, and cultural festivals make it a vibrant and happy community.
Ξ Hailey, Idaho: Where Adventure Meets Serenity
If you crave a life of adventure and tranquility, Hailey, Idaho, might be your perfect match. Situated in the stunning Wood River Valley, this town offers year-round outdoor activities, from skiing in the winter to hiking and mountain biking in the summer.
Hailey's tight-knit community is known for its friendly residents who value the natural beauty that surrounds them. The famous Sun Valley is just a stone's throw away, offering world-class skiing and cultural events.
Ξ Galena, Illinois: A Step Back in Time
Galena, Illinois, is a picturesque town that feels like a step back in time. Its well-preserved 19th-century architecture and charming Main Street evoke a sense of nostalgia. The town's historical significance, including being the home of Ulysses S. Grant, adds to its allure.
The Galena River Trail offers scenic views, and the town's various boutiques and restaurants provide a delightful experience for residents. The sense of history and community make Galena a hidden gem of happiness in the Midwest.
Ξ Durango, Colorado: Adventure in the Rockies
Nestled in the heart of the San Juan Mountains, Durango, Colorado, is an outdoor enthusiast's dream come true. With access to world-class skiing, hiking, and mountain biking, it's no wonder that residents here have a perpetual smile on their faces.
Durango's historic downtown, the Durango and Silverton Narrow Gauge Railroad, and a thriving arts and culture scene make it a well-rounded haven for happiness. The sense of adventure in the Rockies is contagious, and you'll find yourself exploring new trails and making new friends in no time.
Ξ Beaufort, South Carolina: Southern Charm by the Sea
Beaufort, South Carolina, is the epitome of southern charm. With its historic antebellum architecture, oak-lined streets, and waterfront views, this town exudes a relaxed and friendly atmosphere. The community here takes pride in preserving their heritage and welcoming newcomers.
The Lowcountry cuisine, friendly neighbors, and a slower pace of life make Beaufort an ideal place for those seeking a sense of belonging and happiness by the sea.
Ξ Taos, New Mexico: A Haven for Creativity
Taos, New Mexico, is a magnet for artists, writers, and anyone seeking inspiration from its stunning natural surroundings. Nestled in the Sangre de Cristo Mountains, Taos has a rich cultural history and a vibrant arts scene.
The town's adobe-style architecture, galleries, and cultural events make it a haven for creative souls. Residents of Taos often find happiness in the freedom to express themselves and connect with like-minded individuals.
Ξ Hood River, Oregon: Windsurfing Paradise
Hood River, Oregon, is a paradise for outdoor enthusiasts, especially windsurfers and kiteboarders. Located along the Columbia River Gorge, this town is known for its consistent wind conditions and stunning views of Mount Hood.
The sense of camaraderie among Hood River's outdoor sports enthusiasts is infectious, and the town's brewery scene adds a layer of social enjoyment. Whether you're a seasoned windsurfer or simply enjoy watching the action, Hood River is a place where the thrill of adventure is always close at hand.
Ξ Floyd, Virginia: Music, Mountains, and More
Floyd, Virginia, is a hidden gem in the Appalachian Mountains, where music, art, and natural beauty converge. This small town is known for its vibrant music scene, with bluegrass and traditional Appalachian music echoing through the hills.
Floyd's friendly community regularly gathers for local jams, farmers' markets, and outdoor festivals. The proximity to the Blue Ridge Parkway and the scenic views it offers make Floyd an ideal place to find happiness in the mountains.
Ξ Port Townsend, Washington: Maritime Magic
Nestled on the northeastern tip of the Olympic Peninsula, Port Townsend, Washington, is a maritime wonderland. With its historic waterfront, Victorian architecture, and stunning views of Puget Sound, this town offers a unique blend of coastal living and artistic expression.
Port Townsend's vibrant arts community, diverse dining options, and welcoming atmosphere make it a place where residents feel truly at home. Whether you're an artist, a sailor, or simply someone who appreciates the beauty of the sea, Port Townsend has something special to offer.
Ξ Eureka Springs, Arkansas: A Quirky Ozark Oasis
Eureka Springs, Arkansas, is a town unlike any other. Nestled in the Ozark Mountains, this quirky and colorful community is known for its winding streets, Victorian architecture, and a sense of whimsy that permeates every corner.
The town's vibrant arts scene, eclectic shops, and welcoming residents make it a place where creativity and individuality are celebrated. Eureka Springs is proof that happiness can be found in the unexpected and the unconventional.
Ξ Brattleboro, Vermont: A Taste of New England Charm
Brattleboro, Vermont, is a quintessential New England town that combines old-world charm with modern amenities. Nestled along the Connecticut River, this town offers picturesque views of the surrounding mountains and a strong sense of community.
The vibrant arts scene, farmers' markets, and outdoor recreation opportunities make Brattleboro a place where residents can enjoy the simple pleasures of life. The changing seasons bring a sense of wonder and beauty to this hidden gem.
Ξ Sisters, Oregon: A Western Wonderland
Sisters, Oregon, is a western wonderland that captures the essence of the Wild West while offering modern comforts. Surrounded by the stunning Cascade Mountains, this town is a haven for outdoor enthusiasts.
Sisters' annual rodeo, quilt show, and folk festival celebrate the town's western heritage and sense of community. Whether you're hiking in the summer or skiing in the winter, Sisters provides a backdrop of natural beauty that fosters happiness.
Ξ Saugatuck, Michigan: An Artistic Escape
Saugatuck, Michigan, is an artistic haven nestled along the shores of Lake Michigan. This town's picturesque harbor, sand dunes, and vibrant arts community have made it a hidden gem for those seeking a creative and joyful lifestyle.
Saugatuck's art galleries, live theater productions, and water-based activities offer residents a range of cultural and recreational experiences. The friendly atmosphere and scenic beauty of Lake Michigan make this town a place where happiness flows as freely as its waters.
Ξ Yellow Springs, Ohio: A Quaint College Town
Yellow Springs, Ohio, is a quaint college town that radiates a sense of youthful energy and creativity. Home to Antioch College, this town has a long history of progressive values and a strong sense of community.
The vibrant arts scene, local shops, and weekly farmers' market contribute to the town's unique charm. Yellow Springs is a place where residents of all ages can find happiness in the pursuit of knowledge, art, and a strong sense of belonging.
Conclusion
As we conclude our journey through these 15 hidden gems, it becomes clear that happiness can be found in the most unexpected places. These towns and cities offer not only picturesque landscapes but also tight-knit communities, a sense of history, and a celebration of creativity. They remind us that happiness isn't just a destination; it's a way of life.
So, whether you're drawn to the natural beauty of Brevard, North Carolina, the historic charm of St. Augustine, Florida, or the artistic energy of Saugatuck, Michigan, these hidden gems have one thing in common – they welcome you with open arms and the promise of a happy life. In a world that can sometimes feel overwhelming, these communities serve as a reminder that happiness is all around us, waiting to be discovered in the places we call home.