I-League: Sreenidi Deccan aim to regain form against NEROCA FC
The home side have gone through quite a few ups and downs in the month of January. While they started 2023 on a happy note defeating Kenkre FC by a solitary goal, the result was reversed in the next outing as Sreenidi Deccan lost by an identical margin against Rajasthan United. The defeat was followed by a resounding 4-0 victory against current league toppers RoundGlass Punjab but the unexpected 1-2 defeat against Kenkre spoiled Sreenidi's party. The loss against Kenkre hit them hard as it brought them down to second place in the league table for the moment. With 29 points from 13 matches, the Punjab side now stand four points ahead of Sreenidi, who too have played 13 games so far
---
ANI
|
Updated: 28-01-2023 19:41 IST | Created: 28-01-2023 19:41 IST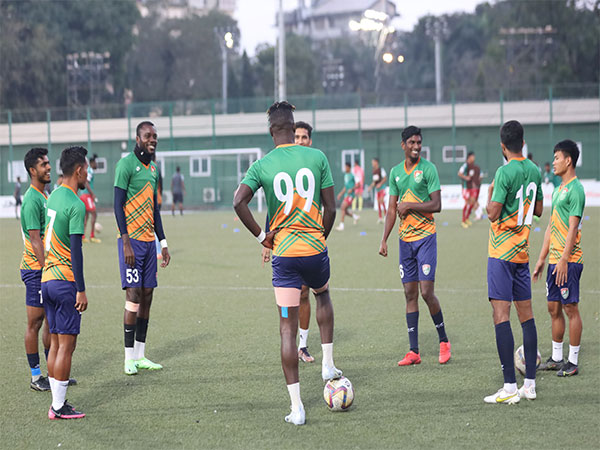 ---
Visitors NEROCA FC will take on title contenders Sreenidi Deccan in the I-League 2022-23 at the Deccan Arena, Hyderabad on Sunday. The home side has gone through quite a few ups and downs in the month of January. While they started 2023 on a happy note defeating Kenkre FC by a solitary goal, the result was reversed in the next outing as Sreenidi Deccan lost by an identical margin against Rajasthan United. The defeat was followed by a resounding 4-0 victory against current league toppers RoundGlass Punjab but the unexpected 1-2 defeat against Kenkre spoiled Sreenidi's party. The loss against Kenkre hit them hard as it brought them down to second place in the league table for the moment. With 29 points from 13 matches, the Punjab side now stand four points ahead of Sreenidi, who too have played 13 games so far.
"Of course, we are not happy with the result against Kenkre. But the way we played, especially in the second half, was good. We did not get the result we deserved," Sreenidi Deccan head coach Carlos Vaz Pinto said in a press conference as quoted by an I-League press release. Sreenidi Deccan's chief playmaker Rosenberg Gabriel agreed with his coach's comments. "We created many chances but could not convert them," he said. The 24-year-old, however, feels his side needs to focus on the rest of the games to stay in contention.
"We are not here to lose focus, we will perform well for the rest of the season," Gabriel said confidently. NEROCA, on the other hand, have found a refreshing energy after back-to-back wins which have made their fight against relegation easier than before. When asked about NEROCA's current form, Pinto said a long league like this can always be unpredictable.
"NEROCA are a good team, they are playing well, but this league is like that....it is difficult to get the right results sometimes. We defeated RoundGlass 4-0 and then lost our next game against Kenkre. It can happen to NEROCA or any other team too," the Portuguese coach commented. NEROCA FC head coach Khogen Singh, however, feels his team have finally found the rhythm.
"In a few games earlier, we were not able to perform, but in our last two matches, we gave our best and we are trying to maintain this winning mentality into our next games as well," he said. Khogen believes that in their last meeting with Sreenidi Deccan, they missed out on picking up a victory.
"In our last game against Sreenidi in Imphal, we were unlucky and did not avail our chances. The boys were also less experienced back then," he said. He is convinced that given NEOCA FC's form and confidence, they can manage to get a positive result tomorrow. "Now after a couple of wins, the mood in the dressing room has changed. Tomorrow, we have to play the game in our own style and it will certainly produce the desired result," said Khogen Singh.
The match between Sreenidi Deccan and NEROCA FC will be broadcast live on Eurosport and Doordarshan Sports and streamed live on the Discovery Plus OTT platform. The kick-off is at 2 pm IST. (ANI)
(This story has not been edited by Devdiscourse staff and is auto-generated from a syndicated feed.)