Ben Stokes certainly reminds us of Andrew Flintoff's era
Stokes has been compared with Flintoff from the beginning of this career
Mrunmayi Sapatnekar
|
Updated: 28-08-2019 19:25 IST | Created: 28-08-2019 19:25 IST
---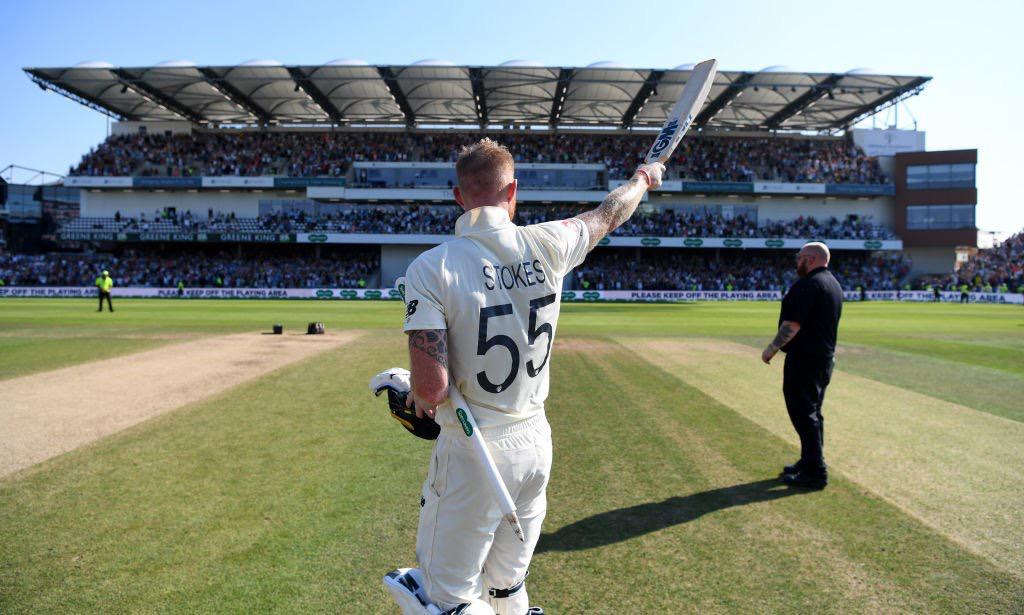 Looking at his performance, Ben Stokes seems to have taken the word "impossible" as a challenge, innings after innings. During the third match of Ashes, everyone knew that Australia was going to take the lead as the game was lost when England crumbled out for 67. They were against inching closer to a loss when they had to chase down a mountain of 359 runs which they had never done before. Everyone thought that England had lost it again when Roy and Rory went back to pavilion just with 8 and 7 runs and then Root fell off early. In short, England lost just one game infinite times in those four days. But in the end, it wasn't lost, it was won, and the man who turned impossible to possible was none other than the mighty Ben Stokes.
First, Ben Stokes came up with this career-defining performance at World Cup and now the Ashes. Not everyone gets a chance to play the game of their lifetime, but Stokes got to do it twice. It was not just Australia or England, that evening, the whole world praised the greatness that this man holds.
With Ben Stokes' unbeaten 135 and a match haul of four wickets, he climbed up 13 spots in the ICC Test rankings for batsmen to Number 13 and is now at number 2 in the list of allrounders' chart. Both the numbers are considered as the career best for Stokes but when the day ended at Headingley, Stokes was at number 12 among batsmen ranking but slipped a number down and is now at number 13 after the rankings were updated after the end of P Sara Oval Test between Sri Lanka and New Zealand.
Ben Stokes vs Andrew Flintoff
With Stokes' heroics, he is now been compared with one of the greatest allrounders of England, who dominated the Ashes back in 2005, none other than Andrew Flintoff. Just like Indian skipper Virat Kohli, who is compared with the god of cricket Sachin Tendulkar right from the beginning, Stokes has been compared with Flintoff from the commencement of his career.
Stokes after 35 test matches has 2,120 runs in his bag whereas Flintoff had 1,566 runs. To top it all, Stokes' has a batting average of 34.19 compared to Flintoff's below-par 29.54. To take it further, Stokes' already has five centuries under his name whereas Flintoff had five from 79 matches. When it comes to the bowling, then Stokes has 86 wickets with an average of 34.46 and another hand, Flintoff had 69 wickets with an average of 41.28.
Flintoff in the early days of his careers suffered many injuries, but he was back with full energy in 2005 Ashes team and made a remarkable impact. He secured half-centuries in both the innings along with seven wickets that helped England to an intriguing two-run win over Australia and also he was awarded the trophy of Man of the Match. Not only this, but Michael Vaughan also named the match as "Fred's Test" in his honor.
Looking at Ben Stokes' career then it has been a marvelous outing for him after his debut as he created history in 2015 by scoring the fastest century at Lord's against New Zealand. In 2016 as well, Stokes fetched one more record with his stupendous knock of 258-runs that was built up with 30 fours and 11 sixes against South Africa.
Here's a little sneak-peak into Stokes' and Flintoff's performances at home:
| | | | | | |
| --- | --- | --- | --- | --- | --- |
| | Matches | Runs | Batting Average | Wickets | Bowling Average |
| Ben Stokes | 14 | 657 | 29.86 | 31 | 36.62 |
| Andrew Flintoff | 39 | 1944 | 35.35 | 108 | 35.26 |
Stokes is an allrounder in a literal sense. His most important quality is that he can adapt to any condition and perform equally as he performs at home. As we have seen, most of the cricketers struggle to get adjusted to the conditions away from home. When the 2019 ICC World Cup was held in England, many teams were firstly preparing for the conditions of the pitch and the weather before playing the game. Whereas Stokes has a different story. Not only this. Stokes equally gives a top-notch performance in every season of Indian Premier League (IPL). Everyone still remembers that he was the costliest player in the IPL edition of 2017 and sold at Rs 14.50 crore to Pune.
Well, there is a lot to say about this man, the way he pulled off that one-wicket victory over Australia to level the Ashes is something that was unimaginable. Now that Steve Smith and James Anderson will return for the next game, Australia is going to get much stronger because just like Stokes who's been having a great summer, Smith also started his summer on a good note and soon will be looking to do wonders ahead in Ashes. And now even if Stokes fails to be that fireball again in the rest of the series, everyone will remember this knock. But it is very true that all England allrounders simply love the Ashes because it is vintage and holds a lot in it.
(Disclaimer: The opinions expressed are the personal views of the author. The facts and opinions appearing in the article do not reflect the views of Devdiscourse and Devdiscourse does not claim any responsibility for the same.)
---
FIRST PUBLISHED IN:

Devdiscourse