Healthtech catalyzing efforts to achieve Universal Health Coverage
In the recent few years, the popularity of wearable technology such as fitness bands, smartwatches, smart glasses, has dramatically increased.
---
Renu Mehta
|
Devdiscourse
|
Updated: 11-12-2019 20:16 IST | Created: 11-12-2019 20:16 IST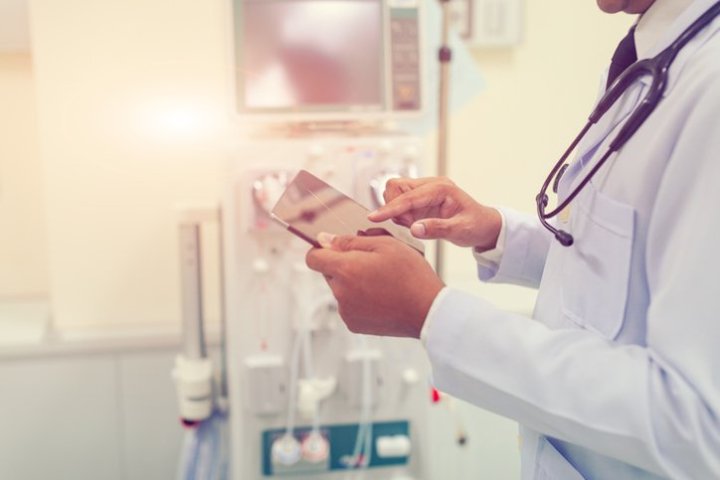 ---
Healthcare technology, aka healthtech, is rapidly transforming the way healthcare services are accessed and delivered across the world, particularly to the vulnerable populations in the low and middle-income countries.
Health technologies and interventions are critical elements that expand access to effective and affordable health services whilst simultaneously catalyzing efforts to achieve the goal of Universal Health Coverage (UHC).
Here is how new and emerging technologies including virtual reality, blockchain, artificial intelligence are revolutionizing the healthcare industry:
Blockchain
With the advent of electronic health records or digital records, concerns regarding the security and ownership of the sensitive health data have also arisen. For the medical data to be stored and accessed safely, healthcare providers and consumers are utilizing blockchain, the technology behind cryptocurrencies that significantly increases transparency and security by storing and distributing data to all participants across the entire supply chain.
Besides data security, the distributed ledger technology is also being used to curb the menace of drug counterfeiting. Leveraging blockchain pharma companies and other stakeholders can not only track their products down the supply chain but also report drugs suspected as counterfeit before they enter the chain and reach consumers.
FarmaTrust is one such example that integrates blockchain and Artificial Intelligence (AI) to provide enterprise-ready digital solutions and services for the pharmaceutical and healthcare sector. It focuses on four key pillars: Pharmaceutical Tracking and Data Services, Cell and Gene Therapy or Personalised Medicine Services, Clinical Trials Services and Medical Device Services.
Video Credit: FarmaTrust
Another example is Blockpharma, a blockchain-based solution to improve drug traceability and detection of counterfeit cases. Developed by Crystalchain, a company specialized in blockchain traceability the solution interfaces with the information systems of supply chain actors and thus ensures traceability throughout the entire distribution chain.
Chatbots
Health and fitness chatbots are being increasingly adopted by the healthcare industry, owing to their 24x7 service. As per an estimate by Market research firm Grand View Research the global chatbot market will reach USD 1.23 billion by 2025 with a compounded annual growth rate (CAGR) of 24.3 percent.
Another analysis by Frost & Sullivan says that 90 percent of U.S. hospitals will use AI and chatbots to save lives and improve their quality of care by 2025.
From scheduling appointments to tracking patients' records and from personalized care to medications' reminders, chatbots are elevating healthcare delivery for those seeking aid. Here are a few examples:
Combining the empathy of human conversation with the efficiency and scalability of the technology, Sensely, an avatar, and chatbot-based platform assist insurance plan members and patients with the insurance services and healthcare resources they need, anytime, anywhere. Using the multilingual platform, patients can check symptoms and connect with a live nurse if necessary, manage 14 chronic conditions including Heart Failure, Diabetes, Asthma, and COPD, receive self-care from a rich repository of medical knowledge, schedule in-person clinician appointments and access to other medical professionals.
Video Credit: Sensely
Florence is another such platform that keeps track of users' health including body weight and periods, reminds them to take their medication, motivates them to be adherent with their regimens, and is also able to present medicine specific information. In addition, the healthcare chatbot also details users about diseases and can even help locate a doctor or a pharmacy nearby.
Built by a team of Stanford researchers, Woebot is a therapeutic chatbot using tools from Cognitive Behavioral Therapy (CBT) to treat anxiety and depression.
Virtual Reality
If you think virtual reality (VR) has only enhanced the gaming and entertainment industry, then you are not well-updated with the promising technology and its potential uses. VR is revolutionizing various other industries including healthcare by helping medical professionals learn new skills and carry out accurate diagnosis and treatment.
Here are two examples:
Precision OS
Founded in 2017, the Vancouver-based software company provides orthopedic surgical education in virtual reality (VR). Touted as the most high-fidelity virtual reality platform for surgeons, the company's VR platform provides critical data to improve surgical precision and patient outcomes.
Precision OS allows orthopedic surgeons to practice contextual surgical procedures with unparalleled immersion, real-time metrics, and feedback. Founded in 2017, the Vancouver-based software company provides orthopedic surgical education in VR.
Stanford Virtual Heart
Designed by Stanford cardiologists and cardiothoracic surgery experts along with VR education producers at Lighthaus Inc., the Stanford Virtual Heart program uses virtual reality to reshape medical education around the world.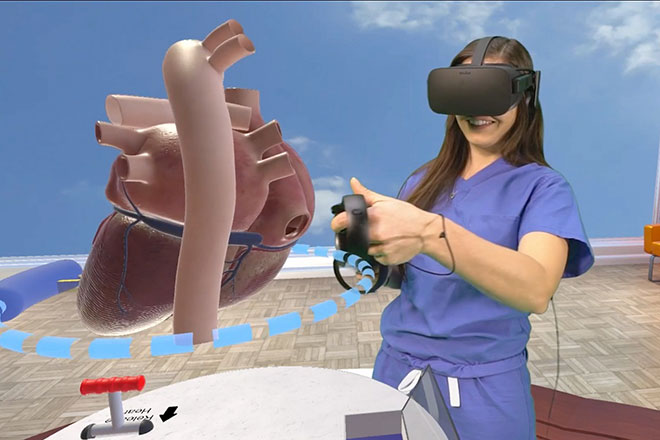 Image Credit: Stanford Virtual Heart
Going far beyond diagrams, plastic models and hand-drawn sketches, the new technology employs interactive visualization that makes it easy to understand congenital heart problems. Using a VR headset and handheld controllers, users interact with the virtual heart, open it and inspect it for various heart defects.
The platform also provides immersive and innovative ways for medical trainees to learn the most common and complex congenital heart anomalies.
Wearables
People are increasingly interested in trying wearable technology like fitness bands, smartwatches, smart glasses, smart clothing for tracking body fitness and monitoring their daily activities like water intake, calorie intakes, step counts, air-quality and what not. According to ReportsGo report, "the Wearable Medical Devices Market size was valued at over USD 9.0 billion in 2018 and is expected to witness 39.4 percent CAGR from 2019 to 2025.
Rapid advancement in wireless technologies and high demand for digital health tools and services have fuelled the development of wearable sensors, smart fitness trackers and clothing, artificial intelligence (AI)-powered wearable devices for faster and accurate diagnosis of patients.
Sweat sensors
Researchers at the University of California have developed wearable skin sensors that analyze sweat and may provide real-time health updates of the human body such as dehydration or fatigue, in the near future. The researchers hope that the breakthrough could one day bypass the need for more invasive procedures like finger pricking for monitoring blood glucose.
The new sensors contain a spiraling microscopic tube or microfluidic, that wicks sweat from the skin. By tracking how fast the sweat moves through the microfluidic, the sensors can report how much a person is sweating or their sweat rate.
Fitness bands and smartwatches
In the recent few years, the popularity of wearable technology such as fitness bands, smartwatches, smart glasses, has dramatically increased. Owing to the user-friendly nature and health monitoring features that the wearables provide for individualized care, not only consumers but researchers and healthcare experts are also keen to explore the potential impact of wearable technology on the health system.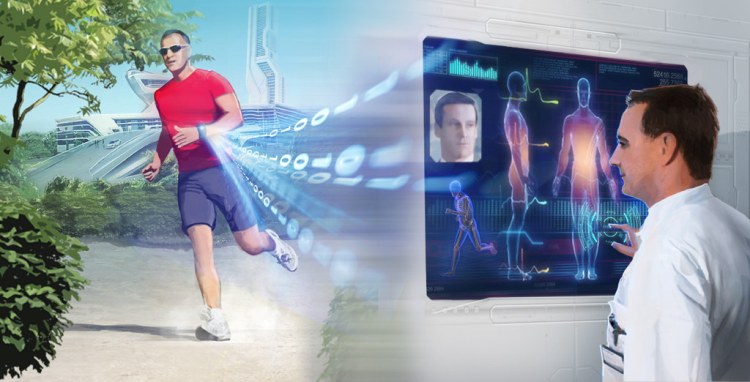 Image Credit: Flickr
Integrated with smart features like activity, sleep, calories burned and heart rate tracking, smart fitness bands, and smartwatches are affordable and user-friendly options to track body fitness metrics 24 x 7. Recently, researchers at Stanford Medicine published the findings of the Apple Heart Study that involved Apple Watch and a mobile app to identify atrial fibrillation (AFib), a deadly and often undiagnosed disease and also a leading cause of stroke and hospitalization in the United States.
The study sponsored by Apple enrolled over 400,000 participants who used an iPhone and Apple Watch (series 1, 2 or 3) to monitor irregular pulse using the Apple Heart Study app.
AI-powered Medical Monitoring device
Current, an artificial intelligence (AI)-powered wearable device, developed by an Edinburgh-based company 'Current Health' remotely monitor patient and sends precise early warning alerts to the right healthcare professional for early interventions. The wireless wearable approved by the U.S. Food and Drug Administration (FDA) for home-use, monitors vital signs and metrics in real-time with ICU-level accuracy.
Current tracks oxygen, pulse and respiration rate, body temperature, motion, and other activities. The all-in-one wearable device comes with a battery life of 36 hours, transmits data over WiFi, and charges using Qi wireless induction charging.
(Disclaimer: The opinions expressed are the personal views of the author. The facts and opinions appearing in the article do not reflect the views of Devdiscourse and Devdiscourse does not claim any responsibility for the same.)
FIRST PUBLISHED IN:

Devdiscourse News Desk