Ousha Al Suwaidi: Google honors the greatest Nabati poets of 20th century
---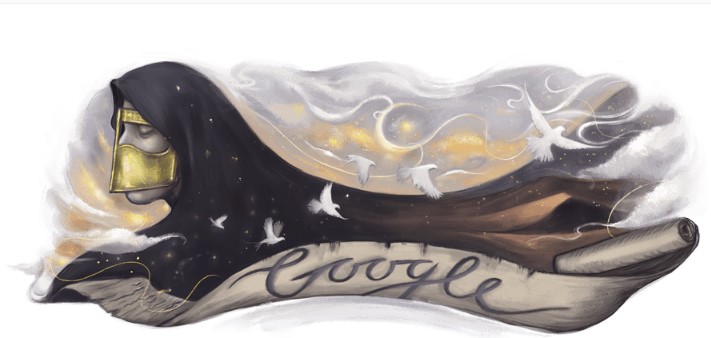 ---
Google honored the Emirati poet Ousha Al Suwaidi with a beautiful doodle. Ousha bint Khalifa Al Suwaidi, or Ousha the Poet was the greatest Nabati poet of the 20th century. Her work is influenced by both classical poets such as Al Mutannabi, Abu Tammam and Al Ma'ari, as well as local Nabati poets including Al Majidi bin Thahir, Rashid Al Khalawi, Saleem bin Abdul Hai and Mohsin Hazzan. Today's doodle is illustrated by Abu Dhabi-based guest artist Reem Al Mazrouei.
On this day in 2011, a prestigious event recognized her contributions to literature. At this event, several well-known scribes recited Ousha Al Suwaidi's poetry and poems written in her honor. The poetry community also established an annual award for female Emirati poets in Ousha Al Suwaidi's name. A library at the Emirates International School, and a section of the Women's Museum in Dubai, were also dedicated in her honor.
On January 1st, 1920, Ousha Al Suwaidi, fondly nicknamed 'Fatat Al Arab' (The Girl of the Gulf), was born in Al Ain. Born into a family that loved literature, Ousha Al Suwaidi grew up immersed in exquisite poetry. At 15 years old, she gained national recognition for her powerful poetry recitals. Ousha Al Suwaidi's success in a male-dominated genre opened a door for the next generation of female poets.
The Arabian Gulf and desert landscapes inspired many of her poems, which touch on themes such as love, wisdom, patriotism, and nostalgia. The poems, written in Nabati, describe her personal experiences in the United Arab Emirates, as well as the country's rich culture and past.
Today, Ousha Al Suwaidi is remembered for her profound work that paved the way for female poets in the Arab world. Songs by popular Emirati and Arab singers have memorialized a large number of her poems for people everywhere to hear.
Thank you for your beautiful written prose, Ousha Al Suwaidi!
Source: Google doodles
Also Read: Google Doodle celebrates the 110th Independence Day of Albania