Google Doodle celebrates the 110th Independence Day of Albania
---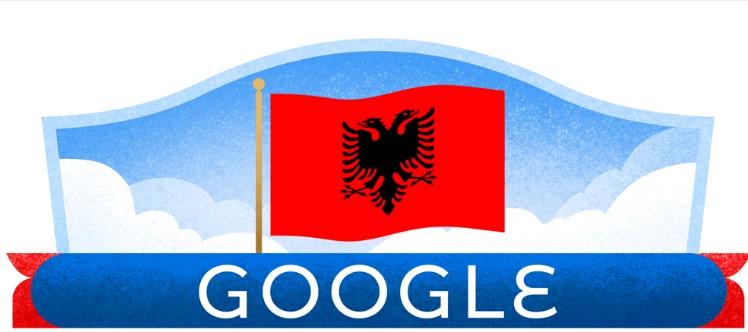 ---
Happy Independence Day, Albania!
To celebrate the 110th Independence Day of Albania, Google doodle on the Albanian flag on November 28, 2022. The independence of Albania is also called Dita e Pavarësisë in Albanian. On this day in 1912, the Albanian congress gathered in the city of Vlora and voted to declare independence from Ottoman rule.
The delegation of Albania submitted a memorandum to the London Conference of 1913 requesting international recognition of independent Albania. At the beginning of the conference, it was decided that the region of Albania would be under Ottoman suzerainty but with an autonomous government. The requests by the delegation for recognition based on the ethnic rights of Albanians were rejected and the treaty signed on 30 May 1913 partitioned a major part of the claimed lands between Serbia, Greece and Montenegro, leaving as independent territory only a central region, which was put under the protection of the Great Powers. The ambassadors of the six Great Powers met again on 29 July 1913 and decided to constitute a new state, the Principality of Albania, as a constitutional monarchy. Finally, with the Treaty of Bucharest being signed in August 1913, this newly independent state was established, leaving about 40 percent of the ethnic Albanian population outside its borders.
Celebrations begin in the capital city of Tirana where the President and Prime Minister attend a flag-raising ceremony. Depicted in today's artwork, Albania's national flag features a red background with a black two-headed eagle in the center. The flag flew for the first time on this day in 1912. On Independence Day, it covers balconies, windows, and even people as a symbol of national pride.
The city of Vlora is also a popular destination for the holiday. Albanians visit the towering Monument of Independence at Flag Square to pay respects to those who fought for freedom. Built by renowned national sculptors Muntaz Dhrami and Kristaq Rama, the monument depicts famous leaders of the Albanian Independence movement.
Source: Wikipedia, Google doodles
Also Read: Marie Tharp: Google doodle celebrates life of American geologist & oceanographic cartographer