Google Doodle recognizes Yukie Chiri's 120th birthday and importance of Ainu cultural preservation
---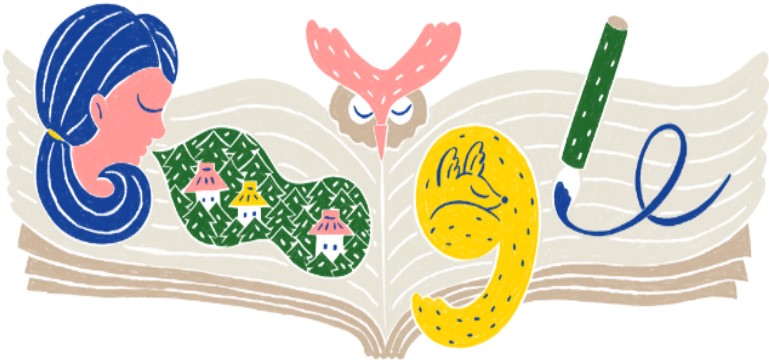 ---
In honor of Yukie Chiri, a prominent Ainu translator, today's Google Doodle commemorates her 120th birthday. The guest artist Yumi Koizumi beautifully illustrates this tribute. The Ainu, an Indigenous community residing in the northern regions of Japan, faced pressures to assimilate into Japanese society in the early 1900s. Amidst these challenges, Chiri emerged as a remarkable figure, dedicated to preserving Ainu stories and culture.
Yukie Chiri was born on this day in 1903 in Noboribetsu City, Hokkaido, when the Ainu people were grappling with the pressures of conforming to traditional Japanese customs. During her upbringing, she resided with her aunt in Asahikawa, where she acquired proficiency in both the Ainu and Japanese languages. Displaying exceptional talent in language arts, Chiri thrived as a gifted student.
During her teenage years, Chiri crossed paths with Kyōsuke Kindaiachi, a Japanese linguist actively involved in documenting Ainu folklore and traditions. Inspired by this encounter, she dedicated her life to transcribing and translating the ancient Ainu epic tales known as "yukar." Despite the challenge of translating oral works that were originally meant to be chanted, Chiri persisted in her mission. Her efforts culminated in the creation of "Ainu Shinyōshū" (or "A Collection of the Ainu Epics of the Gods"), an anthology that served as a cornerstone for preserving Ainu culture.
Chiri's profound contributions sparked a newfound appreciation for Ainu traditions among readers. Even today, many regard her anthology as the primary and most reputable source for understanding Ainu culture.
We extend warm birthday wishes to Yukie Chiri, whose legacy continues to resonate and inspire.
Stay tuned to Devdiscourse for more updates on Google Doodles!
Also Read: Abdul Rahman Munif: Google Doodle celebrates contributions of iconic Arab novelist