A modern acoustic booth instead of a traditional conference room. Advantages of the solution
---
Meryem Yılmaz
|
Updated: 31-05-2023 15:23 IST | Created: 29-05-2023 11:36 IST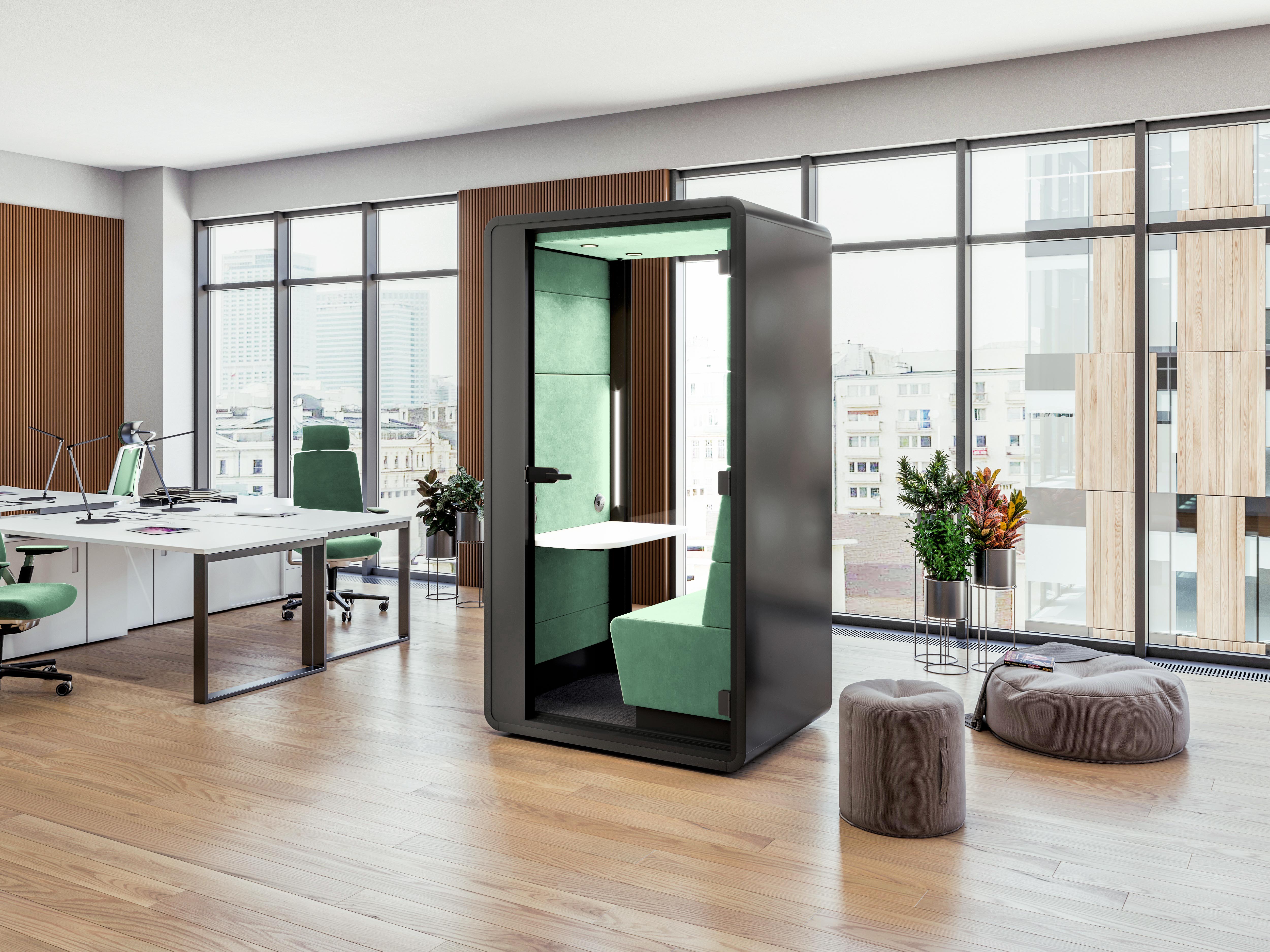 ---
Nowadays, many companies are moving to a hybrid model, combining remote work with an in-office presence. One of the challenges this form poses to employers is to provide adequate facilities for business meetings, conferences, or training for employees. Many companies choose to build conference rooms or adapt existing rooms for business meetings. However, there is a solution that may be better, cheaper, and more practical – a modern acoustic booth. Learn about its advantages over a traditional conference room.
Advantages of acoustic booths over meeting rooms
There are many advantages to using acoustic booths in place of traditional conference rooms. Thanks to the office pods, distributed team meetings, training sessions or internal team meetings can be even more effective.
Lower cost
Building, designing, and equipping a conference room, or adapting an existing room, can involve a lot of costs. In addition, rising office rental prices and hybrid work are causing many companies to opt for smaller spaces. As a result, there is a shortage of rooms that can be used for meetings or teleconferences. It is worth mentioning that the booths are available in several sizes, so you can adjust their size to the number of people employed in the organization and the available space. hushHybrid 900 mm deep acoustic booth is a solution that will work even in small offices, where every square meter counts and the number of people attending meetings is smaller than in large corporations and these meetings are more often conducted remotely.
Effective sound attenuation
Acoustic booths are able to provide ideal conditions for business meetings. By reducing outside noise, those attending the meeting will be able to focus on the discussion at hand. These are solutions whose design is optimized to improve the acoustics in the office. In the booths, there is no problem with reverberation, or with outside noise. They are an excellent alternative to conference rooms, where it is often difficult to hear a speaker or hold a discussion without interference.
It is worth noting that the acoustic booths are not completely cut off from the surrounding noises. They have a sound level of about 40 dB, so the employee will hear any alarm signal, while outside conversations only get through as soft murmurs.
Image Credit: hushoffice
Work comfort and energy efficiency
Acoustic booths can be spacious and allow you to gain a ready-made "room" that serves as a conference room, without building or renovating. They will provide an ideal venue for in-house meetings, business meetings, teleconferences, or presentations. The ventilation system ensures adequate air circulation, which is important for the comfort of a meeting with more employees. In addition, lighting and ventilation operate only when the booth is in use, thus significantly saving energy.
Greater flexibility
Acoustic booths, unlike meeting rooms, are a more flexible solution because they can be easily moved between rooms or buildings. Their mobility is provided by lockable casters or a removable pedestal, allowing the use of a pallet truck. This allows the company to take it with them when they change offices, without having to spend once again on setting up a room for co-working and online meetings. These solutions are extremely functional, and they can accommodate various types of furniture and equipment, such as a table, chairs, blackboards, or TV. This will provide the organization with an ideal place for effective work, meetings, and training.
Design in line with current trends
Acoustic booths have a modern, simple and aesthetically pleasing design that does not interfere with other elements of the office. Thus, no matter what style the space is decorated in, they will complement it well. The high-quality upholstery is not only available in many colors but also absorbs sound.
Image Credit: hushoffice
Which companies should consider purchasing a conference acoustic booth?
A modern acoustic booth is a solution that can replace traditional conference rooms. It provides ideal conditions for business meetings, training sessions or conferences. In addition, the cost of such an investment is much lower than building a conference room. Acoustic boxes are a practical and aesthetically pleasing solution, which has a positive impact on the company's image.
The acoustic booth improves work comfort and provides the possibility to be placed in many different places in the office. First of all, you should consider buying it if your company has little space for a traditional conference room. Collaborative acoustic booths are also a great solution for organizations that conduct online training or hold webinars. In the office booth, course participants will be able to focus on the presentation, without outside interference.
(Devdiscourse's journalists were not involved in the production of this article. The facts and opinions appearing in the article do not reflect the views of Devdiscourse and Devdiscourse does not claim any responsibility for the same.)