Black Clover Chapter 355: Raw scans and full summary out
---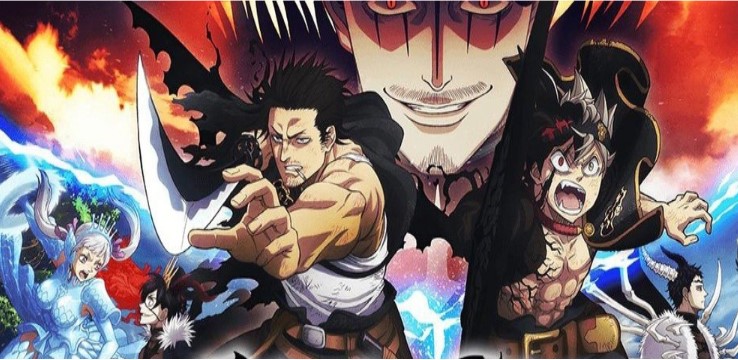 ---
Black Clover fans are excited to read the upcoming Black Clover Chapter 355, which will be featured in the Weekly Shonen Jump Magazine. The chapter is scheduled to be released on Monday, March 27th, 2023, at midnight Japanese Standard Timing. However, thanks to the series' leakers, the full context of the said chapter is out. The chapter continues the events from the previous one, and we see destruction in the Clover Kingdom.
Summary of Black Clover Chapter 355
Black Clover Chapter 355 is titled "The Prince Of Stars," and the cover page of this chapter is a poster of the upcoming Black Clover movie. The chapter starts with everyone worrying about Jack, who was attacked by the newly arrived Morgan. They even wonder if he is still alive. Yami shouts "Jack" and thinks he's already dead, but William shows up and immediately attacks Lucius. William rushes towards Lucius and screams, "Because Julius-sama was there, I am who I am now. I'll stop you even if it costs my life!" However, Lucius tells William that he is not his opponent, and his body starts to rot after touching a time magic spell.
Lucius exclaims, "You don't have the power to resist me," and the flying creatures from the previous chapter are revealed to be angelic beings with no legs. Lucius declares that it's the final judgment, and the angelic creatures radiate light. NPCs in the Clover Kingdom say that there are too many of them with too much magic, and there's no way they can stop them.
The angelic creatures prepare an OP attack with light radiating all over, but Yuno stops it with his star magic. NPCs in the Clover Kingdom are shocked that Yuno stopped an attack of that magnitude. Yami witnesses Yuno stopping Lucius's large-scale spell and thinks to himself that Yuno has become incredibly strong in the past year and a few months. William is also in awe of Yuno's strength and realizes that Yuno is now stronger than him.
Yuno's time to shine
Yuno is the captain of the Golden Dawn, and upon seeing Yuno's strength, William declares it to him. Yuno exclaims that there's no way he can forgive Lucius Zogratis, but he'll defeat him not because he can't forgive him, but because he's the man who will become the Wizard King. Lucius responds by saying, "You really are the one I have to destroy."
Chapter 355 ends with no break for the next week.
Black Clover Chapter 355: "Prince of Stars" spoilers by Nite_baron#BCSpoilers #BC355 pic.twitter.com/8Og4hmob49

— Tuelo Tirel (@QUARGZO) March 22, 2023