BLACKPINK's Jennie shares her acting debut experience at Cannes The Idol premiere
---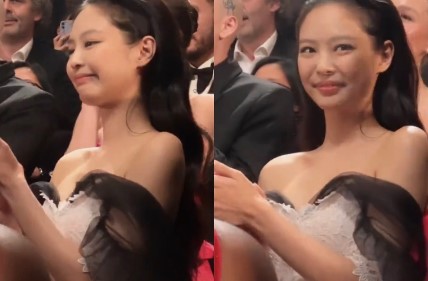 ---
Jennie from the popular group BLACKPINK recently made her acting debut at the prestigious Cannes International Film Festival 2023, and she couldn't be more thrilled about this new chapter in her career. In an interview with WWD, conducted on the balcony of the Carlton Hotel before the Cannes red carpet event, Jennie shared her thoughts and emotions regarding her first appearance at the festival as an actress.
Expressing a mix of overwhelming gratitude and thankfulness, Jennie described the experience as an incredible honor and a significant milestone in her acting journey. She acknowledged the weight of this momentous occasion, considering it as the initial step towards establishing herself as an actress.
"It's overwhelming, but I'm grateful and thankful. All of those things at the same time," she explained, "Especially as it's the first step in my acting career, I was honored to be able to come," said Jennie.
During the interview, Jennie also expressed her deep admiration for Sam Levinson, the screenwriter of the film "The Idol" and the popular HBO drama series "Euphoria." She revealed that she had been a long-time admirer of Sam's work and found the music industry theme of "The Idol" particularly fascinating. Although she didn't undergo specific training or preparation for the role, Jennie shared that Sam encouraged her to be authentic to herself.
"I've been admiring Sam's work for a very long time. The fact that it was about the music industry fascinated me, and I thought I could bring something to the role. I didn't really train for it, or prep anything," she said, "Sam wanted me to just be myself."
Jennie also spoke fondly about her experience working alongside Lily-Rose Depp, daughter of Johnny Depp, in "The Idol." On working with Johnny Depp's daughter Lily-Rose Depp, Jennie recalled, "She really helped me a lot. Telling me about scenes, and it was very comforting to have her there. She just taught me to express myself and be comfortable with myself, to not be scared."
JENNIE CANNES FESTIVAL#JENNIEatCANNES pic.twitter.com/KWIsI6YLsy

— ٰ (@jnkrated) May 22, 2023
At the red carpet premiere of "The Idol," Jennie donned a stunning open-shoulder dress, personally chosen by her as a Chanel ambassador. Her decision to reveal her shoulders added a touch of elegance and style to her overall look.
"The Idol" is set in Los Angeles and revolves around the love and passion of pop idol stars within the entertainment industry. It was written and produced by The Weeknd, with Sam Levinson serving as the co-producer. Two episodes of this six-part series premiered at the Cannes Film Festival, captivating audiences with its depiction of the music industry's intricacies.
Despite her busy schedule, Jennie's journey continues as she transitions from Cannes to the next destination of BLACKPINK's world tour in Bangkok, Thailand, all within five days. When asked about managing this balancing act, Jennie responded, "Honestly, I just wake up and I do what I have to do."
Jennie's foray into acting at the Cannes International Film Festival marks a significant achievement for her, further solidifying her position as a talented and multifaceted artist. Her fans eagerly await the next steps in her acting career and the continuation of BLACKPINK's successful world tour.
Also Read: Arthdal Chronicles Season 2 gets its release date! Know in detail