My Fault on Amazon Prime Video: A captivating tale of love and forbidden passion
---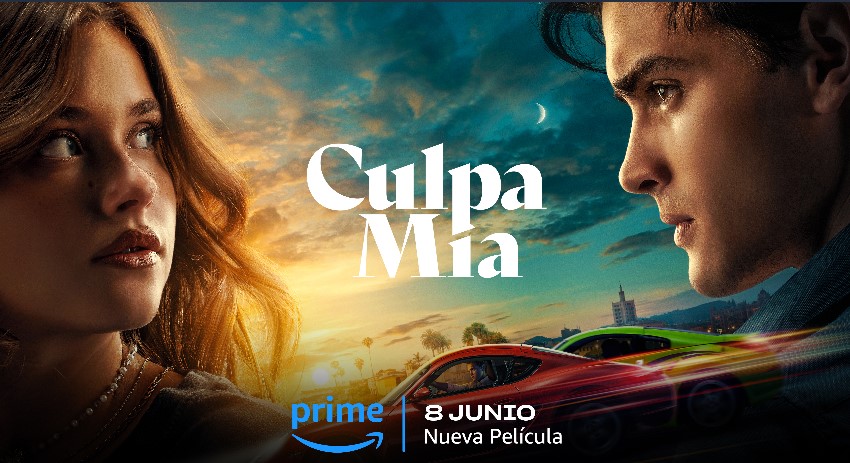 ---
Prepare to immerse yourself in a captivating tale of love, desire, and forbidden passion as Amazon Prime Video gears up to release its latest romantic drama film, My Fault, also known as Culpa Mía (in Spanish). Set to debut on Thursday, June 8, 2023, the movie takes viewers on a journey through the complexities of relationships and the challenges faced by two individuals drawn together against all odds.
Amazon Prime has announced the worldwide premiere of The new Spanish original film Culpa mía in 240 nations and territories, exclusively available to subscribers of the streaming giant. The film promises to deliver an intense and emotionally charged narrative that will resonate with audiences around the globe.
Written and directed by acclaimed filmmaker Domingo González, My Fault stars Nicole Wallace in the lead role, accompanied by a talented ensemble cast who bring the supporting characters to life. The movie delves into the story of Noah, a seventeen-year-old girl forced to leave behind her hometown, friends, and even her boyfriend when her mother marries a wealthy man named William Leister. Their new life leads them to a luxurious mansion, a place Noah finds overwhelming at first.
Within the opulent walls of her new home, Noah encounters her stepbrother, Nick, who possesses a similar strong-willed nature. Their initial clashes pave the way for a surprising revelation—Nick leads a double life filled with underground fighting, gambling, and illegal auto racing, the very lifestyle Noah has always sought to avoid. Despite their differences, an irresistible attraction begins to grow between them, evolving into an intense and passionate love story.
The film explores the challenges that Noah and Nick must overcome as they navigate the complications of their relationship. Their constant bickering and fiery encounters draw them closer, but their budding love is tested by Noah's troubled past and Nick's chaotic present.
The key characters in My Fault are portrayed by a talented cast, including Nicole Wallace, Gabriel Guevara, Marta Hazas, Iván Sánchez, Eva Ruiz, and Victor Varona. With Domingo González at the helm as both director and screenwriter, the film is a production of Pokeepsie Films, with Lex de la Iglesia and Carolina Bang serving as producers.
The official trailer for My Fault was unveiled by Prime Video on May 10, 2023, providing a glimpse into the pivotal events that will unfold in the film. The trailer introduces the protagonist Noah and her family as they settle into their new life in an affluent town, a place Noah finds difficult to embrace. The undeniable attraction between Noah and her charismatic stepbrother takes center stage, hinting at a deeply passionate and steamy relationship. The trailer sets a sensuous and highly dramatic tone, ensuring that fans of romantic dramas will be captivated by this compelling story.
As described by Amazon Studios, the official synopsis of the film reveals the central conflicts faced by the characters: "Noah has to leave her town, boyfriend, and friends behind and move into the mansion of William Leister, her mother's new rich husband. Seventeen years old, proud, and independent, Noah resists living in a mansion surrounded by luxury. There, she meets Nick, her new stepbrother, and the clash of their strong personalities becomes evident from the very beginning. Noah soon discovers that behind the image of a model son, Nick hides a life of fighting, gambling, and illegal car racing – exactly what she has always run away from."
The description further elaborates on the storyline: "Despite the abyss between them, both begin to feel an irresistible attraction that will soon turn into pure fire and unbridled passion. Neither the ongoing rivalry nor the opposition of those around them can prevent them from falling secretly and madly in love. However, their journey is far from easy, as Nick's turbulent present and Noah's stormy past threaten to unravel their lives and put their forbidden love to the ultimate test."
Based on the tantalizing trailer and the official synopsis, viewers can expect "My Fault" to deliver an emotional and passionate love story that explores complex themes such as forbidden romance and the tumultuous nature of adolescence. The film aims to engage audiences with its exploration of the profound connection between two individuals who are seemingly incompatible yet undeniably drawn to each other.
Nicole Wallace takes on the lead role of Noah, a lively and charismatic young woman whose life undergoes a drastic transformation following her relocation to the affluent town with her mother and stepfather. In the trailer, Wallace's performance shines, offering a glimpse into the depth and complexity of Noah's character. With her undeniable talent, she promises to deliver a memorable portrayal in My Fault.
Apart from her role in My Fault, Nicole Wallace has garnered recognition for her performances in various other films and TV shows, including Parot, SKAM Spain, and Pitch Perfect 2. Her versatility as an actress adds another layer of excitement to the film.
Supporting the lead performances, the film features a talented ensemble cast, including Gabriel Guevara, Iván Sánchez, Marta Hazas, and others who contribute to the rich tapestry of characters in My Fault.
My Fault will premiere on Amazon Prime Video on Thursday, June 8, 2023. Keep reading Devdiscourse for updates on more Amazon Prime Video series.
Also Read: Our Planet II: Everything you must know on nature documentary series before it releases