Inside Love Death + Robots Volume IV: Netflix's Adult Animation Marvel
---
Devdiscourse
|
New York
|
Updated: 15-09-2023 09:06 IST | Created: 15-09-2023 09:06 IST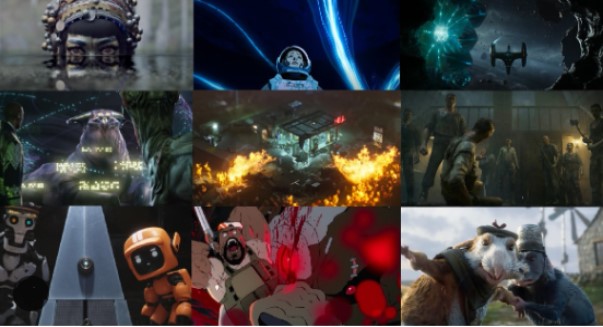 ---
Netflix's acclaimed animation anthology series, Love Death + Robots, is gearing up to unleash its fourth volume, aptly titled "Love Death + Robots Volume IV." Fans of this unique and innovative show have been eagerly awaiting the next installment, and while details have been somewhat scarce since the initial announcement, anticipation is running high.
Last year, on August 12, 2022, the official social media channels of Love Death + Robots thrilled fans with the news of the upcoming fourth volume. Since then, fans have been eagerly anticipating more information about what's in store for them in this latest installment.
Love Death + Robots Netflix has earned a reputation for its groundbreaking animation work and its captivating presentation style, which has garnered a dedicated global following. The show's ability to seamlessly blend genres such as sci-fi, horror, and fantasy with cutting-edge animation techniques has made it a standout in the world of adult animation series.
One of the defining features of Love Death + Robots is its willingness to experiment with various animation technologies. Viewers can expect to see a wide range of animation styles, from 2D animation to CGI animation, motion capture, animation overlaid on live action, and even Japanese anime-inspired techniques. Each episode, while relatively short, typically lasting around 15 minutes, manages to leave a significant impact on viewers, thanks to its compelling storytelling and visually stunning animations.
The series was brought to life by the creative minds of Tim Miller, Joshua Donen, David Fincher, and Jennifer Miller. It stands as a testament to their commitment to pushing the boundaries of animation and storytelling in the realm of adult animation series. Tim Miller, in particular, expressed his passion for the project, stating, "Why would we stop doing this as long as they let us continue to do it?" He went on to describe working with animators as "a Santa Claus sort of moment."
Tim Miller also highlighted the unique niche that Love Death + Robots fills in the world of animation. While studios like Pixar and DreamWorks have excelled in entertaining younger audiences, there has been a noticeable gap in high-end adult animation in the West, particularly in America. Miller saw an opportunity to fill this void and bring sophisticated animation to adult viewers.
As for the eagerly awaited fourth season, while there's no confirmed release date, past patterns suggest a possible release around May 2023. The first season of Love Death + Robots debuted in March 2019, followed by the third volume two years later. However, it's important to note that this timeline is purely speculative at this point.
We'll be keeping a close eye on Netflix Love Death + Robots Volume IV and providing updates as they become available. As we eagerly anticipate the return of this mesmerizing animation anthology series, let's hope for another captivating journey into the worlds of love, death, and robots.
Also Read: Netflix renews 'The Lincoln Lawyer' for season three