Watch: Brazil's Rio-Niterói Bridge bus hijacker shot; hostages safe - report
---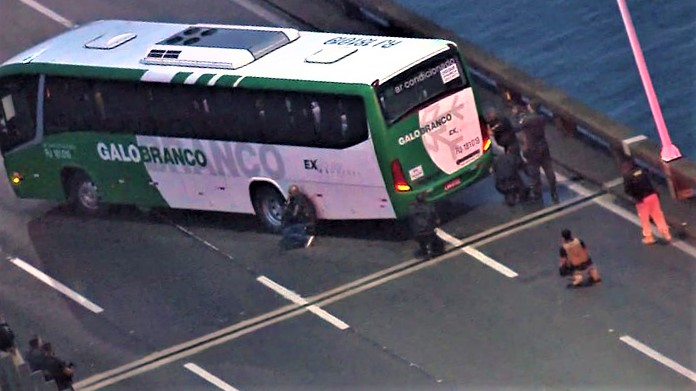 ---
An armed man suspected to be a military police officer has hijacked a bus on a key bridge near Brazil's Rio de Janeiro. Police officers have arrived at the scene but the gunman is threatening to set the bus on fire, he is armed with a gun and gasoline.
The traffic at Rio-Niterói Bridge has been shut down and Military police has also been dispatched to handle the situation.
The motives of the hijacker and the number of captives being held are not clear yet but dozens are feared to be trapped. The hijacker has reportedly released a few people.
Homem armado ameaça passageiros em ônibus na Ponte Rio-Niterói; tráfego em direção ao Rio está fechado https://t.co/6aLQDRIxlt #G1 pic.twitter.com/f47jAgXTJA

— G1 (@g1) August 20, 2019
Atenção!!!Sequestro de um ônibus executivo da empresa Galo Branco, em andamento na altura do vão central da ponte Rio-Niterói. Evitem o local, trânsito parado sentido RJ, PM e PRF no local. pic.twitter.com/nVSYiztb8o

— São Gonçalo VaiMudar (@SG_vai_mudar) August 20, 2019
The gunman reportedly boarded the bus at 05:30 am local time (02:00 pm IST) and the standoff between the captor and the police at Rio-Niterói Bridge is being continued from several hours now.
A Federal Road Police spokeswoman has confirmed the incident and has said that negotiations with the hijacker are underway, according to media reports.
Update 4: The hijacker has been shot by a sniper at Rio-Niterói Bridge and the hostages are reportedly safe now.
Fim do sequestro do ônibus na Ponte Rio Niterói. Criminoso foi abatido por sniper do Bope. pic.twitter.com/KmU3Obm8MJ

— 🚨 Noticias do RJ 🚨 (@NoticiasdoRJ1) August 20, 2019
Update 3: ABC7 has reported that as much as 37 people are being held hostage by the hijacker at Rio-Niterói Bridge. The platform also reports that the man has not made any particular demands and appears to have "psychological problems," quoting authorities.
Update 2: It is being reported that the gunman is still holding at least 16 people as hostages. His motives are not yet clear.
Update 1: The negotiations between heavily armed police and the captor have not been concluded but footage by local media channel shows another victim being released due to health issues.
Imagens mostram o momento em que uma refém foi retirado do ônibus sequestrado na Ponte Rio-Niterói, na manhã desta terça-feira. A vítima passou mal. #BandJornalismo #BoraSP pic.twitter.com/tdgH4reqeo

— Bora SP (@borasp) August 20, 2019