US News Roundup: Tropical Storm Barry nears New Orleans; Kamala Harris unveils plan to tackle rape kit backlog
Reuters
|
Washington DC
|
Updated: 12-07-2019 05:28 IST | Created: 12-07-2019 05:25 IST
---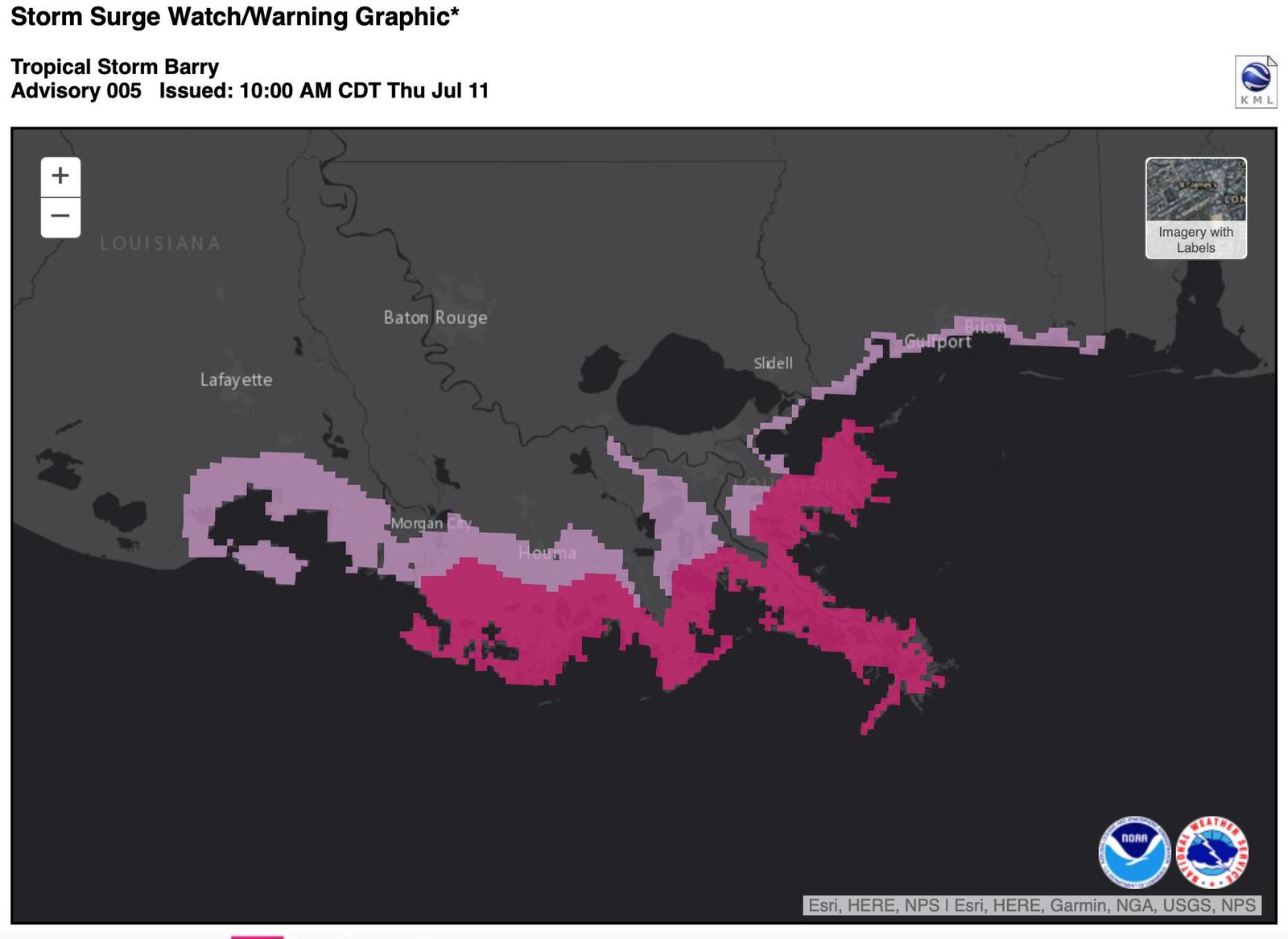 Following is a summary of current US domestic news briefs.
Tropical Storm Barry nears New Orleans, raising flood threat
Nervous New Orleans residents prepared to flee as Tropical Storm Barry closed in on Thursday, with forecasts of "extreme rain" and more flooding ahead of the storm's predicted landfall early on Saturday as the first Atlantic hurricane of 2019. Barry coalesced in the Gulf of Mexico on Thursday morning, packing maximum sustained winds of 40 miles per hour (64 kph), a day after the gathering storm drenched New Orleans with nearly a foot (30 cm) of rain, the National Weather Service said.
Democratic U.S. presidential hopeful Kamala Harris unveils plan to tackle rape kit backlog
U.S. Senator Kamala Harris on Thursday pledged the nation's backlog of rape kits needing review would be processed by the end of her first four-year term if elected president. Harris estimated she would invest $1 billion to eliminate the backlog, which she said would cover an estimated 225,000 kits that remain untested.
Sneakers give art a run for its money at first-of-a-kind Sotheby's auction
Move over Monet. Nike is hot on your heels. Sotheby's in New York announced on Thursday its first-ever auction dedicated to sneakers, underlining their fast-growing status as collectibles able to command tens of thousands of dollars.
Lawmakers seek scientific review of plan to tightly regulate all fentanyl copycats
Lawmakers on the U.S. Senate Judiciary Committee have urged the Trump administration to conduct a scientific review of a Justice Department-backed bill to classify all illicit chemical knockoffs of the potent painkiller fentanyl in the same legal category as heroin. The sweeping legislation may "deter valid, critical medical research aimed at responses to the opioid crisis," the senators said in a July 10 letter to Department of Health and Human Services (HHS) Secretary Alex Azar seen by Reuters on Thursday.
U.S. charges ex-Illinois software engineer with taking stolen trade secrets to China
U.S. prosecutors on Thursday said a software engineer has been indicted on charges he stole trade secrets from the suburban Chicago locomotive manufacturer where he once worked and took them to China. Xudong Yao, also known as William Yao, faces nine criminal counts in the indictment, which was unsealed this week in the federal court in Chicago.
Borrowers left in lurch as U.S. mismanages student debt relief: lawsuit
Millions of teachers and other public sector workers have been denied relief of their student loan debt under government programs because of mismanagement by the U.S. Department of Education, a lawsuit filed on Thursday charged. The lawsuit by the American Federation of Teachers and several alleged victims says the department has long bungled its management of the programs, leaving borrowers who followed the rules stuck with their entire student debts.
White House scraps key plan to lower U.S. drug prices; may target drugmakers
The Trump administration on Thursday scrapped one of its most ambitious proposals for lowering prescription medicine prices, backing down from a policy aimed at health insurers and raising the possibility of new measures focused on drugmakers. The abandoned proposal would have required health insurers to pass billions of dollars in rebates they receive from drugmakers to Medicare patients.
Jailed financier Epstein seeks house arrest in Manhattan mansion
American financier Jeffrey Epstein on Thursday asked a federal judge to let him out of jail and allow him to remain under house arrest in his Manhattan mansion while he awaits trial on charges of sex trafficking underage girls. In a filing in federal court in Manhattan, Epstein's lawyers argued that home confinement, along with electronic monitoring, surveillance and a bond secured by a mortgage on the Upper East Side home which they valued at $77 million, would ensure that he does not flee the country.
Trump drops census citizenship question, vows to get data from government
U.S. President Donald Trump ended his quest on Thursday to add a contentious citizenship question to the 2020 census, but insisted he was not retreating from his fight against illegal immigration and said the government would obtain the data by combing through federal records. "We are not backing down on our effort to determine the citizenship status of the United States population," Trump said in an announcement at the White House.
California lawmakers approve legislation for $21 billion wildfire fund
California lawmakers approved legislation on Thursday to create a $21 billion fund to help utilities in the state pay for claims arising from future wildfires sparked by their equipment, tackling a top issue for the state. The approval came after power provider PG&E Corp filed for bankruptcy in anticipation of more than $30 billion in wildfire liabilities.
---