VP Dhankhar asks citizens to be extension of & support BSF in task of national security
At the Investiture Ceremony, 35 BSF personnel were awarded, which included 2 Police Medals for Gallantry and 33 Police Medals for Meritorious Service.
---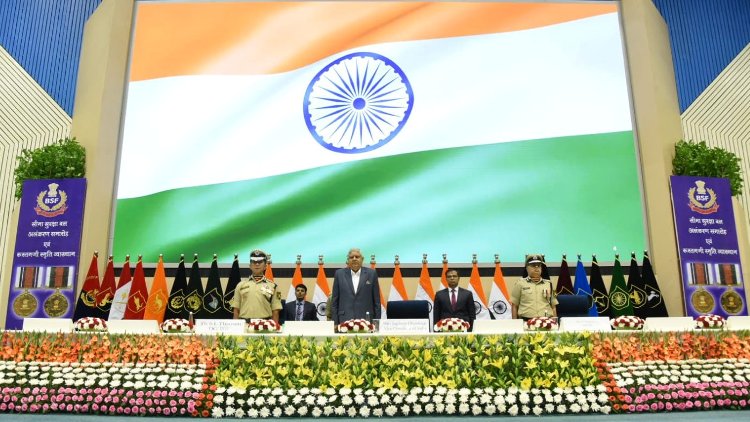 ---
The Vice President, Shri Jagdeep Dhankhar today appealed to all state governments, particularly those of border states to be sympathetic & sensitive to Border Security Force. Noting that BSF personnel face immense challenges in guarding India's long, complex and porous borders, he wanted all states to take all affirmative steps & sensitize their mechanism, so that the morale of the BSF is ever sustained high.
Delivering Rustamji Memorial Lecture – 2023 during the 20th Investiture Ceremony of Border Security Force at Vigyan Bhawan, New Delhi today, the Vice President also asked the citizens in border areas to "be an extension of BSF & to support Border Security Force". He also called for generating a mechanism to take care of cattle seized by BSF from smugglers.
At the Investiture Ceremony, 35 BSF personnel were awarded, which included 2 Police Medals for Gallantry and 33 Police Medals for Meritorious Service.
Commending the BSF soldiers for their devotion to duty, he said that each one of them reflected sublime commitment and nationalism which we all need to emulate. "The brave men and women of the BSF exemplify courage, valour and dedication in service of the nation," he added.
Lauding the never-say-die spirit of BSF personnel, he said that they unflinchingly defend India's borders even in difficult geographic conditions such as Thar desert, Rann of Kutch, snow clad mountains & dense forests of Northeast. He also expressed his gratitude to the families of BSF Jawans for sustaining their morale despite many hardships.
The Vice President said that India is rising like never before, and an important factor contributing to this rise is our safe & secure borders.
Describing Shri K F Rustamji as a charismatic leader, VP said that he not only set up the BSF but also laid the firm foundations of the Public Interest Litigation in the Indian Judicial System. Under his guidance, BSF evolved into a modern, disciplined and capable force, he noted.
Mentioning that Shri Rustamji was a member of the first ever National Police Commission (NCP) set up in 1977, Shri Dhankhar said that, "the need for NPC was felt because the largest democracy on the earth was visited by a dark era of emergency in 1975, that saw a large scale human rights violations, debacle of Institutions, something which the founding fathers of the Constitution never imagined. A large number of people were put behind the bars & they had no access to the judiciary…"
Praising Shri Rustamji for the phenomenon of judicial activism in India, Shri Dhankhar said that he laid ground to India's the first Public Interest Litigation case, Hussainara Khatoon vs State of Bihar which led to the release of 40,000 undertrials all over India who had been languishing in jails much beyond the maximum permissible period. "If he had sat quietly, those people would have continued to languish in jails. But he tried and succeeded. I state further, never hesitate to try, a failure is only a step towards success," VP added.
The Vice President also praised another former DG of BSF, Shri Prakash Singh for passionately taking Rustomji's baton and torch to higher level. Referring to his relentless efforts for police reforms, he said they led to another significant judgement from the Supreme Court in 2006 when a foundation was given to those in Governance on how to allow Police to function and to be in the service of the nation.
Dr. S L Thaosen, DG BSF, Shri P V Ramasastry, ADG BSF, senior officers, Jawans & veterans from the Force were present during the ceremony.
(With Inputs from PIB)