SDG 5: VisionRI shortlisted for Gender Inclusion Policy Development in Sudan
The women in Sudan Port city are facing several discriminatory traditions. In such a tradition, a woman has a right to use a toilet only in her son's house, not the daughter's one; and the option is to go for open defecation. According to surveys, very few families in the peripheries have pit latrines in their houses and have no option but to go in the open.
Devdiscourse News Desk
|
Sudan Port City
|
Updated: 19-03-2020 17:02 IST | Created: 19-03-2020 17:02 IST
---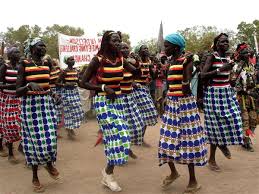 India's prestigious development consultancy firm VisionRI has been shortlisted for Gender Inclusion Policy Development in Sudan, a project funded by the African Development Bank (AfDB) and jointly implemented by the Drinking Water & Sanitation Unit (DWSU) of the Ministry of Water Resources, Irrigation and Electricity and Red Sea State Water Corporation (RSSWC). Along with VisionRI, five more companies have been shortlisted for the project – two each from Sudan and Kenya; and one from Uganda.
The project aims to address deep-rooted gender discrimination in the Sudan which is adversely affecting access to clean water, sanitation and hygiene. According to the previous studies, there exists a huge gender gap at social, economic, health, educational, literacy and institutional level as well. Besides, there are several traditions and customs hindering women's public participation, low levels of literacy in women, and lack of gender awareness. Unlike the prevalent tradition in Africa wherein women are responsible for fetching water, Sudan has bestowed this responsibility on men. However, the responsibility for domestic management of water and sanitation lies with women.
"We have experience in managing such sensitive projects where gender-based discriminatory traditions play major hurdles in sustainable development. If assigned the responsibility, we are confident to provide path-breaking solutions to address this gender-sensitive problem," said Mr. J. P. Singh, Managing Director, VisionRI. "Gender Equality is such an important aspect in the Sustainable Development Goals (SDG) 2030 of the United Nations that it impacts several other SDGs as well," he added. The assignment is directly related to the Clean Water and Sanitation which is Global Goal 6 in the SDG 2030. International agencies deal water, sanitation and hygiene (WASH) as an integrated problem.
Besides other deliverables, the finally selected consultant will be required to develop the Gender Equality and Social Inclusion Policy and Action Plan 2019–2030 for Sudan. The consultant will also be required to provide guidance on how to integrate gender-responsive and inclusive approaches into Red Sea State (RSS) Strategic and Work Plans, Annual Reports and Projects, which complements the principles for the integration of women in decision making and paves the way to build a Culture of Gender and Social Inclusion across Red Sea State (RSS). It is pertinent to mention that the Gender Equality has been adopted as Global Goal 5 in the SDG 2030.
The final Gender Inclusion Policy will guide the RSS Water Corporation to systematically address gender and social inclusion in their consultations, technical design and operations, and will contribute to responding to the different needs of the communities. The policy will put in place affirmative actions for gender and social inclusion in their mandate and is expected to determine, the possible interventions to increase women's and other marginalized groups participations, increase the accessibility of information by women and other marginalized group bearing in mind their illiteracy rate, and monitor the mentoring program for female engineers, said the document.
---