Shankaracharya Parishad chief seeks sedition case against Swami Prasad Maurya over Ramcharitmanas remark
---
PTI
|
Ballia
|
Updated: 24-01-2023 11:14 IST | Created: 24-01-2023 11:11 IST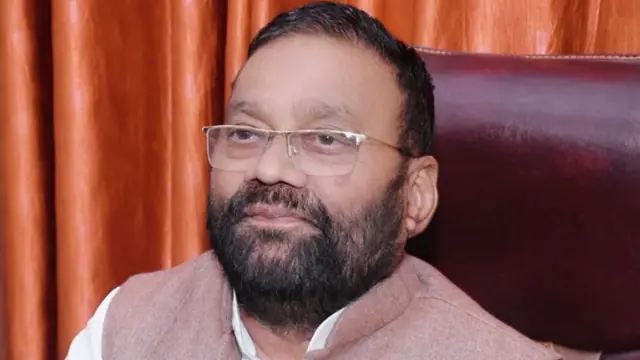 ---
Shankaracharya Parishad president Swami Anand Swaroop has strongly condemned Samajwadi Party leader Swami Prasad Maurya's comments that certain verses of the Ramcharitmanas promoted social discrimination, and demanded he be booked for sedition.
Anand Swaroop said Maurya's remarks were an ''attempt to gain cheap publicity and vote of a particular community''.
Maurya, considered a prominent OBC leader in Uttar Pradesh, had said on Sunday that certain verses of Hindu religious text Ramcharitmanas ''insult'' a large section of society on the basis of caste and demanded that these be ''banned''.
When asked about this statement, Anand Swaroop, the head of Shankaracharya Parishad, told mediapersons Monday night that one should not indulge in ''cheap acts to get cheap popularity and vote of a particular community''.
''No Muslim or prominent Maulana opposes the Hindu religious books of Ramcharitmanas and Gita,'' he said.
''Such unrestrained statements are being made keeping in mind the general elections to the Lok Sabha in 2024. The Yogi government should take them seriously and initiate effective action to curb them. A case should be registered for sedition. Efforts are being made by foreign forces to disturb the peace of the country,'' he asserted.
Shankaracharya Parishad is a council of saints.
''It is clearly mentioned in the Ramcharitmanas...a person becomes a Shudra or a Brahmin by his deeds. Brahmarshi Valmiki was a Shudra, but the Hindu society has always worshipped Brahmarshi Valmiki by installing his statues in temples,'' Anand Swaroop added.
On Sunday, Maurya had said religion is meant for the welfare of humanity and for strengthening it. And it is certainly not 'dharma' if there is any insult to a section of society due to certain lines in the Ramcharitmanas on the basis of 'jaati' (caste), 'varna' (varna) and 'varg' (class). ''It is adharma''. He demanded that such portions of the book which deprecates one on the basis of one's caste, or any such marker, should be banned.
(This story has not been edited by Devdiscourse staff and is auto-generated from a syndicated feed.)