Devotion, decorations on full display as Ganesh festival begins in Mumbai with fanfare
---
PTI
|
Mumbai
|
Updated: 19-09-2023 23:16 IST | Created: 19-09-2023 23:14 IST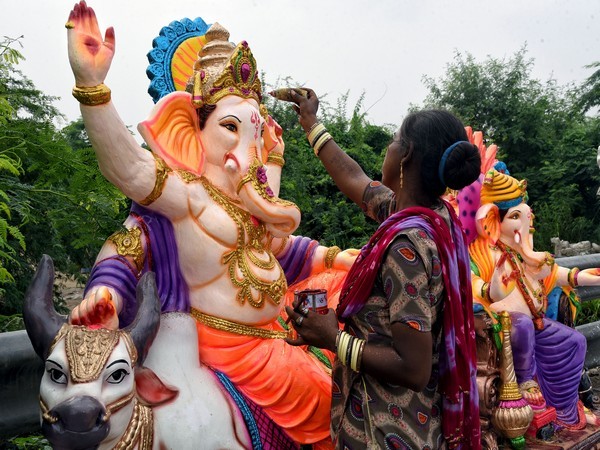 ---
Mumbai was steeped deep in devotion as it welcomed the annual homecoming of Lord Ganesh on Tuesday, marking the beginning of the 10-day festival amid pomp and grandeur.
Idols of the elephant-headed God in various shapes and sizes were installed at several households and in pandals (temporary stages set up by community groups at street corners and open spaces) against the backdrop of elaborate decorations based on myriad themes ranging from the Chandrayaan-3 launch to Ayodhya's Ram Mandir.
Families, including children as well as senior citizens, stepped out of their homes early morning to bring their beloved ''bappa'' home amid chants of ''Ganpati Bappa Morya'' and the beating of drums.
Many people were seen carrying the idols of Lord Ganesh in autorickshaws, cars, and other modes of transport.
Several politicians and celebrities from Bollywood install idols of the deity of wisdom and knowledge in their homes every year.
While many famous Lord Ganesh idols were installed in pandals in the early morning hours in Mumbai, including the most famous Lalbaugcha Raja, many idols were taken out from workshops to the pandals in colourful processions.
A total of 2,729 'sarvajanik Ganeshotsav mandals' have been permitted to organise public Ganesh festivities by erecting 'pandals', the city civic body said on Monday.
To maintain security and order during the popular festival that sees lakhs of people visiting pandals, more than 13,750 police personnel, including staffers from the traffic department, have been deployed, an official said.
They comprised 11,726 constables, 2,024 officers from the rank of sub-inspector to the assistant commissioner and 15 deputy commissioners, he said on Monday.
Notifications issued by the traffic police listed several moves for a smooth flow of vehicles in the metropolis, including a ban on heavy vehicles on certain days.
Immersion day (September 28) will see a larger presence of police on the ground and manpower details being chalked out, the official informed.
Ganesh festivities are the most patronised in Mumbai, with idols of Lord Ganesh being installed in pandals and at homes.
Mumbaikars thronged popular shopping spots of the city at Dadar, Crawford Market, and Lohar Chawl, to buy decoration items, flowers, and puja materials among other festival paraphernalia.
People are in for a visual treat this year, as the city's Ganesh mandals have come up with fascinating thematic decorations for their pandals.
Pandal-hoppers will get to see themes of the Chandrayaan-3 launch, Ayodhya Ram Temple, and the 350th anniversary of the coronation of warrior-king Chhatrapati Shivaji Maharaj, showcased by big mandals or pandals in the city.
A large number of devotees are expected to visit Lalbaug in central Mumbai to catch a glimpse of Lalbaugcha Raja, one of the most celebrated Ganeshas of the city, followed by GSB Seva Mandal's Ganpati in Matunga, which is considered the richest and known for its grandeur.
The GSB Seva Mandal's 'Mahaganpati' is adorned in 66.5 kilograms of gold ornaments, more than 295 kgs of silver as well as other precious items.
Other famous Ganesh mandals are in Chinchpokli, Ganesh Gully and Tejukaya.
Apart from these, people will also get to see the city's tallest Ganesha at 45 feet in the Khetwadi area of Girgaum.
No untoward incident was reported in the metropolis during the day and movement of vehicles carrying Lord Ganesh idols was largely trouble-free, a police official said.
Immersion of Lord Ganesh idols take place on different days of the festival starting from the second day (Wednesday, September 20).
The official said security has been tightened at important immersion points, including those in Juhu Chowpatty, Shivaji Park Chowpatty, Khar Danda, Versova and other popular beachfronts.
The Brihanmumbai Municipal Corporation (BMC) has set up artificial ponds for immersion of idols, mostly for those kept in homes by devotees.
Besides Mumbai, the festival began with religious fervour in other parts of Maharashtra also.
In Nashik, around 200km from Mumbai, Lord Ganesh arrived at homes and pandals for his annual sojourn on the Earth amid chants of 'Ganpati Bappa Morya' and 'Mangalmurti Morya'. The exuberance to welcome the God of knowledge and prosperity was visible among people from early morning. Markets, shops and streets were overcrowded as people purchased Ganesh idols, puja material, decorative goods and sweets.
In Latur in central Maharashtra, amid fanfare and beating of drums, devotees, dressed in traditional attire, welcomed Lord Ganesh into their homes and pandals.
Prominent mandals (community groups) took out huge processions to welcome Lord Ganesh amid chanting of slogans and devotional songs.
(This story has not been edited by Devdiscourse staff and is auto-generated from a syndicated feed.)