Building a narrative for blue-green infrastructure, overcoming financial and governance barriers
To complement the grey infrastructure, we need Blue-Green Infrastructure which can be effective in helping protect our society against the adverse effects of climate change.
---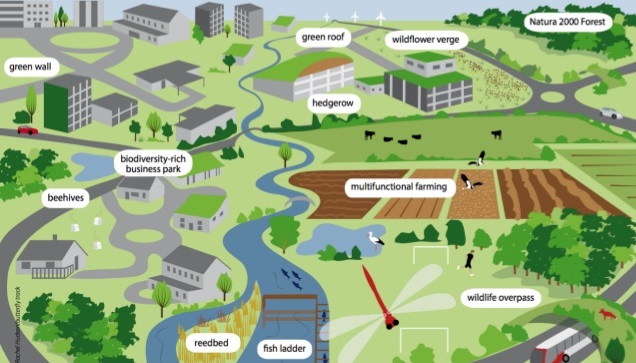 ---
In 2007, the Intergovernmental Panel on Climate Change (IPCC), stated that even the most far-reaching mitigation efforts could not avoid further impacts of climate change. This was reiterated in their most recent publication, the IPCC Special Report on Global Warming of 1.5ºC, which outlines the trajectory and implications of an already changing climate. Regardless of our efforts to slow down climate change, its impacts are unavoidable. International policy negotiations are also reflecting the need to adapt to a changing climate: the 2015 Paris Agreement put climate adaptation on an equal footing with mitigation.
THE INVESTMENT GAP IN CLIMATE ADAPTATION FINANCE
When it comes to climate adaptation, one important challenge is the gap in adaptation finance. This is the current and future imbalance between available funding and required funding to cover costs related to adaptation measures such as building sea walls and environmental restoration. Estimated needs for adaptation funding for developing countries are expected to double or even triple every couple of years (WRI, 2015). Countries are responding to this increased need for adaptation funding. The amount of public finance committed to addressing the impacts of climate change has increased from $4 billion in 2010 to $25 billion in 2013 (WRI, 2015). Despite this increase, there is still a huge gap between how much adaptation finance is available and how much is needed.
Global estimates of the costs of adaptation suggest that the world might need to spend between $280 billion and $500 billion per year on adaptation by 2050. If we take the 2013 commitment and compare it with the lowest estimate, adaptation finance will need to increase by 1020% by 2050. Scaling up both public and private finance for climate adaptation is required to bridge the current and future gap and meet the ambitions of the Paris Agreement (UNEP, 2016).
Examples such as the catastrophic rainfall in Houston during 2017's Hurricane Harvey with hundreds of thousands of homes inundated, more than 100 deaths and economic damages worth some $125 billion suggests that our traditional grey infrastructure (e.g. piped drainage and water treatment systems) have a limited capacity for dealing with extreme weather events unless unaffordable expenditure is invested. To complement this grey infrastructure, we need Blue-Green Infrastructure (BGI) which can be effective in helping protect our society against the adverse effects of climate change. BGI combines elements of the natural landscape with water management (e.g. green corridors, wetlands and Sustainable Drainage Systems).
By mimicking nature and managing rainfall close to where it falls (e.g. transportation, storage and infiltration of surface water), BGI can, depending on the context, achieve flood-reducing performance up to 100%. This is especially relevant for exceedance drainage when extreme weather events outweigh the designed capacity of grey infrastructure.
BGI also provides many other benefits such as
improving the liveability of cities,
physical and mental health benefits
heat, stress, and noise reduction
increased biodiversity
increased water quality
recreational space and social/educational opportunities
Research (TEEB, 2015), shows that BGI benefits can potentially outweigh costs by a factor of 2 to 10. The combination of reducing flood risks and providing a myriad of other multiple benefits makes BGI a promising measure for adapting ourselves to a changing climate. Because of its flood risk-reducing capabilities combined with a positive cost-benefit ratio one would expect BGI to be implemented on a wide scale. Why is this not the case?
IMPLEMENTATION AND FINANCIAL BARRIERS TO BGI
Successful BGI implementation at any scale poses many complexities. BGI projects often have higher upfront costs than traditional grey infrastructure and may require increased maintenance costs and a perceived long-term buy-in (in fact, grey infrastructure also requires this, but this aspect is often ignored: an example of the 'out of sight, out of mind' mentality). The multiple benefits of BGI are rarely considered in political decision-making. There is a need for a more realistic consideration of the societal value BGI provides over traditional grey infrastructure. An additional challenge is the monetisation of the multiple benefits BGI provides. How do you monetise mental health benefits, increased biodiversity, and recreational space? Moreover, even if these multiple benefits were to be monetised, they sometimes do not belong to the cost bearer. For example, a BGI scheme improves the physical and mental health of residents nearby through the proximity of green spaces and increased recreational opportunities. The local authority which has to cover the higher upfront costs is often not responsible for the health of its inhabitants as this is often regulated on a higher level (e.g. regional or national) or by other organisations. Even where they are responsible, as in England, the division of budgets prevents the use of health spending on 'green' spaces and environment.
VALUATION TOOLS TO BUILD A STRONG NARRATIVE
Creating a strong narrative and business case is essential to persuade internal and external stakeholders of the added value of BGI projects. Stakeholders have to be convinced about the (long-term) multiple benefits of BGI projects, who benefits and how. This can be done by substantiating benefits with the financial value provided by tools such as TEEB and B£ST. These are the best available knowledge-based valuation tools, facilitating the monetisation of the multiple benefits of BGI. They enable policymakers to consider the true economic benefit of implementing BGI when selecting options.
Policymakers can strategically frame and present this information for specific stakeholders, which is key in successfully pitching BGI. This includes crafting a carefully designed brand which makes the project recognisable and tangible for various stakeholders. For example, names such as 'Honeybee Highway' or 'Butterfly Express' clearly link BGI projects to its corresponding benefits such as enhancing biodiversity. Furthermore, devising specific communication messages for different audiences is key as they will all have different needs and interests related to BGI projects.
Nevertheless, pitching a case to internal stakeholders as to why BGI should be used as a vehicle for introducing multiple benefits into a project - and why it should be funded - can be an uphill battle. The framing of the benefits and challenges related to BGI require carefully crafted business cases utilising multiple conventional and BGI monetisation tools. These elements then need to fit together like pieces in a puzzle to engage prospective audiences.
MOBILISATION OF ALTERNATIVE FUNDING STREAMS
The branding of BGI projects and their multiple benefits can also help in leveraging alternative funding streams. By explicitly valuing the multiple benefits of BGI projects (e.g. reduced flood risk, increased biodiversity and physical/mental health benefits), a wide range of stakeholders can be identified and engaged from the start of the planning process.
If policymakers have a clear view of who benefits from their intervention and in what way, they know who to address and which narrative can be used for each specific stakeholder. If policymakers succeed in connecting the benefits of their BGI project with the policy priority of a particular stakeholder (e.g. enhancing biodiversity), additional co-funding for the intervention can be leveraged from that specific organisation.
An illustrative example is provided by the municipality of Dordrecht (NL). Dordrecht aims to transform a blue-green ecological zone (Dordtwijkzone) into a city park (Central Park) to enhance biodiversity, increase water quality, recreational opportunities and public health. In its aim to increase support and leverage funding from various stakeholder groups, Dordrecht can combine valuation tools with building a strong narrative. Using a valuation tool such as TEEB enables Dordrecht to monetise these multiple benefits and communicate these to several stakeholder groups. For example, the Province of South-Holland in which Dordrecht is situated, aims to co-finance solutions and projects that enhance biodiversity and recreational opportunities. By providing numbers and evidence using TEEB or B£ST, Dordrecht can demonstrate how its city park transformation can contribute to the Province's policy priorities which potentially leverages additional co-funding. Dordrecht also identified other stakeholders such as health organisations, ministries, and waterboards which all have different stakes in a new city park. By monetising and communicating quantified estimates of benefits and a strong narrative specified to these different interests, Dordrecht can leverage necessary co-funding to realise its transformation plan. Furthermore, a strong brand for the new City Park helps make Dordrecht's transformation plan tangible and recognisable for various interest groups. This may lead to increased support and citizen buy-in for the project such as voluntary activities and maintenance efforts.
Another successful example of a city using valuation tools to draft a strong narrative around BGI is the City of Bradford (UK). Bradford is developing the Shipley Canal Road Corridor which is a road scheme to improve traffic flow from Bradford to Shipley. Bradford City Council has used B£ST to value various proposals to justify a significant expenditure on BGI. This has facilitated the inclusion of a number of BGI elements such as the creation of a linear park, river restoration, off-road cycle routes, extensive street tree planting, and various sustainable drainage elements. The B£ST tool has allowed Bradford to quantify the economic and social value of proposed BGI proposals and justify inclusion in the scheme.
CONCLUSION
BGI is a promising response to the adverse impacts of climate change. Although BGI has numerous economic benefits, wide-scale implementation is hampered by financial and governance barriers and a lack of experience in the approach. These barriers can be overcome by drafting a strong narrative and business case around BGI projects using valuation tools. Furthermore, through the monetisation of multiple benefits and identification of stakeholders, alternative co-funding streams can be leveraged. If done effectively, this can lead to increased co-funding for BGI projects which leads to better and more BGI schemes.