Sports News Roundup: Soccer-Spanish court throws out Rubiales' pre-kiss defamation lawsuit; Soccer-Crowds hail Ronaldo's arrival in Iran ahead of match and more
---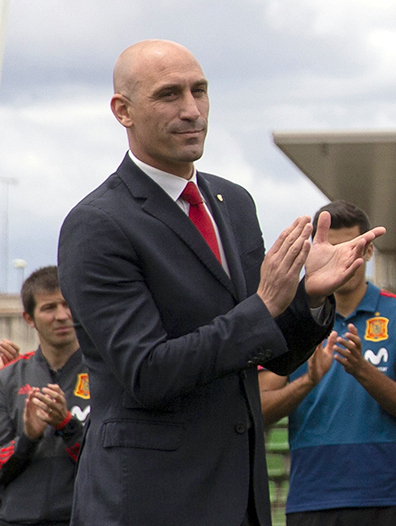 ---
Following is a summary of current sports news briefs.
Soccer-Spanish court throws out Rubiales' pre-kiss defamation lawsuit
A Spanish court has dismissed a lawsuit by disgraced ex-soccer federation chief Luis Rubiales against coach Javier Clemente who had called Rubiales a "dangerous and ambitious guy" seeking "to get rich", qualifying his comments as free speech. In its ruling seen by Reuters on Monday and dated Sept. 1 - amid an unrelated scandal over Rubiales' behaviour at the Women's World Cup last month - the Madrid court said that "we are dealing with a pure exercise of the right to freely express an opinion about a person who, moreover, is a public figure".
Soccer-Crowds hail Ronaldo's arrival in Iran ahead of match
Al-Nassr captain Cristiano Ronaldo received a warm reception in Iran on Monday, in the first visit of a Saudi team to Iran since 2016 ahead of the beginning of the group stage of the Asian Champions League. Al-Nassr face Iranian side Persepolis in Group E on Tuesday, while Qatari side Al-Duhail play Istiklol Dushanbe of Tajikistan.
Cycling-American Kuss crowned Vuelta champion, Groves wins in Madrid
American Sepp Kuss rolled into Madrid as winner of the Vuelta a Espana as the three-week race concluded with a thrilling bunch sprint won by Australian Kaden Groves on Sunday.
Kuss began the race very much in the shadow of his more illustrious Jumbo-Visma team mates Jonas Vingegaard and Primoz Roglic but ended it with the red jersey still on his shoulders, having taken ownership of it on the eighth of the race's 21 stages.
WTA roundup: Russian teen wins opener at Guangzhou
Russian 19-year-old Diana Shnaider took down eighth-seeded American Claire Liu 6-1, 6-3 in the first round of the Guangzhou Open on Monday in China. Shnaider won six straight games in the first set and came back from a 2-0 hole in the second set to win in 75 minutes. She broke Liu's serve six times in eight chances.
MLB roundup: Adam Wainwright beats Brewers for 200th win
Adam Wainwright scattered four hits over seven innings and earned his 200th career victory as the St. Louis Cardinals edged the visiting Milwaukee Brewers 1-0 on Monday. Wainwright (5-11) struck out three batters and walked two to join Bob Gibson (251) and Jesse Haines (210) as the only Cardinals pitchers to reach the 200-victory plateau with the team.
Cycling-Kuss victory can boost U.S. road racing, says Horner
Sepp Kuss's unlikely victory in La Vuelta a Espana could provide a timely boost for a flagging road cycle racing scene in the United States, according to Chris Horner whose 2013 triumph Kuss emulated on Sunday. The 29-year-old Kuss entered the race as a 'domestique' for more illustrious Jumbo-Visma team mates Jonas Vingegaard and Primoz Roglic. But after taking the red jersey on stage eight he never let it go, despite attacks from within his own team.
NFL roundup: Chiefs get back on winning track against Jaguars
Patrick Mahomes passed for 305 yards and two touchdowns to help the Kansas City Chiefs notch a 17-9 victory over the host Jacksonville Jaguars. Mahomes threw touchdown passes to Skyy Moore and Travis Kelce as the Chiefs (1-1) rebounded from a season-opening 21-20 loss to the Detroit Lions.
Soccer- Spain's women players say their boycott remains, deepening crisis
Spain's women's players reiterated on Monday that they would continue to boycott the national team, signalling a deepening of the crisis that started after the country's then football federation (RFEF) boss Luis Rubiales kissed Jenni Hermoso on the lips during the World Cup presentation ceremony. After most of the Women's World Cup winners were selected for upcoming games, the players said in a joint statement they would take the "best decision" for their future and health after they would study the legal implications of being included in a squad list they had asked to be left out.
Golf-Woodland resting after surgery to remove brain tumor
Former U.S. Open champion Gary Woodland has undergone surgery to remove a tumor on his brain, his team said on Monday.
The 39-year-old American revealed the diagnosis last month, saying that he decided to move forward with surgery to remove the lesion after consulting with multiple specialists and discussions with his family.
Soccer-Hermoso says Spain squad announcement shows 'nothing has changed'
Jenni Hermoso said the decision to call up players who are boycotting the Spanish women's team was proof that "nothing has changed" at the country's federation (RFEF) even after the resignation of its president over the Women's World Cup kiss scandal. After most of Spain's World Cup winning squad were selected for upcoming games earlier on Monday, the players said they would continue their boycott, which came after Luis Rubiales kissed Hermoso on the lips during the trophy presentation ceremony in Australia.
(With inputs from agencies.)