India poised to catapult to forefront of digital innovation with thriving digital economy, tech use: US Ambassador Eric Garcetti
---
PTI
|
New Delhi
|
Updated: 23-05-2023 11:30 IST | Created: 23-05-2023 11:28 IST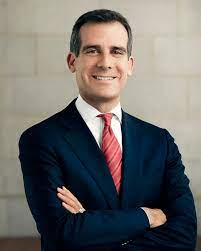 ---
India with its vast population, thriving digital economy, and technology use is poised to leverage the transformative power of 5G, and in the future 6G, to catapult itself to the forefront of digital innovation, US Ambassador to India Eric Garcetti said on Tuesday.
Speaking at the inaugural ceremony of the US-India 5G and next-generation networks workshop, Garcetti said India and the US through their shared values recognize that technology is not only about faster speeds or better connectivity, but also a gateway to progress, and reflection of development.
''India, with its vast population, its thriving digital economy, the use of technology that in some ways is leapfrogging other nations around the world, is poised to leverage the transformative power of 5G and 6G... to catapult itself to the forefront of the digital revolution,'' the US Ambassador said at the workshop organized by the US Trade and Development Agency (USTDA).
The shared vision of the two nations and their leaders is about a digital economy built around transparency, and accountability to the people, the rule of law, and the protection of basic rights.
''Those are things that bring us together and are in contrast to others who seek technology for other means. So to build that inclusive and digital future that nourishes these values, we have to take into account security, trust, openness, and interoperability from the beginning,'' he said.
The US is seeking to support India and other nations in promoting the responsible global deployment of 5G and next-generation networks.
Trust is an ''absolute necessity'' when it comes to 5G, he asserted.
''We know it's impossible to eliminate all security risks, but we can minimize the possibility that the architects who build the networks will abuse those networks to undermine its security, its confidentiality, integrity, and availability,'' he said adding that the US and India are committed to collaborating on this mission.
Users too need to trust their networks since their most sensitive and personal information flows through them.
''...trust cannot exist if they're compelled by authoritarian governments to disclose data with no realistic legal discourse or disclosure. So there are alternatives that we are working on together that include open and interoperable approaches and architectures...,'' he said.
India with its G20 presidency this year can help drive trusted solutions and architecture to developing nations.
''In the developed world, India too can become a vital part of our supply chain to de-risk the world...'' Garcetti said.
The technology used for goodwill drives economic progress, boost health indicators and strengthen the security of the world and nations. The US-India relationship is not transactional but a ''personal one'', with shared values, he added.
Telecom Secretary K Rajaraman said India sees telecom as the biggest tool for economic and social inclusion. ''So it is very important that the technology is harnessed for the benefit of the excluded,'' Rajaraman said adding that over the past years, the Indian government has taken a slew of measures to ensure that tech benefit flows to the 'bottom of the pyramid'.
The launch of satellite broadband services will happen sometime next year, he added.
''So we already have a constellation of OneWeb and we have given the preliminary licenses to them. We also have another license from Jio platforms. We also have Starlink who is discussing with us. So we hope that next year we will have a fairly good robust network comprising all the three solutions to cater to every region of this country,'' the telecom secretary said.
Over the next months and years, technology will become affordable and converged for users. ''So it's very essential that as we move up the technology chain that standards are ensured...this principle of affordability, inclusion, and at the same time move forward in the form of far greater capabilities and features... So we believe that there's a great opportunity for all of us, especially in India and the US to collaborate at international fora, including the ITU where all these standards are discussed...,'' Rajaraman said.
Lack of access to technology and connectivity across the world even today for 2.6 billion people in the digital era, is a ''global shame''.
''...in this era of 5G and 6G, you can't have this kind of numbers on this planet, and also speaks very badly of how technology is deployed and how tech is purposed...and we are very conscious of that,'' he said.
Pushing a collaborative approach, he said all countries must join hands and participate in developing technology or ''technology will never serve the purposes of all the sections of society across the world''.
(This story has not been edited by Devdiscourse staff and is auto-generated from a syndicated feed.)