How can ICT help in disaster preparedness and response?
In the immediate aftermath of disasters, timely and effective information is critical for the decision-making process. ​​​​​
---
Renu Mehta
|
Updated: 15-07-2019 16:40 IST | Created: 15-07-2019 16:40 IST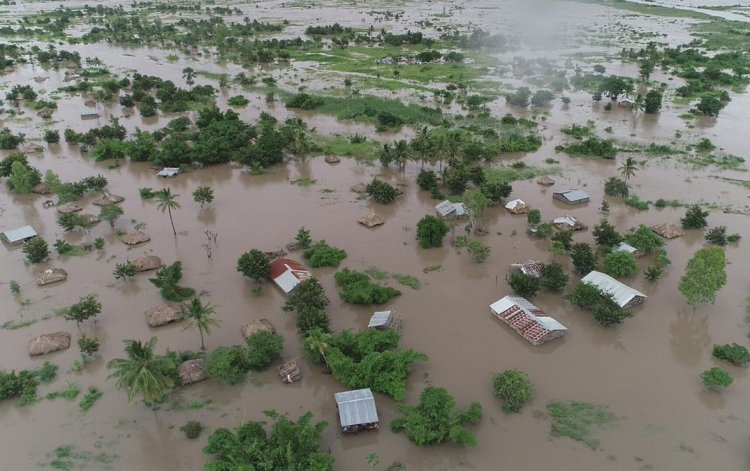 ---
Intense tropical cyclones Idai and Kenneth caused catastrophic damage in Mozambique, Zimbabwe, and Malawi, leaving more than 1,200 people dead and thousands more missing in March 2019. The 2018 California wildfires also wreaked havoc and claimed more than 100 lives. Climate-related and geophysical disasters claimed 1.3 million lives and left 4.4 billion others injured, homeless, displaced or in need of emergency assistance between 1998 and 2017, according to Centre for Research on the Epidemiology of Disasters report.
Disasters such as droughts, cyclones, heatwaves, floods, earthquakes, tsunamis, volcanic eruptions hit different parts of the world on a regular basis. According to the International Telecommunication Union (ITU), a specialized agency of the United Nations for ICTs, "each year over the past decade there were, on average, 354 disasters, 68,000 deaths, 210 million people affected and USD 153 billion in damages."
In the immediate aftermath of disasters, timely and effective information is critical for the decision-making process. ​​​​​Information and Communication Technologies (ICTs) play a significant role in mitigation, preparedness, response, and rehabilitation by facilitating the flow of vital information in a timely manner.
To deliver and deploy telecommunications/information and communication resources (transportable, easy to deploy and reliable systems that are non-exclusive) in a timely manner in the event of disasters, the ITU has designed the ITU Framework for Cooperation in Emergencies (IFCE).
Role of ICTs in disaster risk reduction and management
Innovative technologies such as robotics, drone technology, GIS, and emerging technologies like artificial intelligence (AI), the Internet of Things (IoT), cloud computing and Big Data are transforming the complex process of disaster management.
Geographic Information System (GIS)
Digital geospatial information has revolutionized the way we see the world and our place in it. All countries and all sectors ranging from urban mobility to education, telecommunication services, disaster management, agriculture, urban planning, water management, humanitarian work, etc. need geospatial information for developmental planning, policy formulation, and decision‐making.
Video Credit: UN DESA
Geographically referenced information such as latitude and longitude or simply the information describing the location on or above the earth's surface is referred to as Geospatial Information. It plays a critical role in emergency response and preparation for natural disasters like floods, landslides, storms, etc.
To recognize and maximize the value of geospatial information, the United Nations Committee of Experts on Global Geospatial Information Management (UN-GGIM) has been working with a wide range of experts, the UN Member States and the World Bank to improve access to quality geospatial information.
Geospatial information holds an unprecedented opportunity for disaster management and resiliency development.
Drone technology
Developed initially for military purpose, the unmanned aerial vehicles (UAVs) have now come into extensive use as they are time and cost-effective; provide real-time data and high-resolution imagery. As per an ITU document, the first documented use of drones was after Hurricane Katrina in the United States of America in 2005 (Meier, 2015) because roads were blocked by trees, small drones were deployed to search for survivors and assess river levels.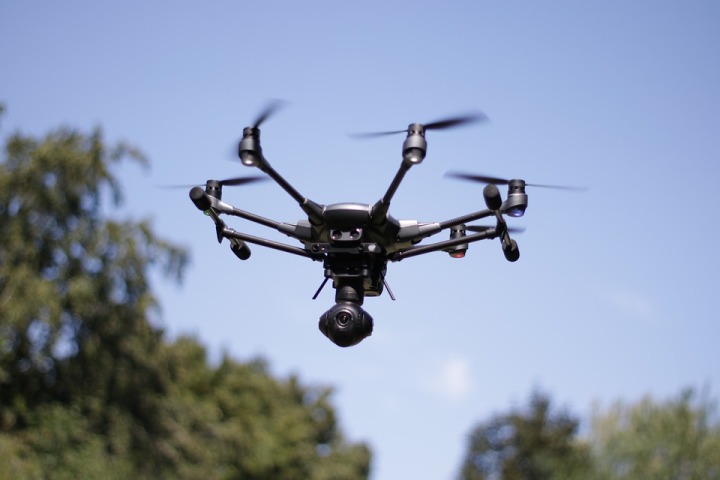 Image Credit: Pixabay
UAVs are being increasingly recognized by leading humanitarian organizations such as the World Food Program (WFP), the United Nations International Children's Emergency Fund (UNICEF) for their potential effectiveness in disaster response.
Big Data
A collection of extremely huge volumes of data sets in real-time is how big data can be defined as. All major emerging technologies like blockchain, artificial intelligence, augmented reality, the Internet of Things, etc. use big data to bring enhancements and advancements to their solutions.
Government agencies and other humanitarian actors involved in disaster management process can use big data to improve disaster resilience. Data from mobile phones, social media networks, robots, and drones can be collected in the event of a disaster to identify the affected population and prepare a rescue plan.
For example, the United Nations flagship Global Pulse initiative harnesses big data innovation for sustainable development and humanitarian action. The initiative collaborates with experts from UN agencies, governments, academia, and the private sector to research, develop, and mainstream approaches for applying real-time digital data to 21st-century development challenges.
Artificial Intelligence
From potentially predicting Tsunamis, earthquakes to quickening recovery, AI and machine learning can play a significant role in all phases of disaster management: prevention, protection, mitigation, response, and recovery.
Let's understand AI's role with an example.
The Qatar Computing Research Institute (QIDR) has developed free and open-source software that automatically collects and classifies tweets that are posted during a humanitarian crisis. Artificial Intelligence for Disaster Response (AIDR) combines human and machine intelligence to automatically tag up to thousands of messages within a minute. The solution can be deployed during mass emergencies for quick decision-making.
Another example of a digital tool is the Nexus Environmental Assessment Tool (NEAT+) that helps humanitarian practitioners to understand sensitivities and implement mitigation measures during a crisis.
NEAT+ assessment tool runs on KoBo Toolbox, a free open-source tool for mobile data collection developed by the Harvard Humanitarian Initiative. Once the data is recorded, the program automatically generates a report in Excel, categorizing risk into high, medium and low, and providing information that can help mitigate the risk.
The tool was pilot tested with the UN Refugee Agency (UNHCR) in the Mantapala refugee settlement, Zambia, in December 2018.
Others
Besides these disruptive tools, social media platforms, including Twitter, Facebook can play a great role during a humanitarian crisis like flooding, tornadoes, landslides, etc. For instance, Facebook activates its Safety Check crisis response tool during disasters (Natural or man-made) and terror-related incidents so users can share their safety status in the affected geographical area.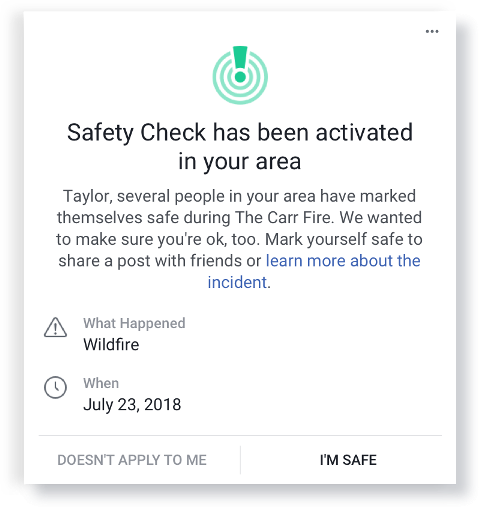 Image Credit: Facebook
Also, tools like radio, mobile phones, television, satellite imagery are equally important for monitoring and updating the public in the event of a disaster.
ICT presents innumerable digital tools for disaster management, yet it faces challenges limiting their impact. Governments, international organization, and civil society should cooperate and collaborate to realize the full potential of disruptive technologies to effectively deal with any humanitarian crisis. More research and development (R&D) and investments will help catalyze global efforts to disaster management.
(Disclaimer: The opinions expressed are the personal views of the author. The facts and opinions appearing in the article do not reflect the views of Devdiscourse and Devdiscourse does not claim any responsibility for the same.)
FIRST PUBLISHED IN:

Devdiscourse