Sadri Alışık: Google dedicates doodle to Turkish comedian and actor
---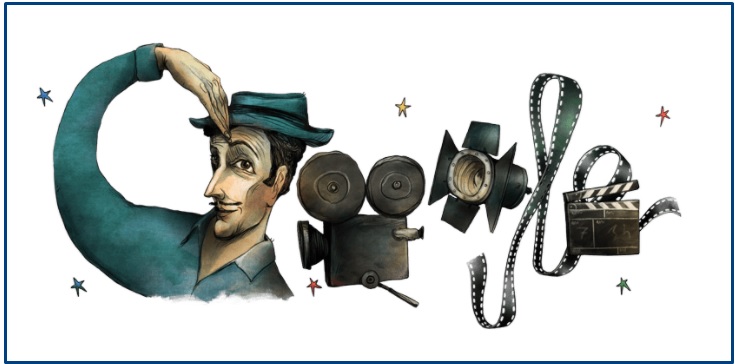 ---
Happy birthday, Sadri Alışık!
Today Google illustrates a beautiful doodle to celebrate the 96th birthday of prolific Turkish comedian and actor Sadri Alışık. Sadri Alışık's image is sketched by Turkey-based guest artist Sedat Girgin.
The renowned Turkish stage and movie actor Sadri Alışık was born on April 5, 1925, in Istanbul, Turkey. He was the husband of Çolpan İlhan, Turkish cinema and theater actress.
Sadri Alışık (also called Mehmet Sadrettin Alışık) fell in love with the performing arts at 7 years old after attending a local play. To hide his dramatic ambitions from his father, who disapproved of acting as a career, Alışık enrolled in a university painting program post-high school to disguise the time he spent acting in various Istanbul theatres.
Sadri Alışık graduated from Beykoz Secondary School (present name Ziya Ünsel Elementary School) and later joined Istanbul Erkek High School. He also went to the Fine Arts Academy Painting Department.
Alışık's clandestine devotion soon paid off, debuting on the silver screen in the 1944 film "Günahsizlar" ("The Innocent Ones"). His film success led to decades of serious performances in historical and crime dramas before he displayed his dynamic acting skills in comedy.
He played the role of "Turist Ömer" (or "Ömer the Tourist") in the comic film "Ömer the Tourist in Star Trek." Turist Ömer is a recurring character in a series. Tourist Ömer was a smash hit that starred in eight movies, an iconic run that came to a sci-fi end in 1974 with "Ömer the Tourist in Star Trek." He also had a leading role in the popular Turkish television series, "Kartallar Yüksek Uçar".
Outside of his more than 200 film and television appearances, Alışık loved to paint, sing Turkish classical music, and write poetry. He bid farewell to entertainment with his role in "Yengeç Sepeti" ("Crab Basket"), his 1994 cinematic swan song for which the Antalya Golden Orange Film Festival awarded him Best Actor. Today, his legacy lives on in acting studios founded in Istanbul and Ankara, both named in his honor. He died at the age of 69 on 18 March 1995.