Jujutsu Kaisen Chapter 218: Sukuna vs Yorozu and Heian era flashback
---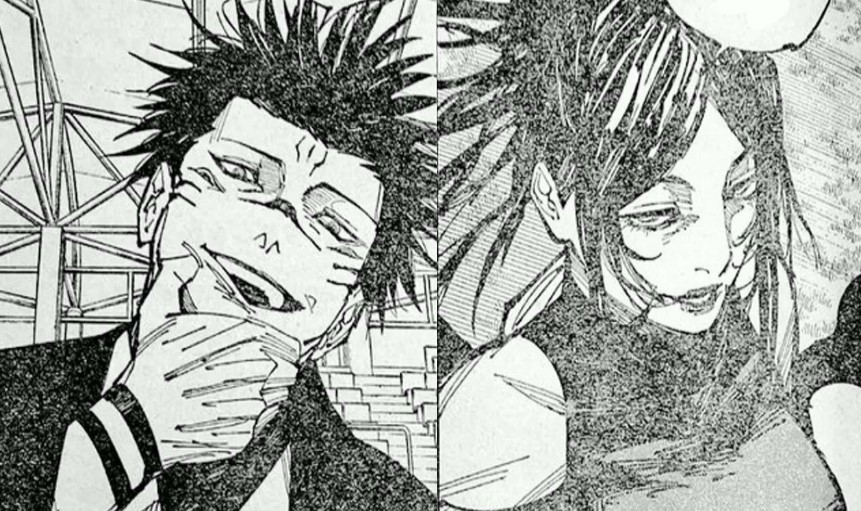 ---
Jujutsu Kaisen fans were shocked because Sukuna has taken control of Megumi Fushiguro's body. Yuji was too weak to stop Sukuna from getting stronger. The latest chapter of Jujutsu Kaisen is really interesting because fans learn more about the character Sukuna.
Sukuna has moved on to a new target after defeating some Jujutsu sorcerers. He might face a tough fight from a character named Yorozu. This could lead to a flashback about a time called Heian Era that fans have been wanting to see.
In Jujutsu Kaisen Chapter 217, Yorozu and Sukuna have an unusual interaction where they talk about the power of love and the possibility of marriage. They discuss Sukuna's defeat, and he promises to give Yorozu everything if he survives. Yorozu takes this as an agreement and starts planning their wedding reception. Later, it is revealed that Uraume is a reincarnated sorcerer who has taken over a body, and they have been Sukuna's chef for a long time. Sukuna summons his version of Divine Dogs, and Yorozu asks about his technique and why he isn't using the Shrine. Sukuna says he needs to cross Tsumiki's body with the Ten Shadow Technique to carve the scar into Megumi's soul.
So, Jujutsu Kaisen Chapter 218 is going to be an exciting battle, and we might finally find out what happened to Yuji and Maki.
Jujutsu Kaisen Chapter 218 is set to release on April 2, 2023, at 7:00 AM PST in the US, the UK, and Europe. In Japan, the chapter will be available on April 3, 2023. The translated version of the chapter will also be released on the same day, a few hours after the initial release. It is advisable to check the local time zone and schedule to avoid missing the release.
Pacific Time: 8 AM PST (April 2, 2023)
Eastern Time: 11 AM EST (April 2, 2023)
European Time: 5 PM CEST (April 2, 2023)
Indian time: 8:30 PM IST (April 2, 2023)
Philippine Time: 11 PM PHT (April 2, 2023)
Japanese Standard Time: 12 AM JST (April 3, 2023)
Australia Time: 12:30 AM ACST (April 3, 2023)
We will come up with more Jujutsu Kaisen Chapter 218 spoilers as soon as it comes. Fans can read all the published chapters of the Japanese manga Jujutsu Kaisen Chapter on the official manga platforms, including Viz Media / Shonen Jump and Manga Plus.
Stay tuned to Devdiscourse for updates on more Japanese manga.
Also Read: Welcome to Demon School! Iruma-kun Season 4: Everything we know so far