Never Have I Ever Season 4: Unforgettable farewell to Devi's high school journey, coming soon!
---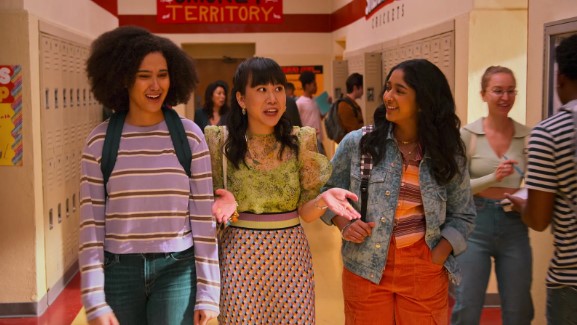 ---
Get ready to bid farewell to the beloved comedy-drama, Never Have I Ever! This popular Netflix series has captured the hearts of millions around the world, thanks to the incredible talent of Maitreyi Ramakrishnan, the show's lead actress. But don't worry, the fourth and final season of Never Have I Ever is just around the corner, set to premiere on June 8, 2023, exclusively on Netflix. Maitreyi has promised an unforgettable series finale, while series creator Mindy Kaling guarantees a finale that will be both "fun and interesting." To get you all hyped up, here's a sneak peek into what you can expect from Never Have I Ever Season 4.
Never Have I Ever is a funny and heartwarming American comedy-drama. It was created by Mindy Kaling and Lang Fisher. This show is important because it represents Tamil, South Indian, and Hindu culture in Hollywood, which is a big step forward. People appreciate the show for breaking stereotypes about Asians.
Fans were thrilled when Seasons 3 and 4 were renewed at the same time. Season 3 premiered in August 2021, giving fans more of the story to enjoy. The filming for the fourth and final season wrapped up in early August 2022, bringing the series to a close. It has been quite a journey, and the show has left a lasting impact on the entertainment industry.
Never Have I Ever Season 4: What to expect
Never Have I Ever Season 3 ends with a suspenseful cliffhanger, leaving viewers on the edge of their seats as Devi faces two significant choices. She decides to stick with her family and friends for her senior year and takes a leap by choosing to lose her virginity to Ben, a former enemy turned potential love interest. Fans of the show eagerly anticipate the possibility of Devi and Ben becoming a couple in Season 4. However, co-creator Lang Fisher hints that Paxton, Devi's previous love interest, might still have a chance. In an interview with Entertainment Weekly, Fisher advises viewers not to be too quick to say goodbye to Paxton.
"The love triangle is the core of the show, and it's something we can't remove in the final season. But in the last episode of Season 3, we wanted Devi to bid farewell to Paxton in a special way. In Season 4, there will be exciting and intriguing developments following whatever has transpired between Devi and Ben," Fisher shares in an interview with Digital Spy.
Meanwhile, Nalini, Devi's mother, continues to adjust to life without Mohan after their relationship ended in the second season. Nalini may explore new romantic possibilities and focus on her career in Season 4.
In Never Have I Ever Season 4, viewers can expect to witness Devi Vishwakarma navigating her final year of high school. The storyline introduces a new distraction in Devi's life with the arrival of Ethan, portrayed by Michael Cimino, following Paxton's departure from college.
The third season concluded with Devi redeeming a "One Free Boink" coupon from Ben, leading to a complex situation. Throughout the series, Devi has grappled with her feelings for both Ben and Paxton. With Paxton graduating and their relationship ending, Devi appears to be leaning toward Ben. However, a teaser for the new season shows her kissing someone else, leaving viewers uncertain about the direction of her romantic journey.
Devi's relationship with her mother seems to be improving, and other characters like Kamala, Fabiola, Addison, and Eleanor are also experiencing contentment. Never Have I Ever Season 4 aims to tie up loose ends concerning potential relationship drama but primarily focuses on Devi and her friends' final year, highlighting their growth and aspirations. Will Devi choose to stay close to home despite being offered a spot at a school in Colorado?
In March 2022, co-creators Mindy Kaling and Lang Fisher announced that the fourth season of the teen drama would be its last. The statement expressed their excitement for the upcoming season, promising a mix of steamy romance and hilarious adventures. They thanked the fans, especially those supporting the Devi and Paxton dynamic, expressing their love and gratitude.
Before filming, Erin Underhill, President of Universal Television, stated that Never Have I Ever would conclude after its fourth season, explaining that the natural culmination of high school played a role in the decision.
"High school isn't, in fact, forever. Four seasons of Never Have I Ever is truly exciting and a little bittersweet because, as a loyal fan, I'd love Devi's journey to go on forever," Erin said in a statement. "But just like high school, all great things must come to an end... We can't wait to experience all of the messiness, the LOLs, and the tears that will surely unfold in Devi's senior year," she added.
Never Have I Ever Season 4: Who are in the cast
In Never Have I Ever Season 4, the main cast members from previous seasons will be returning for the final series. Maitreyi Ramakrishnan continues to portray the lead character, Devi Vishwakarma. Darren Barnet reprises his role as Paxton Hall-Yoshida, Ramona Young as Eleanor Wong, Lee Rodriguez as Fabiola Torres, Megan Suri as Aneesa Qureshi, Poorna Jagannathan as Nalini Vishwakarma, Richa Moorjani as Kamala, Utkarsh Ambudkar as Mr. Kulkarni, and Niecy Nash as Dr. Ryan.
The teaser trailer also introduces Michael Cimino as Ethan, a new character who enters Devi's life in Season 4. This addition brings a fresh dynamic to the storyline and adds to the anticipation surrounding the upcoming season.
Never Have I Ever Season 4 will premiere on Netflix on June 8, 2023.
Also Read: Money Heist' spinoff series 'Berlin' updates and everything you need to know