Ahmadiyya Muslim community holds Peace Symposium, inaugurates new building at Baitul Futuh mosque in London
One of the biggest mosques in Western Europe, Baitul Futuh is located on 2.1 hectares and can accommodate up to 10,000 worshippers, acting as a spiritual hub for the neighbourhood. In fact, the fifth Ahmadi Caliph is still alive today and resides in the UK.
---
ANI
|
Updated: 11-03-2023 23:43 IST | Created: 11-03-2023 23:43 IST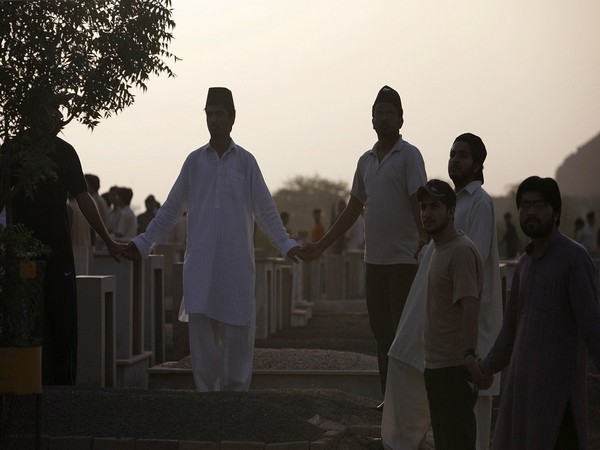 ---
The Ahmadiyya Muslim Jama'at (AMJ) commemorated a significant occasion on March 4, 2023, not just for its community in the UK but also for the entire global jama'at of this spiritual tradition. His Holiness Sahibzada Mirza Ahmad Masroor Sahib, the 5th Caliph, opened a new complex at the Baitul Futuh Mosque in Morden, a neighbourhood and town in Merton, the southern borough of London, England, the UK. He planted a tree and revealed the inauguration plaque on that sombre occasion, Bitter Winter reported. The administration offices, two sizable multipurpose halls, and guest rooms for the neighbourhood are all housed in the new five-story structure.
After a fire on September 26, 2015, which left almost half of it damaged, it was reconstructed into a stunning structure that interpreted Islamic design using a contemporary Western minimalism approach and combined beauty with usefulness. A sum of 1.20 million pounds was spent on the project, all of which came from believers' free and private donations. One of the biggest mosques in Western Europe, Baitul Futuh is located on 2.1 hectares and can accommodate up to 10,000 worshippers, acting as a spiritual hub for the neighbourhood. In fact, the fifth Ahmadi Caliph is still alive today and resides in the UK.
He is referred to as "huzoor," an Urdu title that is derived from an Arabic word that can mean "Eminence" or "Excellence"; it is typically used to refer to saints and is equivalent to the "His Holiness" title most usually used by Ahmadis. A report published in Bitter Winter read, Masroor was forced to leave Pakistan when he was chosen as the next Caliph in 2003 after being imprisoned in 1999 as a result of the state's ongoing persecution of Ahmadis in Pakistan during the first part of the 1980s. He now resides in the Islamabad complex of the village of Tilford in Surrey County, England, which also houses the Mubarak ("Blessed") Mosque and the global headquarters of the AMJ. At London Baitul Futuh, he frequently leads the congregational prayer.
Other significant local occasions of global significance take place in Baitul Futuh, most notably the National Peace Symposium, which yearly presents the Ahmadiyya Muslim Award for the Promotion of Peace. Awarded to individuals so honoured by the Caliph since 2010, it was established in 2009 to honour an individual's or an organization's commitment to global peace and contains a prize money of 10,000 pounds. The new Baitul Futuh building was officially opened on March 4 in conjunction with the 2023 National Peace Conference, with the theme "Foundations for Real Peace." The Award was given to two people.
Barbara Hofmann, a Swiss humanitarian and charitable worker who founded and serves as CEO of the non-profit Association en faveur de l'Enfance Mozambicaine-The Association for the Children of Mozambique with headquarters in Beira, Mozambique, received the 2019 Prize, which was later cancelled due to COVID-19 restrictions. Akiba Tadatoshi, a Japanese mathematician and former mayor of Hiroshima, who is well-known for his views and activism in support of peace and against nuclear weapons, received the 2023 Prize. According to Bitter Winter, many authorities spoke in front of hundreds of individuals from dozens of nations and various religious affiliations after the Surah al-A'raf, verses 56-59 of the Holy Quran, were recited and their English translation was read.
The UK AMJ's National Secretary for Foreign Affairs, Fareed Ahmad Sahib, then read a letter from UK Prime Minister Rishi Sunak. Sir Ed Davey MP, Leader of the Liberal Democrats, Paul Scully MP, Minister for Technology and the Digital Economy, and Fleur Anderson MP, the Shadow Paymaster General, saluted the audience after being introduced by Rafiq Hayat, UK AMJ Amir (the Arabic word for "emir," used by AMJ to mean National President). The keynote address was delivered by His Holiness the Fifth Caliph after Hoffman and Akiba had given their acceptance speeches. It was a stirring speech of particular intensity and value for all those who value and defend freedom of religion, belief, and creed (FoRB), which naturally results in a profound appreciation of world peace. There were two primary concerns of Caliph. He began by denouncing Russia's war of aggression against Ukraine. He said that defensive combat should only be permitted in the most dire situations--as taught by Islam--especially when there is a deliberate effort to undermine religious freedom or religion itself. We should all strive for peace, he continued. "Third parties should attempt to bring two at conflict states together and towards a peaceful resolution. It is up to other countries to band together and employ appropriate and legal force to stop the oppressor if the aggressor continues to pursue war, Bitter Winter reported.
However he went on to say that "unjust retribution or revenge ought not be exacted once their cruelties end." He said that no one should allow "the animosity of any nation or party" to hinder them from upholding the genuine ideals of justice and equity, as the Quran's chapter five, verse nine, taught. As a result, punishing sanctions or other unfair policies that hinder a country's ability to recover from conflict and restrict its freedom and prosperity must be avoided at all costs. The Caliph emphasised that there was no justification for the aggressive behaviour of the Russian government, but that we should never conflate a nation's administration with its citizens, especially after hostilities have ended and everyone should work towards peace and reconstruction. Second, the global leader of the Ahmadis stated that as Muslims are required to pray five times every day, it is obligatory for everyone to read the first chapter of the Holy Quran. In the second verse, Allah the All-Powerful declares that he is the Lord of every world and every nation. He not only provides for and maintains Muslims, but also Christians, Jews, Hindus, Sikhs, and, in fact, people of all faiths and beliefs. By His grace and compassion, he provides for their fundamental necessities and gives them life.
Naturally, this is written from a Muslim perspective, and the terminology and ideas used here are from the Islamic tradition, yet the significance of the Caliph's ideas transcends bounds of confession in order to convey a universal message. "Muslims are taught that the primary tenet of Islamic teaching is that a devout Muslim must never injure the people of other faiths or beliefs, cherish any sort of enmity, or speak ill of them in any way, as we are all the creation of God Almighty," continued His Holiness. Indeed, it is our belief and teaching that those who do not recognise Allah's grace and reject his own existence have their necessities met. Not only does he provide for them but also he also allows them to enjoy the rewards of their labour. This is how we think of the all-merciful God that we worship. Those who believe in a gracious God cannot possibly wish to disturb the tranquilly or wellbeing of others. The Ahmadiyya Muslim Community therefore works to promote peace and harmony on a global scale solely in order to draw closer to such a kind and loving God.
Notwithstanding the fact that all religious groups have the potential to engage in violent behaviour, he continued, "Any Muslims or so-called Islamic groups who inflict cruelty or conduct barbaric atrocities break their religion precepts and are totally culpable to be condemned in the greatest terms." The value and universality of this message should not be mistaken with a lax relativist strategy or a cursory interreligious discussion that leaves everyone feeling unsatisfied. Instead, it is a forceful call to people of all faiths from a religious leader who is profoundly anchored in his own faith, which cannot be overlooked by both believers and others who value FoRB, whether they are religious or not, Bitter Winter reported. (ANI)
(This story has not been edited by Devdiscourse staff and is auto-generated from a syndicated feed.)