Google Celebrates Black History Month with Doodle Honoring Amputee Model Mama Cax
---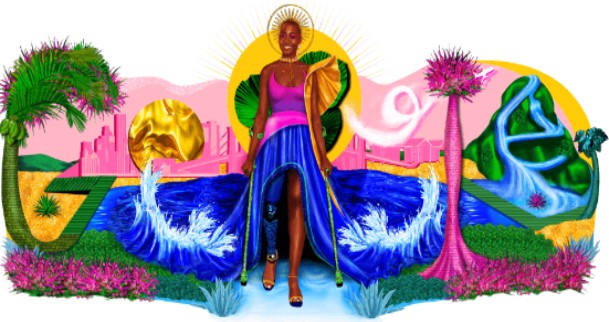 ---
In recognition of Black History Month, today's Google Doodle pays tribute to Haitian American model and advocate for disability rights, Mama Cax. The illustration, created by guest artist Lyne Lucien based in Brooklyn, showcases Mama Cax who was renowned for challenging conventional beauty standards. The model and activist confidently walked down fashion show runways with her prosthetic leg, which was often decorated with vibrant colors and patterns. On this day in 2019, Mama Cax made her debut at New York Fashion Week on the runway.
Mama Cax was born as Cacsmy Brutus on November 20, 1989, in Brooklyn, New York and spent her childhood in Port-au-Prince, Haiti. At the age of 14, she was diagnosed with bone and lung cancer which led to hip replacement surgery at 16. Unfortunately, the surgery was unsuccessful and resulted in the amputation of her right leg. In the beginning, Mama Cax struggled with depression and self-acceptance as she wished for her prosthetic leg to look realistic and blend in with her skin tone.
With time, Mama Cax gradually came to accept and embrace her new body. She began wearing fashionable prosthetic covers with confidence, incorporating them into her unique personal style. Mama Cax also expressed her love for fashion and style through her colorful outfits, hair color, and striking makeup. Along with embracing her disability, she also embraced her athletic side and learned to handcycle. Her hard work paid off, as she went on to complete the New York City Marathon.
As the body positivity movement grew, Mama Cax noticed that Black women and women with disabilities were underrepresented in social media. She began posting regularly and advocating for inclusivity in fashion and using social media to discuss her body insecurities. She officially broke into the fashion industry as a model in an advertising campaign in 2017 and was signed by Jag Models shortly after. In 2018, she landed a Teen Vogue cover, and the following year, Mama Cax walked in both the February and October New York Fashion Weeks.
Mama Cax's life was tragically cut short by medical complications in 2019. The model and activist are remembered for expanding the image of what people with disabilities should be or look like. Today's vibrant Doodle artwork is a reflection of her bright life. The artwork highlights the many facets of her identity including her Haitian heritage, her NYC hometown, and her fashion career with her prosthetic incorporated into the look.
Thank you for being a positive role model and advocating for inclusion in the fashion and beauty world, Mama Cax.
Source: Google doodles
Also Read: Kamn Ismail: Google celebrates 67th birthday of Malaysian cartoonist