Odisha CM reviews situation and restoration work undertaken post-cyclone
Devdiscourse News Desk
|
Puri (Odisha)
|
Updated: 16-05-2019 02:35 IST | Created: 15-05-2019 21:22 IST
---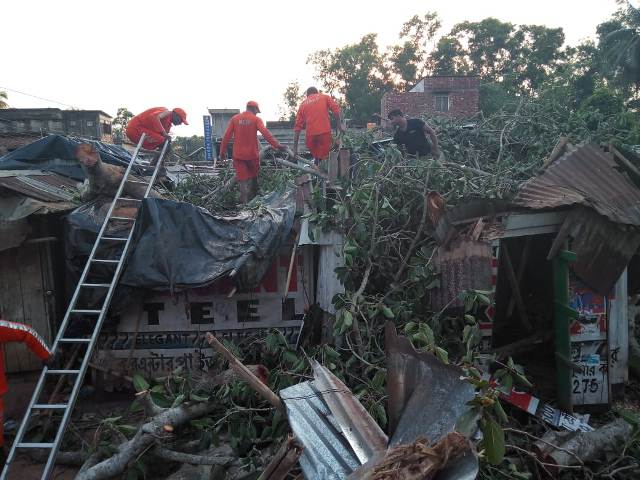 Odisha Chief Minister Naveen Patnaik on Wednesday reviewed the situation and restoration work undertaken in the state in the aftermath of the destruction caused by cyclone Fani. The meeting was attended by senior state and district officials. Talking to media after the meeting, the Chief Minister expressed his sadness on damage caused to Puri. "I am deeply saddened by damage caused to Puri. We will make Puri into a World class heritage city," the Chief Minister said after the meeting.
Acknowledging that Puri district gets its electricity sourced through three lines, all of which were badly damaged, the Chief Minister said, "With thousands of workers working day and night on a war footing basis - one line is getting restored today." "With the restoration of this one line, power supply to start in Puri town, Nimapara NAC and Konark NAC from tonight in a phased manner. With so many uprooted trees, tree safety is an important aspect of power restoration. I appeal to everyone to cooperate in this humongous task as we are almost re-electrifying Puri District.
He also expressed "deepest condolences" to the family of Mangaraj Rao who sacrificed his life while working on this on Tuesday. The Chief Minister also promised that kerosene oil at the rate of 2.5 litres per family will be made available free of cost every 10 days in the affected areas till restoration of power is completed, rice at the rate of 50 Kg. per family will be made available for all non-ration-card holders also.
"House building damage and other assessment as per Relief Code has been started and will be completed within a week. 10 lakh candles will be available in next few days for free distribution," said the chief minister. He also said that sanitary napkins will be made available for free of cost for the next two months.
Later in the evening, Hemant Sharma, Energy Secretary of Odisha said that electricity has been restored in Jagannath temple and nearby areas. Patnaik too took to twitter to post, " Extremely happy to share that electricity supply has been restored to Srimandir and Bada Danda now. Thank thousands of workers from so many states who are working day and night to ensure electricity supply to #Puri."
---