"Don't think this is the end..." Tennis star Sania Mirza pens heartfelt note ahead of last Australian Open
The 36-year-old shared a post on her Instagram captioned 'Life Update' and mentioned that as she draws closer to the culmination of her career as an athlete, new beginnings await her.
---
ANI
|
Updated: 14-01-2023 07:34 IST | Created: 14-01-2023 07:34 IST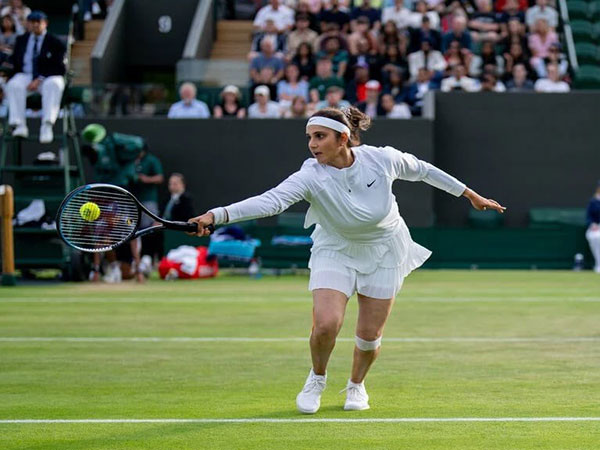 ---
India's ace tennis star Sania Mirza shared a heartfelt message for her fans recalling her tennis journey ahead of her last Australian Open on Friday. The 36-year-old shared a post on her Instagram captioned 'Life Update' and mentioned that as she draws closer to the culmination of her career as an athlete, new beginnings await her.
"Life must move on and I don't think this is the end but, in fact, a beginning of many different memories to be created, dreams to be achieved and new goals to be set. My son needs me more than ever now and I can't wait to live a slightly quieter and calmer life while giving him more of my time than have been able to give so far. Like they say. Game. Set. Celebrate! Here's to new beginnings," shared Sania. She will feature in her last Australian Open with Kazakhstan's Anna Danilina in the women's doubles event.
Sania Mirza announced this week that she will be quitting the game. She recently said in an interview that she intends to retire from professional tennis following the upcoming WTA 1000 tournament in Dubai in the month of February. The Indian tennis sensation first competed at the Australian Open in 2005. She won the mixed doubles and women's doubles championships in 2009 and 2014, respectively.
Reminiscing her tennis career she said, "Thirty (yes, 30!) years ago a 6 year old girl from Nasr School in Hyderabad, walked onto a tennis court at Nizam Club with her young mom and fought the coach to let her learn how to play tennis as he thought that she was too little. The fight for our dreams began at 6." "With a lot of hope despite all the odds stacked against us, we dared to dream of playing in a Grand Slam someday and of representing our country with honour at the highest level in sport. As I look back at my career now, not only did I get to play well over half a century of Grand Slam tournaments but I was fortunate enough to win a bunch of them, too, with God's grace. To win medals for my country has been my biggest honour and I feel truly humbled to have been able to stand up on the podium. knowing that the tri colour had been raised high to be seen and respected by millions all over the world all because of something that I was privileged enough to achieve have tears in my eyes and goosebumps even as I type this," added Sania.
The former doubles World No 1 thanked her close ones who have been part of her 20-year journey as a professional athlete. "None of this would have been possible without the support of my parents and sister, my family, my coaches, my physios, my trainers, my fans, my supporters, my partners and my entire team that has stood by me through thick and thin over the years. I want to thank each one of them for the contribution, the laughs, the tears, the pain and the joy we have shared. It's all of you, who have helped me through the toughest phases of my life and helped this little girl from Hyderabad to not only dare to dream but to achieve those dreams, as well. So thank you from the bottom of my heart," expressed the tennis star.
She termed the Australian Open as the perfect stage to play her last Grand Slam. "I feel so blessed to have lived my dream while achieving my goals with my family by my side. It's been 20 years of being a professional athlete and 30 years of being a tennis player. It's basically all I've known throughout my life. My Grand Slam journey started with the Australian Open back in 2005. So, it goes without saying that this would be the most perfect Grand Slam to end my career with," stated the six-time Grand Slam champion.
"As I get ready to play my last Australian Open 18 years after I played my first, and then the Dubai Open in Feb, I have so many emotions flashing through me with pride and gratitude, perhaps, being the foremost. I take pride in everything I have been able to achieve over the last 20 years of my professional career and 1 am so grateful for the memories that I have been able to create. The greatest memory that I will carry with me for a lifetime is that of the pride and happiness that I saw on the faces of my fellow countrymen and supporters each time I achieved victory and reached milestones in my long career," added the first female Indian tennis superstar. Sania has won six Grand Slams, clinching the Mixed doubles thrice while also emerging victorious three times in the Women's doubles.
Her rise to a career-high position of 27th in the WTA Singles Rankings in the middle of 2007 still stands as the highest tennis rating an Indian has ever achieved in the singles division. Sania Mirza, the first Indian woman to hold the top spot in doubles history, ascended to No. 1 in the WTA Doubles Rankings in April 2015. Only Leander Paes and Mahesh Bhupathi have topped the doubles rankings on the ATP stage.
Before finally slipping in January 2017, the Indian star even managed to hold onto the top place for 21 months. (ANI)
(This story has not been edited by Devdiscourse staff and is auto-generated from a syndicated feed.)