Sporting Lisbon book their place in last 8 as Arsenal crashes out of UEL
Arsenal lost against Sporting Lisbon on penalties with a score of 5-3. Xhaka broke the deadlock with the help of Granit Xhaka in the opening 20 minutes of the second leg of the UEFA Europa League. Pedro Goncalves scored a stunner to bring the game back on level terms. The match went to penalties and Lisbon scored all five to seal their place in the quarter-finals of UEL.
---
ANI
|
Updated: 17-03-2023 09:39 IST | Created: 17-03-2023 09:39 IST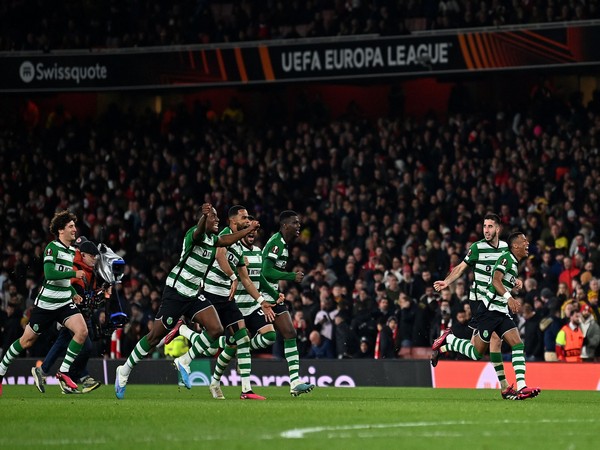 ---
Nuno Santos's fifth penalty sealed the spot for Sporting Lisbon in the quarter-finals of the UEFA Europa League. Arsenal broke the deadlock with a goal from Granit Xhaka within 20 minutes of the game making it 3-2 on aggregate. Arsenal lost all the gained momentum in the first hour of the match, within a matter of seconds. The 62nd-minute strike became the highlight of the entire match. The 24-year-old Portuguese striker Pedro Goncalves produced a goal-of-the-season contender just from the outskirts of the halfway mark to beat Arsenal goalkeeper Aaron Ramsdale, making it 3-3 on aggregate.
The rest of the half-hour was the visitors all over the London side giving them a run for their money. During this period Lisbon fans turned the enemy territory into their home. Arsenal fans were too stunned to react to the situation that transpired right in front of their eyes. The green took over the red and gave a new shade to London. After the end of the first 90 minutes of the second leg, the game went to 30 minutes of extra time. Antonio Adan and Ramsdale were challenged more than once throughout this period. The match eventually went to penalties. Lisbon scored all their penalties, but Gabriel Martinelli failed to convert the fourth spot kick for the hosts. This was enough to stage Arsenal's downfall as they bowed out of the competition losing 5-3 on penalties.
In the post-match conference Arsenal's manager, Mikel Arteta reflected back on the game, "Yeah a huge blow. We really wanted to go through in the competition and fight and go for it. Today we tried for 120 minutes and penalties and it wasn't enough. Congrats to Sporting Lisbon firstly. Looking at ourselves it started difficult losing Tomi and Saliba and that made it hard to manage the game because we only had a window to make the subs and a few players couldn't play 90 minutes." "Still, we didn't find our rhythm and flow, allowed too many spaces, were late, didn't dominate there and gave the ball away many times, sometimes time after time. Then in the last 20 minutes, we got our flow, we got the momentum, we deserved much more," Arteta continued.
The only trophy available for Arsenal this season is the Premier League. They are out of all the competitions and now their focus will be solely on the Premier League. They will now face Crystal Palace on Sunday. (ANI)
(This story has not been edited by Devdiscourse staff and is auto-generated from a syndicated feed.)