Automation Post-COVID 19: Narrative to change, adoption to increase
When the pandemic subsides, the narrative about automation leading to devastating consequences will somehow change and an increasing number of enterprises will consider adopting automated technologies to mitigate future risks.
COE-EDP
|
Devdiscourse
|
Updated: 10-05-2020 08:22 IST | Created: 10-05-2020 05:11 IST
---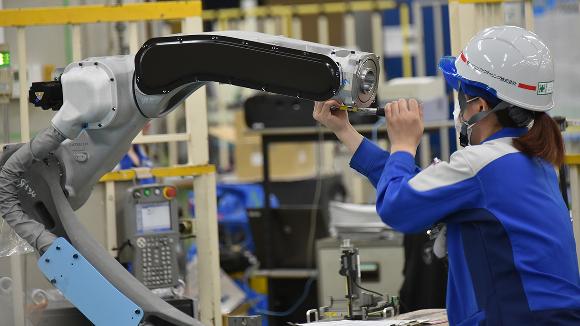 The COVID-19 pandemic has not only caused massive disruption in individual lives but has also paralyzed economic activities. The necessary containment efforts including movement restrictions and compulsory quarantine have severely impacted millions of businesses around the world, regardless of size.
The global economy, as per IMF projections, will contract sharply by –3 percent in 2020, exceeding the slump brought on by the 2008–09 financial crisis. The scale and spread of COVID-19 will further decide how hard the crisis hits the global economy and which sectors will emerge faster and stronger than others.
Fig 1: 2020 GDP projections post COVID-19 / IMF data
The graph above shows how the COVID-19 induced lockdown will affect the gross domestic product (GDP) of the world's five largest economies including the US, China, Japan, Germany, and India.
Now talking about businesses, according to the International Labour Organization (ILO), globally, over 436 million enterprises operating in the hardest-hit economic sectors, including manufacturing, retail, food services face high risks of serious disruption.
In these tough times, the big challenge is how to keep the economy running to lessen the impact on all the business sectors. While factories are shut and workers are staying at home, automation has emerged as a savior for the people and businesses around the world.
In the pre-crisis world, many believed that automation will boost their organization's productivity, reduce labor costs, and drive sales, while others argued that it will have devastating consequences on workers, leading to mass unemployment and increased inequality. The pandemic is going to change this perception forever as automation technologies like chatbots, delivery robots, unmanned vehicles have emerged as a savior during this global crisis.
Technologically advanced Asian countries such as China and South Korea have successfully limited COVID-19 deaths and a significant credit goes to their high-quality technological infrastructure. From factories and warehouses to hotels and hospitals, they have effectively used technology to fight the pandemic and safeguard local production to keep the economy running.
With 631 robot units per 10,000 employees, South Korea's robot density exceeds the global average by nearly eight times while China is the biggest robotic market in the world. As of 2016, China alone used over 260,000 robots in its manufacturing production with most of them concentrated in motor vehicle production and computers and the electronics industry which is also one of the main drivers of growth in the country. China and South Korea's high-tech war against the COVID-19 pandemic is a role model for other nations to look up to.
Automation as a savior in times of COVID-19
Organizations that adopted automation long before COVID-19 struck are navigating the crisis and somewhat less impacted by COVID-19-induced disruptions. Here are some examples of how automation is helping businesses and humans during this unprecedented crisis.
Manufacturing and Warehouse
In times of social distancing, manufacturers and supply chain operators are increasingly turning to smart robotics and automation to enable safe, efficient operations and meet market disruptions. For instance, Germany-based PIA Automation has designed fully automated assembly lines for high-speed production of essential items such as face masks. Each of these disposable protective mask production lines can produce up to 140,000 units per day, far greater than manual production.
Robotic automation has already revolutionized warehouse operations and the current crisis is poised to expedite its adoption. Fetch Robotics recently said that since the COVID-19 crisis emerged, the company has seen a 64 percent surge in inquires for its Autonomous Mobile Robots (AMRs) that address material handling and data collection for warehousing and intralogistics environments.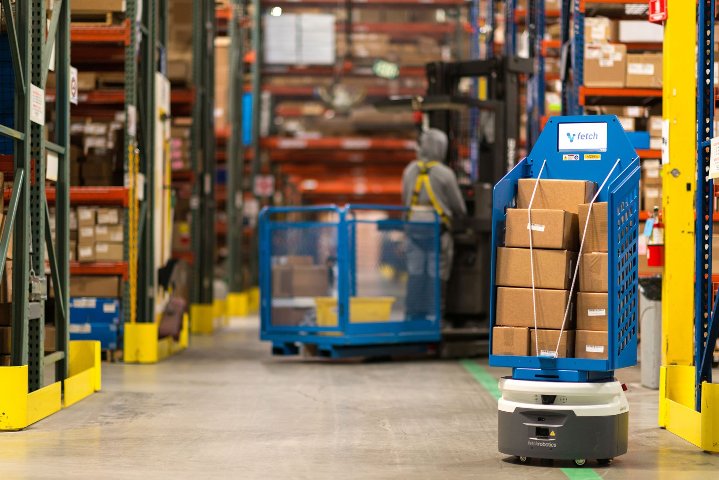 E-commerce giant Amazon has deployed thousands of mobile robots that pick up heavy items to prep them for shipping or for stowage across its warehouses, aka fulfillment centers, worldwide.
Amidst the pandemic, British supermarket chain Ocado successfully tested a collaborative robot, or "cobot" assistant that can assist humans in maintenance tasks. Developed at the Karlsruhe Institute of Technology (KIT), the ARMAR-6 robot can perform various supporting rules including holding, lifting, reaching, or passing objects, and also take responsibility for the heavy lifting.
Service sector
The lockdown phase has forced us to rely on online delivery services for food, medicines, and other essentials. To meet the surging demand, Chinese O2O local life service company Meituan modified and deployed Modai, an autonomous vehicle delivering essential groceries to communities in Beijing's Shunyi District. The self-driving vehicle can drive about 100 kilometers without a charge and carry up to 100 kg of goods. Modai is remotely monitored and customers are informed when it approaches them.
To ensure the safety of food retail workers who are at high risk of exposure to infection, Chinese company Keenon Robotics has deployed unmanned delivery robots for contact-free food delivery in Chinese restaurants. These autonomous service robots carry dishes back and forth to deliver food to customers and can bear the triple workload of a human waiter whilst also supporting multitasking features. The autonomous delivery robot is in high demand for two key reasons- lower manufacturing costs and substitution of human labor.
Robots can avoid direct contact with customers and reduce the risk of infection. In the post-pandemic era, non-contact food delivery will become the new normal.
Healthcare
South Korean company Seegene utilized its proprietary automated big data system to quickly develop the COVID-19 test kit. The company's artificial-intelligence-based system coupled with an advanced analysis software made it possible to develop the COVID-19 diagnostic product, Allplex 2019-nCoV, in just 3 weeks. Seegene has already exported over 10 million tests globally in over 60 countries including India, Singapore, Canada, USA, Thailand, and Australia under official and/or emergency use authorization.
As frontline health workers are exposed to a high risk of infection, Keenon Robotics has deployed hundreds of delivery robots to nearly 100 hospitals across China. Japanese tech giant Softbank Robotics humanoid robot Pepper that recognizes both faces and basic human emotions to assist healthcare workers in COVID-19 hospitals and also to comfort patients in quarantine centers.
In California, American robotics company Nuro's unmanned R2 vehicles are doing contactless delivery of medical supplies to help patients affected by COVID-19. The robotic vehicle is delivering food, medicine, and other essentials for the front line workers and patients.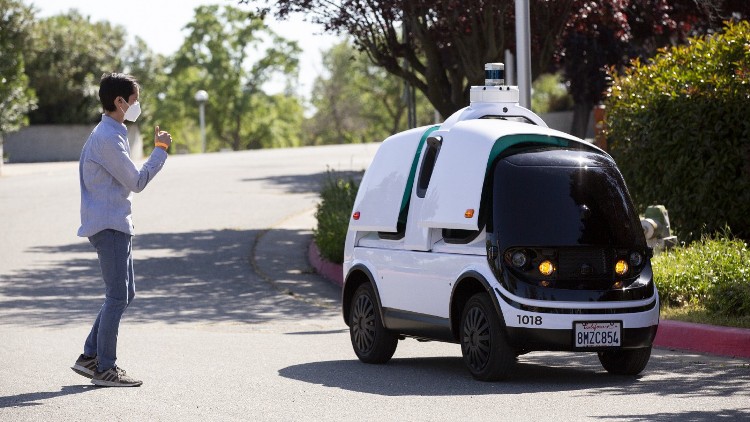 It's just the trailer! The world needs more and more automation to better navigate future crises.
Ushering in the new era of automation
From fully autonomous vehicles to industrial and healthcare robots, we have heard a lot about automation, over the years. However, the world's over-dependence on manual labor, as observed during this pandemic, proves that automation hasn't yet fully lived up to the hype.
Well, the ongoing crisis has taught us several valuable lessons including that digital technologies can help bullet-proof certain business operations, especially when physical processes can't continue. Another is that automation of critical business tasks in all sectors, be it healthcare, banking, hospitality, manufacturing, etc. is vital to stay competitive in the fast-changing market and deal with a crisis of this magnitude.
COVID-19 is likely a long-term challenge and to adapt to this changing reality, we have to embrace automation. When the pandemic subsides, the narrative about automation leading to devastating consequences will somehow change and an increasing number of enterprises will consider adopting automated technologies to boost productivity and mitigate future risks.
It's important to mention here that automation is meant to complement human capabilities and not supplant them in any way. Yes, it will replace certain types of job roles, but at the same time create new job profiles that need empathy, social skills, and emotional intelligence that of course machines can't deliver. To adapt and reap the benefits of automation, organizations need to train their low-skilled workforce to help them acquire advanced skills for a rapidly changing labor market.
Centre of Excellence on Emerging Development Perspectives (COE-EDP) is an initiative of VisionRI and aims to keep track of the transition trajectory of global development and works towards conceptualization, development, and mainstreaming of innovative developmental approaches, frameworks, and practices.
---
FIRST PUBLISHED IN:

Devdiscourse