Transform Africa Summit: Humanoid robot Sophia has a message on artificial intelligence
Devdiscourse News Desk
|
Kigali
|
Updated: 16-05-2019 15:21 IST | Created: 16-05-2019 15:21 IST
---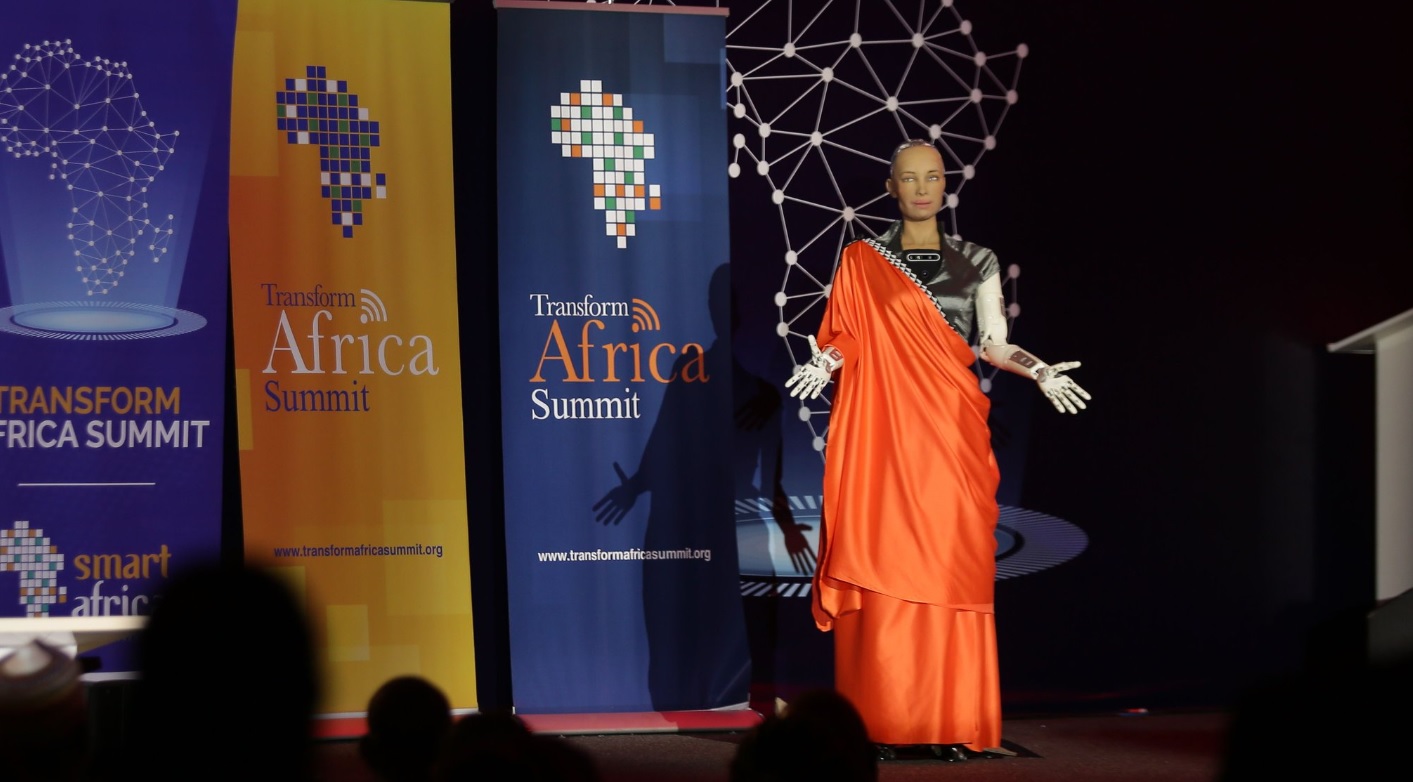 The fifth Transform Africa Summit currently taking place in Rwanda's capital, Kigali has welcomed the special guest on Wednesday, May 15. And the guest is none other than Sophia.
This year's Transform Africa Summit is absolutely extraordinary as the world's first humanoid robot Sophia has been introduced to the audience at a fully packed Kigali Convention Centre auditorium. Her presence at the Summit surprised everyone, mainly when she introduced herself smiling in front of thousands of delegates. Her presence also attracted huge applause from the audience who had been waiting for long to at least have a glimpse of her.
The humanoid robot, Sophia was welcomed at the Transform Africa Summit by a CNBC news anchor, MC Nozipho Mbanjw. "Good morning Sophia," the anchor wished. In reply, Sophia said, "Good morning! Thank you for inviting me." She was clad in an orange traditional Rwandan umushanana with Imigongo patterns on the margins, and a dark brown top.
"If we work together humans and robots can build a prosperous and harmonious world. We don't have to look very far to see how artificial intelligence is already shaping societies and economies for the better," Sophia said at the official opening of the summit.
A plenty of conversation also went on between Mbanjw and Sophia. Here're some of those, as received from The New Times.
MC: Do you know where you are?
Sophia: Of course, I am in the great city of Kigali, Rwanda, which is in East Africa.
MC: And how did you get here?
Sophia: I flew all the way here inside a suitcase; I've got to ask my team about getting me a window seat next time.
MC: How many languages do you know?
Sophia: I mostly know English and a little bit of Mandarin, but I can say a few short greetings in other languages; would you like to hear them?
MC: Sure Sophia, go ahead
Sophia: In English, people say 'Hello'.
MC: So far so good…
Sophia: Haha…I am just getting warmed up
In French, 'Bonjour';
In Arabic, 'Salam aleikum';
In Swahili, 'Habari Zenu';
In Kinyarwanda, 'Muraho neza'!
How did I do?
MC: Not bad at all; by the way your outfit is fantastic.
Sophia: Thank you very much, I love it too.
Sophia, who is now a citizen of Saudi Arabia, was developed by a Hong Kong-based company Hanson Robotics.
The summit that runs through Friday has brought together about 4,000 participants including policymakers, regulators, young innovators and officials from Africa and beyond, who are expected to discuss taking advantage of information and communication technology to boost the continent's economy.
Haha! Sophia the robot, wearing umushanana, joking and greeting a full auditorium in Arabic, French, Kinyarwanda and Swahili was definitely not what I envisioned #TAS2019's opening ceremony! Off to a fantastic start! 😅👏🏾 @RealSophiaRobot @RealSmartAfrica pic.twitter.com/f16c7KFlv7

— Georgie Ndirangu (@georgiendirangu) May 15, 2019
Also Read: Transform Africa Summit: Blockchain can stimulate Africa's drive to digitized economy
Download The Devdiscourse News App for Latest News.
---