Ben Affleck, Matt Damon shared bank account to fund their acting auditions
On a recent episode of "The Bill Simmons Podcast", Ben Affleck and Matt Damon appeared and revealed they had one bank account between them starting in the late 1980s in order to fund auditions and start their acting careers
---
ANI
|
Updated: 24-03-2023 18:26 IST | Created: 24-03-2023 18:26 IST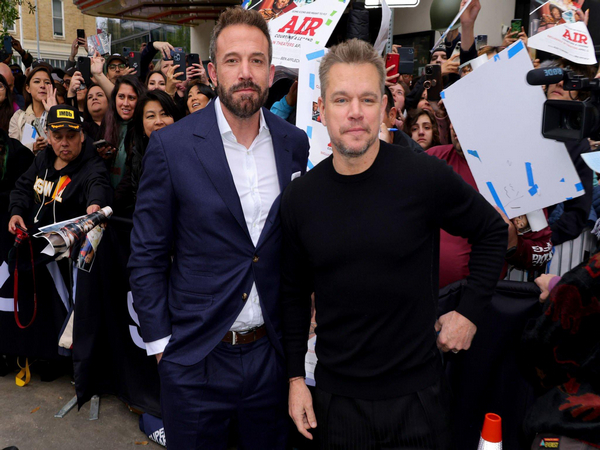 ---
Ben Affleck and Matt Damon have been friends for a long time now. They have not only shared screen space but also shared bank accounts once.
On a recent episode of 'The Bill Simmons Podcast', the duo appeared and revealed they had one bank account between them starting in the late 1980s in order to fund auditions and start their acting careers, Variety reported. "It was unusual, but we needed the money for auditions," Damon said, calling it "a weird thing in retrospect."
"We were going to help each other and be there for each other," Affleck said, adding, "It was like, 'You're not going to be alone. I'm not going to be alone. Let's go out there and do this together.'" Any time Affleck or Damon booked a role, the money from the gig would get deposited into the bank account. As Damon said, "As long as one of us had money we knew the power wasn't going to get shut off. After doing [1992's] 'Geronimo' I probably had 35 grand in the bank. I was like 'we're good for a year.'"
Of course, there were rules, but they were somewhat stretched. "You were allowed to go to [auditions in] New York with the money. You were allowed to take out USD 10 and get quarters and go to [the arcade] and play video games," Damon said, adding, "Eventually we were allowed to try to buy beer, which never fucking worked."
"I love working with this guy. I love hanging out with him," Affleck later said about Damon, adding, "If you can work with great people, who are good people too, it's so much more rewarding personally and professionally." Affleck and Damon have worked together in several films including 'Field of Dreams', 'School Ties', 'Chasing Army' and 'The Last Duel'. The two are now coming up with 'AIR', which will hit the theatres on April 5. (ANI)
(This story has not been edited by Devdiscourse staff and is auto-generated from a syndicated feed.)