My Hero Academia Chapter 402: Spoilers, Release Date and more
---
Devdiscourse
|
Tokyo
|
Updated: 27-09-2023 08:26 IST | Created: 27-09-2023 08:20 IST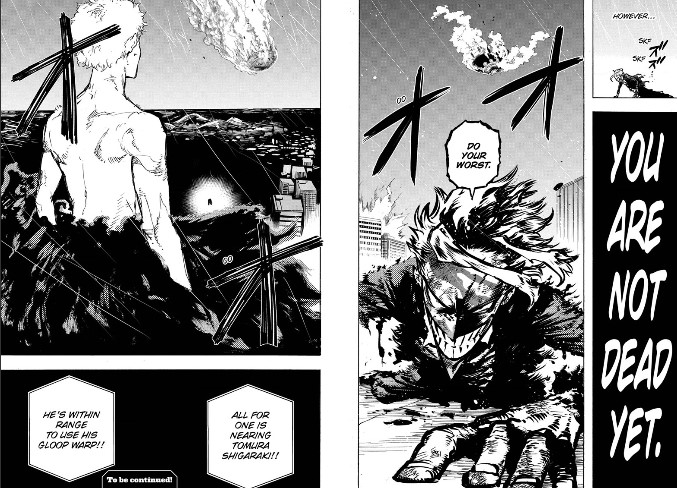 ---
The big battle between All For One and All Might is finally going to end. They've been fighting intensely in recent chapters, but now All For One has become stronger and defeated both All Might and Stain. Fans are really excited about My Hero Academia chapter 402.
My Hero Academia 402: Release details
"My Hero Academia" chapter 402 will be out on Monday, October 2, 2023, at 12 am in Japan. But, depending on where you live, you can get it on Sunday, September 24. Here's when:
US West Coast: 8 am
US East Coast: 11 am
UK: 3 pm
Central Europe: 4 pm
India: 8:30 pm
Philippines: 11 pm
Japan: Midnight (next day)
Central Australia: 1:30 am (next day)
Recap of My Hero Academia Chapter 401
Stain told how he found All For One's blood and wanted to teach All Might a lesson. All Might got the message silently.
When they tried to defeat All For One, the bad guy used a power to force out his blood so Stain couldn't stop him. All For One had expected Stain's move and threw him away, focusing on All Might.
All For One spoke about Stain's impact on Tomura and his team, then he hurt Stain and took his power. All Might tried to help, but a strong laser from All For One broke his armor. Even hurt, All Might thought of his past mentors and kept trying to move towards All For One with a smile.
The story ended with the bad scene of U.A. school falling and news that All For One was near Shigaraki and Deku, ready to jump there.
My Hero Academia Chapter 402 spoilers
In the upcoming "My Hero Academia" chapter 402, the story might shift to Tomura and Deku's fight. We'll probably get a quick review of what happened between All Might and All For One. After a few chapters, the story will come back to now, with both villains showing up.
Chapter 402 might have Deku and Tomura talk about their roles and how One For All affects them. They might even realize they understand each other deeply. But, this chat will likely be short, and they'll go back to fighting by the end of the chapter.
Stay tuned to get more updates on the Japanese manga series.
Also Read: Jujutsu Kaisen Chapter 237: What Happens After Gojo's Death?