'We all need to step up' to rescue the SDG's and fight for a better future: UN chief
The Summit on 18-19 September will mark the mid-point of the SDGs, between their 2015 launch and their 2030 deadline. 
---
UN News
|
Updated: 18-09-2023 10:02 IST | Created: 16-09-2023 22:53 IST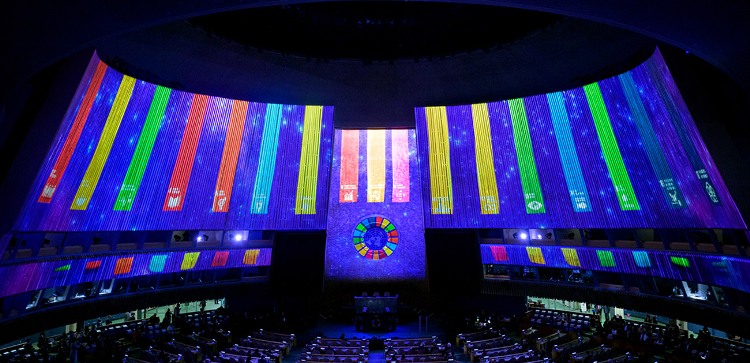 ---
UN Secretary-General António Guterres on Saturday rallied a diverse cross section of civil society actors to use their passionate voices and energetic grassroots networks to "help rescue the Sustainable Development Goals (SDGs) and fight for the better future every person deserves."
With world leaders set to convene next week for the annual high-level opening of the General Assembly, the UN's Midtown East campus on the weekend was host to an energetic range of actors – from youth groups and women's organizations, to mayors, community activists and business leaders – looking to boost support for the Goals ahead of the SDG Summit.
The Summit on 18-19 September will mark the mid-point of the SDGs, between their 2015 launch and their 2030 deadline.
2030 Goals are off-track
As things stand, the Goals and UN member countries' promise when they adopted the 2030 Agenda to 'leave no one behind' are in serious trouble: despite some progress, over the years widespread implementation gaps have emerged across all 17 Goals, which aim to tackle everything from poverty, hunger and gender equality, to access to education and clean energy.
Lagging public interest in achieving the Goals, geopolitical friction and perhaps most critically, the global coronavirus pandemic, have left the SDGs in need of a global rescue plan.
"Today, only 15 per cent of the targets are on track, with many going into reverse," said the Secretary-General, adding that: "Monday's SDG Summit will be the moment for governments to come to the table with concrete plans and proposals to accelerate progress."
Not just 'checking boxes' But he stressed that the SDGs are not about checking boxes.
"They are about the hopes, dreams, rights and expectations of people and the health of our natural environment. They are about righting historic wrongs, healing global divisions and putting our world on a path to lasting peace," stated the UN chief.
Everyone needs to step up to help revive the Goals and ensure a better life for people and the planet.
Mr. Guterres went on to salute the courage and conviction of the activists in attendance, saying that he knew their global fight for the SDGs "comes at a risk to your safety … liberty [and] even your life."
"I urge you to keep going," he said, and similarly urged members of the business community in attendance "to see that sustainable development is best business plan of all".
"To the women and young people joining us – keep calling out for change in your communities and fighting for your rights and a place at every table, the Secretary-General said.
Finally, the UN chief said: "To the local authorities here – the SDGs will not be rescued in New York. They will be rescued in your communities. So continue listening to the people in your communities and embedding their needs and concerns across your policies and investments."
'It's crunch time'
Dennis Francis, President of the 78th session of the General Assembly, said the international community's mission "today, for the next week – and for the next seven years – is to mobilize; to harness the collective strength and resourcefulness of all governments and stakeholders."
In his remarks at the opening of 'SDG Action Weekend', he said: "The buzz word of the day is "Mobilization," which suggests a sense of urgency that we cannot ignore. It is crunch time; time to roll up our sleeves and turn our aspirations, and our promises, into reality, for the benefit of all."
He urged all stakeholders to focus their energies on the goals where progress is lagging, on the countries in acute vulnerability, on the roots of inequality that persist, still today.
"This calls for more than words; it calls for an unwavering commitment not only to mobilizing resources and investments but more importantly political will," stated Mr. Francis.
He also stressed that action to revive the SDGs cannot be achieved by governments alone.
"We need the private sector, civil society, women, youth, scientists, academics, philanthropic foundations – all stakeholders across all fields and disciplines – to come forward, to lend their voices, and their hands, to ensure a transformative process that delivers both for people and planet."
The challenge, said the Assembly President is finding smarter, "more efficient ways to involve, include and to work with you as partners."
Visit UN News for more.